Search result
Tags - essential
We knew that the phone was coming but now it's finally here. Yes, we are talking about the much speculated Essential phone by Andy Rubin. In case you don't know yet, let us tell you that Andy Rubin is the original CEO and the main man behind the Android OS from days when Google didn't even own Android. Essential is his own start-up company and aka the Essential phone. Now that we have cleared that up, it's time to take a look and see what makes this phone special.
Top of the Line Specs
The phone truly doesn't hold back on any specs at all. Take a look at them below to see what we are talking about here.
Ceramic-glass build with Gorilla Glass 5 in front
5.7-inch LTPS bezel-less display with a resolution of 2560x1312 and an aspect ratio of 19:10
Qualcomm Snapdragon 835
4GB RAM and 128GB internal storage
Bluetooth 5.0
Dual 13-megapixel rear cameras with a telephoto lens, Laser and Phase Detection Autofocus, dual LED flash and 4K recording
8-mp front camera with 4K recording
Unique Digital assistant
3,040mAh battery with fast charging
Price: $699
Modular Design
Essential has taken on modularity; something in which both LG and Google has failed previously. However, it has taken the Lenovo route in doing so by opting for a magnetic connector at its back to allow for accessories; much in the same way the Moto Z does it. At this time, there are only two accessories available; a 360-degree camera ($199) and a charging dock.
We cannot help but see a striking similarity between the Essential phone and the Xiaomi Mi Mix! What do you think?
Saikat Kar (tech-enthusiast)
New age technology has taken us on a ride that we will never forget. From the world of Virtual Reality to nifty clip on lenses, your smartphone is a portable supercomputer, just waiting to charge your world with unique user experiences.
It's not just the available smart phone accessories that can turn your mobile device into a hybrid type of device, ready to tackle the world. All smart phones have the ability to download and install various apps that can transform your phone into a multi-tool, ready to help you along your way.
The following smart phone accessories 2017 are the best mobile accessories that will enhance your handset, and turn it into a dynamic smart device to equip you with the perfectly optimized phone, for just about any situation. You don't need to buy the iPhone X to get in on the action either!
Get Going With A Car Mount
Car mounts are by far one of the best smartphone accessories available. If you've ever needed your GPS, which is all too often these days as cities keep expanding and the beaten track develops more and more.
Mobile phone car mounts can attach to your windshield or air vent for convenient on the go navigation and hands free calling. If you're looking for an affordable car mount holder then try the WizGear Magnetic Car Mount Holder, which easily attaches to your car's air vent.
Crank Up The Volume On The Track With An Arm Band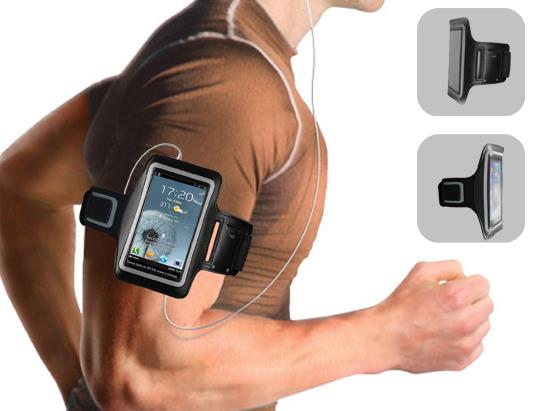 Our smart phones have become extensions of ourselves, it's difficult to let go of your phone when running around during errands, especially if you want to play at a CAD casino. It's becoming increasingly difficult to find the time in a day to keep active; if you simply can't live without your phone for a couple of hours while you work out, then an arm band is the perfect fitness companion.
These nifty ouch like arm wraps will keep your phone safe and secure while you get your heart rate up. Most armbands support a jack outlet, which means you can take your music on the go with you while you train.
If you're looking for an all round arm band for your smart phone then try the Tribe AB37 Sports Armband. Offering users water resistant protection for their device, a nifty key holder, full touch screen coverage and 3.5 mm jack support it's the perfect companion for the outdoor enthusiast.
It's All About The Perfect Selfie
Selfie sticks are old news, but let's face it these sticks have captivated a generation with their unique angles and gimmicky fun attitude. Now you can get in on the perfect selfie without the fuss of wires.
The Anker Selfie Stick is a Bluetooth selfie stick offering users twenty hours of battery life and extreme depth of field, stretching out to a whopping 29 inches.
Beef Up Your Mobile Storage
If you have an Android smartphone and you find your internal storage a little bit on the light side then you must consider a USB OTG Flash Drive. These little devices act like normal flash drives and simply plug into your phone and open up a world of storage potential on your mobile smart phone.
There's a microUSB OTG option available too and it's called the SanDisk Ultra USB Type-C version. There are numerous OTG Flash Drives available for Android devices that support both USB Type-C and microUSB. These flash drives are perfect for on the go storage and data upload/downloads.
Embrace The World With Virtual Reality
The world of Virtual Reality technology has opened up our world to infinite possibilities in various disciplines. There aren't too many mobile VR headsets available as of yet, and the compatible devices are somewhat limited.
If you have a compatible smartphone then it's best to get started in mobile Virtual Reality with something like Google Cardboard. Once the technology improves and becomes more mainstream then it might be worth upgrading to a mobile VR headset to truly engage with your smart phones VR capability.
Tags:
andy
rubin's
essential
phone:
need
know
enhance
your
smart
phone
with
these
essential
accessories


"Taking a photo of Christmas tree" (CC BY-SA 2.0) by Takashi(aes256)
We can all be guilty of getting into the Christmas spirit a little early. Festive marketing - which usually begins in November - can be a little bit infectious. But Selfridges in London took the cake for overexcitement this year, opening the doors of their Christmas shop on the first day of August - the peak of British summertime.
For regular folk, Christmas usually begins in mid-November, ahead of the last (or second-to-last) wage of the year. You know, the point when questions about trees, markets, presents, John Lewis adverts and Coca-Cola trucks become unavoidable. We're almost at that point once again, so here are a few mobile apps to get you in the mood for Santa's arrival.
NORAD Tracks Santa (iOS, Android)
NORAD, otherwise known as the North American Aerospace Defense Command, is arguably the last organisation on Earth you'd expect to run a regular Santa-tracking service over the festive period. However, the event has been a fixture of Christmas in the States since 1955, when a child tried to call Santa and ended up speaking to Colonel Harry Shoup instead.

'NORAD Tracks Santa' has made the leap from helpline service to a Google Maps-style website over the last few decades. But most modern users will experience Santa's journey on Android or iOS in 2016. The event is incredibly popular, with volunteers fielding 117,000 phone calls from children and nearly 20million people following Santa via the app or website in 2013.
The Elf Adventure Christmas Story (iOS, Android)
Many of the most popular Android and iOS games out there have Christmas themes, such as Doodle Jump Christmas Special or A Christmas Carol by Bitcasino, a slots-style game available here. However, some festive titles are just palette swaps of an original, sticking a woolly hat on a protagonist or swapping a palm tree for a fir tree.

One for the kids, the Elf Adventure Christmas Story is a 24-episode saga and digital advent calendar that revolves around a quest to awaken a sleepy frost giant before Christmas. It's nothing too taxing - each day requires the completion of a task like cleaning a window or putting biscuits in an oven - but it's a fun distraction before school for the little ones.
Secret Santa Tombola (iOS)
Whether it's a pair of socks or a sew-your-own plush cactus, Secret Santa has always been a celebration of the cheapest and weirdest presents on the market. With office-based versions of the game, the likelihood is that you won't know anything about the person you're buying a present for. So why not leave it up to fate?
Secret Santa Tombola is an app with the uncreative and just plain lazy in mind. All you have to do is specify whether the recipient is male or female, set a budget, and choose the type of gift you'd like to see as a suggestion (cute, funny, or cheeky). It's the mobile equivalent of closing your eyes and choosing something at random from the Argos catalogue.
So, there you go; three apps to make Christmas a little easier and a lot more exciting. A good month before Santa pulls on his boots.
Tags:
andy
rubin's
essential
phone:
need
know
enhance
your
smart
phone
with
these
essential
accessories
three
essential
apps
christmas
Since its already well into the second week of July, one would think that any maintenance update released for a smartphone would contain the Android security patch for the month of July, but that isn't quite the case yet with the Galaxy A5 (2017). While the update is most definitely an OTA package which will fix some vital problems, it doesn't carry the July security patch with it.
This leads us to believe that the 30MB file with the build number A520FXXU2AQF5 must contain fixes for certain problems that are unique to the Galaxy A5 (2017) only. This makes it all the more necessary that you download and install it as soon as it becomes available for your smartphone. As of now, it's rolling out only in the European continent. Hopefully, the July security update will be making its way onto the Galaxy A5 (2017) very soon as well. In fact, we are pretty sure that the security patch of the month will arrive onto the Galaxy A5 (2017) along with the Android Nougat update package together, by the end of this month (hopefully!).
Head over to our firmware section to find all the latest available updates for your Samsung smartphones and tablets.
Saikat Kar (tech-enthusiast)
Tags:
andy
rubin's
essential
phone:
need
know
enhance
your
smart
phone
with
these
essential
accessories
three
essential
apps
christmas
essential
update
hits
galaxy
(2017)
europe
© 2015 YouMobile Inc. All rights reserved