Android 4.2.2 update now rolling out the Nexus devices
Android 4.2.2 update now rolling out the Nexus devices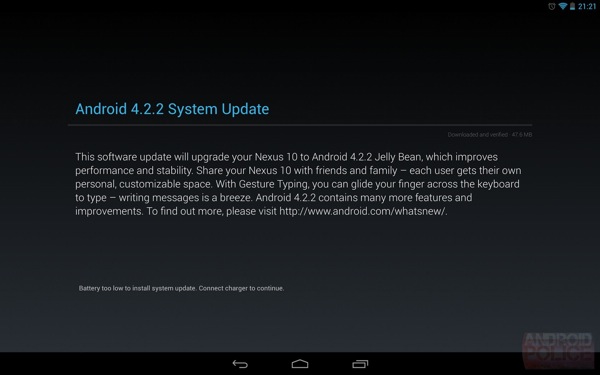 Google has started pushing the 4.2.2 update to Nexus devices (specifically the Nexus 4, Nexus 7, Nexus 10, and Galaxy Nexus).
There's not much word regarding what the update (build JDQ39) includes just yet, but readers may remember that Google promised a Bluetooth A2DP audio streaming fix in the "next release" of 4.2 after 4.2.1. The update comes in at around 50 MB on the Nexus 10 but it really depending on which device you have.

So if you haven't received the notification yet, perhaps it's time to go to Settings > About and check for new updates. If you haven't got it yet, you should in the coming days. If you did and notice any improvements, let us know in the comments below.
Source: Androidpolice
© 2023 YouMobile Inc. All rights reserved