Difference Between Android 2.2 (Froyo) and Android 2.3 (Gingerbread)
Difference Between Android 2.2 (Froyo) and Android 2.3 (Gingerbread)

Android 2.2 (Froyo) and Android 2.3 (Gingerbread) are Smartphone operating systems developed by Android. Android 2.3 is the later edition. In comparison between Android 2.2 and Android 2.3, Android 2.3 is a major update and there are number of differences between Android 2.2 and Android 2.3. Google, the internet giant acquired Android in year 2005. Basically Android did not start from scratch, it was developed from the versions of Linux kernel.
Android 2.2 Froyo was released in May 2010 and Android 2.3 the Gingerbread was released last week (6th Dec 2010). There are lots of improvements and new features in Gingerbread.
The considerable new features of Gingerbread are new UI themes, redesigned keyboards, new copy and paste functionality, improved power management, better application management, new download manager, NFC (Near Field Communication), support for VoIP/SIP calls, new Camera application for accessing multiple cameras and supports extra large screens.
The Differences are:
Kernel:
Android 2.2 - Based on Linux Kernel 2.6.32
Android 2.3 - Based on Linux Kernel 2.6.35
Networking:
Android 2.2 supports Bluetooth as well as Wi-Fi. On top of these, Android 2.2 supports Wi-Fi hotspot functionality that can connect 6 devices. In the sense, you can use Android 2.2 phone as a wireless broadband router.
Android 2.3 (Gingerbread), in addition to all existing features, supports for NFC (Near Field Communication) which is a high speed data communication mechanism operates in high frequency within a short range (10 cm).
Communication:
In addition to standard voice calling, Android 2.3 supports for SIP audio and video calling. If you have a good 3G or Wi-Fi connection and a SIP account you can make internet calling. It breaks the boundary of regionalist concept and flies in the global domain.
Power Management:
Power Management is one the critical tasks in these kind of Mobile operating systems. Even if you have all these fancy features, if the battery life of the device is couple of hours, then there is no use in the added features. Android 2.3 handles it in a better way than Android 2.2. Here in 2.3 the OS manages the applications and daemon application which are running at the background and closes the unnecessary applications.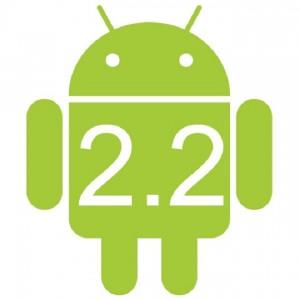 Android 2.2 (Froyo) supports the following features:
Integration of Chrome V8 JavaScript engine into the Browser application

Advanced Microsoft Exchange support

Wi-Fi hotspot functionality

Voice dialling and contact sharing over Bluetooth

Support for file upload fields in the Browser application

Animated GIFs supported in browser.

Adobe Flash 10.1 supported

Support for extra high DPI screens
Android 2.3 (Gingerbread) supports the following features in addition to existing 2.2 features:
New user interface design with new themes (Black themes save power)

Extra Large Screen Size supported

SIP Communication Supported (SIP Video and Audio Calling, In an operator point of view, this is feature will decrease their voice calling revenue where as user can call each other for lower rates or even free if they have good data connection)

Supports for NFC (High Frequency High Speech Data Transfer in short range)

Support for WebM/VP8 video playback, and AAC audio encoding

New audio effects such as reverb, equalization, headphone virtualization, and bass boost

Improved Copy and Paste functionality

Redesigned Multi Touch Software Keyboard

Audio, graphical, and input enhancements for game developers

New sensors support (i.e gyroscope)

Download manager for long running HTTP downloads

Enhanced support for native code

Improved power management and application control

Support for multiple cameras
© 2018 YouMobile Inc. All rights reserved