Firefox for Android will support themes and Private Mode this Year
Firefox for Android will support themes and Private Mode this Year

The devs over at Mozilla are obviously so happy with how their Mobile Firefox is going that they've decided to reveal some of the upcoming features in 2013.
The most important features, which the team is working on for 2013, is the private browsing mode and the ability to add a skin to the web browser with customized themes. Both of these have been available in the desktop browser for ages and are obviously pretty popular requests for the mobile versions as well.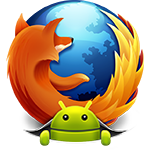 Sneak peek #1
Private browsing. We take comments from you - the ones who use our products - very seriously. Lots of you have requested private browsing on your Android phone and we're working to deliver! It's a much-loved feature on Firefox for your computer and we always wanted to include it on Android - and now it's coming! Yay!
Sneak peek #2
More customization. You've become accustomed to it with Firefox for your computer. Why shouldn't you want it on your Android phone?

• We're working to bring you themes for your Android browser, so when you're browsing the Web on your mobile device, you can display a bit of your personality.

• The team is also working hard on a way to give you the ability to control the Firefox for Android start page content. No matter how you browse with Firefox for Android - for news, the most useful sites, the funniest pages - we'll never stop trying to give you the best and fastest experience.
© 2020 YouMobile Inc. All rights reserved