HTC One is now available in 24-carat gold
HTC One is now available in 24-carat gold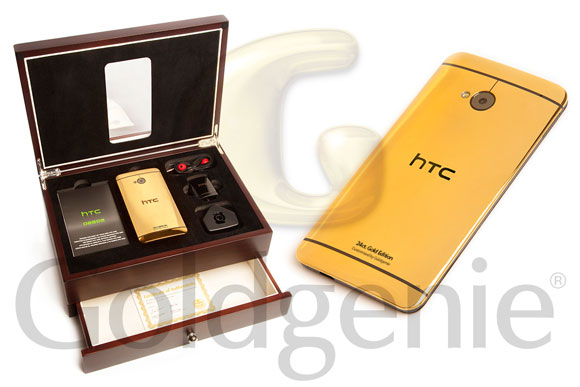 HTC One is now available in 24-carat gold and platinum, that's right. Retailing prices start at £1895, Goldgenie's Gold HTC One phone is available in a choice of Gold (£1895), Rose Gold (£1995), or Platinum (£2095) plating. Featured in either Silver or Black, users can choose 32GB or 64 GB of memory. All phones are delivered in a beautifully customised Goldgenie box, making this a complete gift-to-go.
That's exactly the thought that crossed the minds of the jewelry experts from Goldgenie, who have done a premium edition of the popular smartphone. The HTC One is now available with 24-carat gold plating, and, as expected, isn't what you'd call affordable. Not that the rest of the recent Goldgenie makeovers are.
ABOUT GOLDGENIE:
Having already achieved reasonable success gold plating company Goldgenie shot to fame its founder Laban Roomes successfully appeared on the BBC's popular show Dragon's Den (winning investment from multi-millionaire dragon James Caan) in 2007. Goldgenie now boasts franchises on several continents, as well as celebrity clients from the Beckhams, Elton John and Denzel Washington - not to mention a wealth of world-leading corporate brands. The company specialises in customizing and embellishing a wide range of items, from roses to game consoles, as well as supplying selected exclusive and luxury products to high end retailers such as Harrods and Selfridges.
For any enquiries please contact Kelly Taylor via kelly@mosaicpublicity.co.uk
© 2020 YouMobile Inc. All rights reserved