The Galaxy S9 and S9+ Start Receiving a Security Update on T-Mobile
The Galaxy S9 and S9+ Start Receiving a Security Update on T-Mobile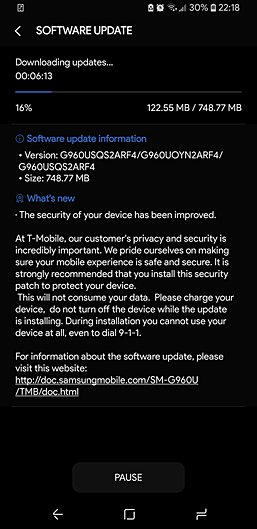 Galaxy S9 and S9+ users on T-Mobile have not had a good experience this year as the carrier was not left with any other option but to stop rolling out the month's security update back in April. Unfortunately, it has now been two months or more ever since the rollout was stopped, yet they have not yet sent out any security updates from that day onwards, that is until now of course!
T-Mobile has just started pushing out a new update for their customers and we are happy to report that it is indeed the security update of the month, that is June 2018, as is evident from the screenshot. In case you own any of the two smartphones on AT&T or Sprint, some reports are suggesting that the two carriers are also pushing out the same update for the Galaxy S9 and S9+ on their networks.
Check out our firmware section to find all the latest updates for your Samsung smartphones and tablets.
Saikat Kar
© 2020 YouMobile Inc. All rights reserved