Vertu Quest QWERTY with the premium
Vertu Quest QWERTY with the premium
I wonder why nobody reviews such models. The niche is obviously tiny and is represented merely by several scores of thousands items a year, but apart from actual owners there are many fans interested in these models. The latter may benefit from the related information. Similarly, sports cars are purchased by the rare few, while many read about them. Part of the answer is in reluctance of Vertu to give their models for analysis, which may reveal certain drawbacks, but they should not be present in handsets priced at €5000 and up.
The situation with Vertu Constellation Quest is the following. I could have written about it on the basis of preproduction samples, but I did not want to do the same work twice. I hoped that the construction of the keypad will be altered. Buttons of sapphire are cool, but a QWERTY model must provide easy text input first, while the material of buttons is not the most important issue here. Vertu believed that the expensive materials may excuse the inconvenience of use. May be those who pay €7000 for this model should change their impressions accordingly and view its ergonomics as great. I am not sure. The point is that by copying Nokia E71 Vertu offers horrible ergonomics of the keypad. There cannot be any considerable difference in the amount of power you use in a QWERTY model to push different buttons. Three first rows with lettered buttons are easy to use, but the lowest row is extremely tight. It is inconvenient to enter a text, as the lowest row resembles a piece of food stuck between the teeth. You come across it and get angry.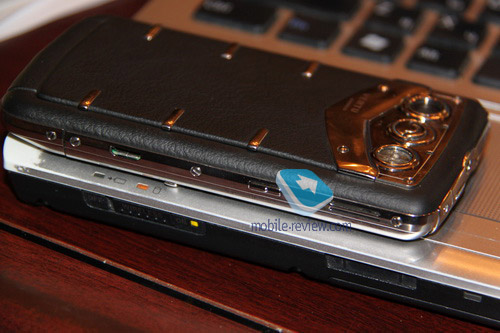 I like the exterior design of the handset represented by a brutal piece of metal. The build is decent, though some looseness is present. The back cover was changed to eliminate the issue available in Ayxta when the cover went flying. This time my sample slipped out several times, but the back cover remained in its place.
© 2020 YouMobile Inc. All rights reserved