iOS 4 Full Review - {YouMobile.org}
iOS 4 Full Review - {YouMobile.org}
Instead we'll stick to the new stuff. And Apple promised lots of that: multitasking, homescreen wallpapers, a revamped email app, and more. Here is our brief scoop on all the new stuff and all that's still missing.

What's new:
Homescreen wallpapers

Folder organization of the homescreen icons

Multitasking and fast app switching

Google/Wikipedia search in Spotlight

Bluetooth keyboard pairing support

SMS character counter

SMS search

Email threading

Unified Email inbox

Email archiving is now available when you setup Gmail

Spell checker

iPod music player can now create, edit and delete

playlists

5x digital zoom in still camera

Touch-focus in video capture (for video enabled iPhones)

Keyboard layouts span over QWERTY, QWERTZ, and AZERTY

Minor icon design facelifts

Video call support (only in iPhone 4 and only over Wi-Fi)

iBooks e-book and PDF reader
What's still missing:
No Flash support in the web browser

No true multitasking for all applications

iOS4 for iPhone 3G has limited new feature set

Poor performance on iPhone 3G

No quick toggles for Wi-Fi, Bluetooth or 3G

No social networking integration

No info widgets on lock screen or homescreen

SMS tones are still not customizable

No mass mark emails as read

No proper file browser or access to the file system

No USB mass storage mode

No vibration feedback when touching the screen

No Bluetooth file transfers to other mobile phones

Contacts lack a swipe-to-delete or mass delete feature

No SMS/MMS delivery notifications

No smart dialing (but Spotlight is a somewhat of a substitute)

No DivX or XviD video support and no official third-party application to play that

The whole iPhone is too dependent on iTunes - you cannot add the same type of content (video, photos, apps) to the phone from two computers, a regular file management interface would have been much better.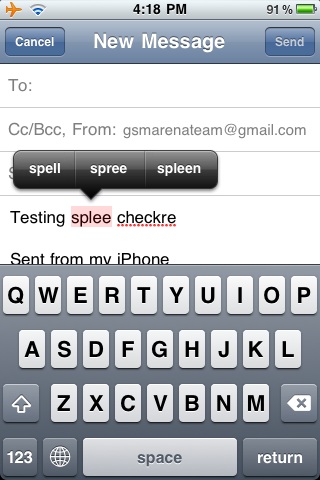 With the iPhone it's never about what the phone can or cannot do. The iOS 4 however seems finally determined to catch up with most of the today's smartphones. You're not to expect miracles though – such as a file browser, USB mass storage mode, web Flash support, and other stuff that seems irrelevant to Apple.
SMS search and character counter, Email threading and archiving
Steve Jobs mentioned nothing at the unveiling (and with very good reasons), but this doesn't mean the messaging app hasn't got any new features.
The first one is the SMS character counter, which honestly just took too long. It's there finally, but to use it you need to activate it in the messaging settings first, because it's disabled by default. Strange, isn't it?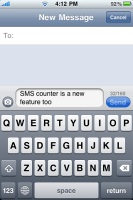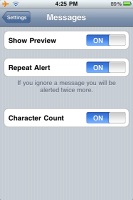 SMS counter • Message options
The second upgrade brings SMS search. The search bar is placed above all your conversations and works like a charm. This was another missing feature that earned Apple much criticism.
iOS 4 packs some major modifications in the Email department – an aggregated inbox, thread support and email archive.
The aggregated inbox (called All Inboxes) brings all messages from all your email accounts in one place. Some may find this feature useless, or at least messy – there're no account labels. It has its uses anyway and we are happy to see it in iOS 4.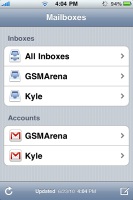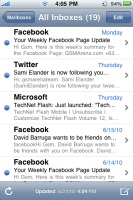 The aggregated email view
Email threading is also enabled and works just like the conversations in the Messages app. All emails you exchange with a given contact are grouped in a single thread. A numeric indicator on the Email main screen shows the number of emails stored in every thread.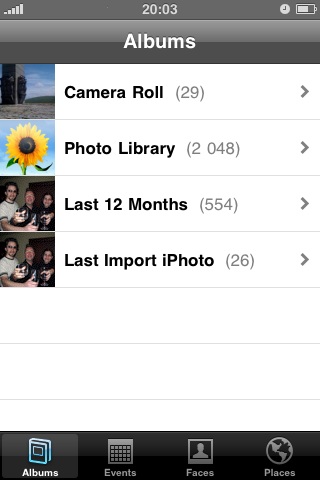 Gallery displays Albums, Events, Faces and Places
If you use iPhoto software on any of the Apple computers, you are now able to sync your Events, Places and Faces image holders. In iPhone's gallery you will notice four tabs available at the bottom – Albums, Events, Faces and Places.
As usual, Albums holds all of your synced, downloaded and captured images.
Photos in Events and Faces can be uploaded only if you've pre-created them on your computer with iPhoto photo organizer. Unfortunately, you can't populate them with photos from your iPhone's camera.
All geotagged photos (saved from web or shot with the iPhone) appear in Places where they show up as pins on a map. Tapping a pin shows a small thumb with basic information.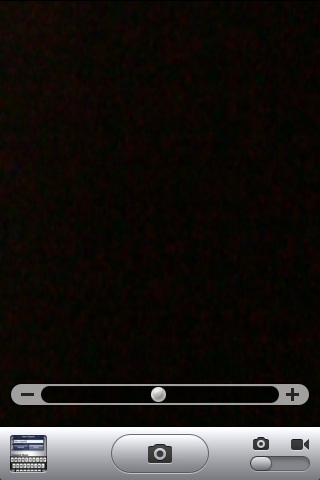 iPhone gets touch focus in video recording, digital zoom also available
iOS 4 brings digital zoom up to 5x to all iPhones. Unfortunately, it only works in still camera mode. We find it rather useless honestly – at least in still imaging where the camera already maxes out the resolution of the sensor. Digital zooming usually makes much more sense in video recording.
© 2018 YouMobile Inc. All rights reserved