Search result
Tags - brown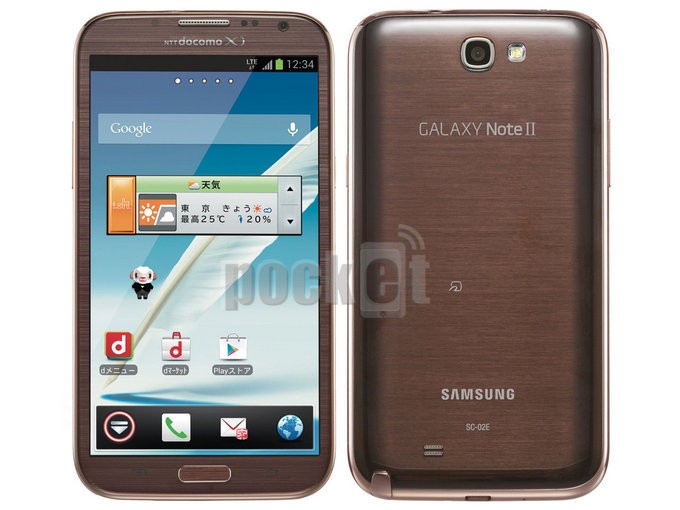 As rumored before, Samsung should be launching its its Galaxy Note II phablet in more color versions. Red and brown have been spotted on a Japanese blog website.
The Samsung Galaxy Note II in red and brown have appeared in a magazine from South Korea, which probably means the two versions will be released there soon. We are not sure when it will be released in the US. As you may already know, Samsung Galaxy Note 10.1 tablet should be also available in red starting next year.
Speaking of next year, Samsung could launch at lest three new Galaxy Note devices throughout it: Galaxy Note III with a 6.3 inch 1080p display, the GT-N5100 with a 7.7 inch display, and a giant 13.3 inch model. We are looking forward to see more details of those models.
Samsung has officially announced additional cooler colors for the Samsung Galaxy Note II, the name of these new colors are "amber brown" or "ruby wine", given how much success Samsung is having with the 5.5 inch phablet, it's a no brainer to add additional colors.
The S Pen will also get a matching paint job and will take the total number of colour options for the Galaxy Note II to four.

The new colors will be available to South Korean consumers sometimenext week.
Tags:
samsung
galaxy
note
spotted
red
brown
samsung
officially
coming
out
with
galaxy
note
amber
brown
ruby
wine
Officially announced only in a white color version, the Samsung Galaxy Tab 3 7.0 is going to be released around the world this month. And it seems that it will also be sold in a "golden brown" version.
Leaking expert Evleaks did it again, he posted an image showing the Galaxy Tab 3 7.0 in golden brown, unfortunately without providing any details on it.
Galaxy Tab 3 7.0 in golden brown features Android Jelly Bean, a 1024 x 600 pixels display, dual-band Wi-Fi 802.11 a/b/g/n, 1.3MP front-facing camera, 3MP rear camera, 1GB of RAM, dual-core 1.2GHz processor, 8GB / 16GB of internal memory, a 4,000 mAh battery, and MicroSD card support.
From previous rumored, the Galaxy Tab 3 7.0 8GB could cost around $200.
Tags:
samsung
galaxy
note
spotted
red
brown
samsung
officially
coming
out
with
galaxy
note
amber
brown
ruby
wine
samsung
galaxy
tab
7.0
golden
brown
leaked
© 2020 YouMobile Inc. All rights reserved