Search result
Tags - gold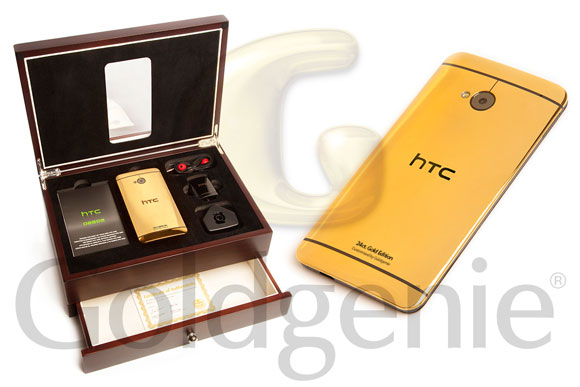 HTC One is now available in 24-carat gold and platinum, that's right. Retailing prices start at £1895, Goldgenie's Gold HTC One phone is available in a choice of Gold (£1895), Rose Gold (£1995), or Platinum (£2095) plating. Featured in either Silver or Black, users can choose 32GB or 64 GB of memory. All phones are delivered in a beautifully customised Goldgenie box, making this a complete gift-to-go.
That's exactly the thought that crossed the minds of the jewelry experts from Goldgenie, who have done a premium edition of the popular smartphone. The HTC One is now available with 24-carat gold plating, and, as expected, isn't what you'd call affordable. Not that the rest of the recent Goldgenie makeovers are.
ABOUT GOLDGENIE:
Having already achieved reasonable success gold plating company Goldgenie shot to fame its founder Laban Roomes successfully appeared on the BBC's popular show Dragon's Den (winning investment from multi-millionaire dragon James Caan) in 2007. Goldgenie now boasts franchises on several continents, as well as celebrity clients from the Beckhams, Elton John and Denzel Washington - not to mention a wealth of world-leading corporate brands. The company specialises in customizing and embellishing a wide range of items, from roses to game consoles, as well as supplying selected exclusive and luxury products to high end retailers such as Harrods and Selfridges.
For any enquiries please contact Kelly Taylor via kelly@mosaicpublicity.co.uk
Samsung might not have figured out how to entice buyers into arranging for its phones quite yet, but the organization does seem know the buzzworthy phone when it sees one. Samsung introduced via it's United Arab Emirates Facebook and Twitter accounts each a Gold Brown as well as Gold Red Galaxy S4.
Unfortunately Samsung didn't mentiona nything about the cost, the release day, or whether the Gold Edition Galaxy S4 phones would observe an international launch. As Apple company proved over the weekend, gold-colored phones are the first to sell out, so even though the Gold Brown and Precious metal Pink phones are being launched overseas, a U.S. release might not be a bad idea. Browse the photos of the gold phones above.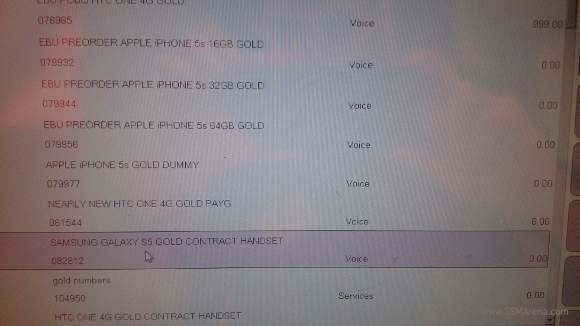 It seems the closer we get to Mobile World Congress, the more Samsung Galaxy S5 rumors are been released, hre's another one right before Samsung's Unpacked 5 event at MWC in Barcelona where the company is expected to unveil the Galaxy S5.
Based on what previous rumors have brought us, we're assuming that the high-end S5 sports a Quad HD (1440 x 2560 pixels) display, while the mid-end model should come with a 1080p display - both probably measuring 5.2 inches.

According to the Samsung exec, the Galaxy S5 will be available in retail stores just three weeks after its announcement. Supposing Samsung unveils the Galaxy S5 in Barcelona next week, the Galaxy S5 would be on store shelves in mid-March 2014.
Meanwhile, GSM Arena seemingly got hold of a Vodafone internal document which appears to list a gold-colored variant of the Galaxy S5. So, is gold becoming a must for high-end smartphones now? It looks like it does.
Tags:
htc
one
now
available
24-carat
gold
samsung
galaxy
gold
looking
sexy
gold
version
samsung
galaxy
leaked
© 2020 YouMobile Inc. All rights reserved