Search result
Tags - gpu
'
Looks like Samsung Galaxy S IV will be the "2013 Smartphone of the Year" with its Exynos Octa CPU and a 544MP PowerVR SGX GPU. These were unwittingly or purposefully revealed by someone who performed benchmarking through Antutu. All other fantastic specifications include 2GB memory, almost 5 inches Full HD display with a resolution of 1920x1080 and running on Android 4.2 JB.

Furthemore, the Samsung Galaxy S IV supports all kinds of networks including LTE, which means that the company will only have one variant of this powerhouse device, since LTE connectivity is already included among the supported networks.

The Galaxy S IV will be officially launched on March 14th and this "leak" definitely tops them all. Please don't let this be a hoax! Also, is it safe to say that we've already seen the best kept secrets of the S IV or are they just starting yet?

A few hours to go before Samsung Galaxy S IV's launch, reports are rife that its GPU is the same one used by iPhone 5. It has been confirmed that Samsung will use PowerVR SGX 544, which will provide better performance using only a single core but with different pipelines that can all work together to make processing faster.

This technology is spawned by Imagination, a graphics chip maker that is favored by Apple over ARM-based chips. Imagine having both Apple and Samsung as clients? It can only get better for this tech company, so expect some major improvements on its PowerVR chips, which will probably be used by more clients in the future, considering the two big names have already (sort of) jumped ship.
Source: appleinsider
Tags:
samsung
galaxy
tops
antutu
benchmark
with
exynos
octa
processor
powervr
sgx
gpu
samsung
galaxy
iv's
gpu
similar
iphone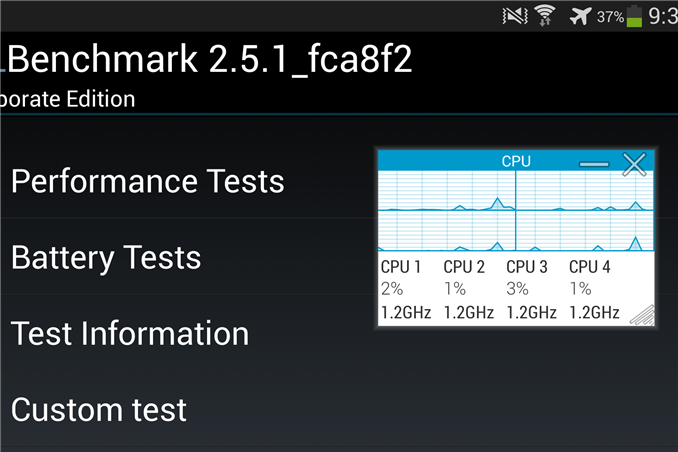 AnandTech reveals Samsung is boosting the GPU clock frequency of the Exynos 5 Octa-powered Galaxy S4 that enables the device to achieve a higher score. Some more digging also revealed whitelisted benchmark apps that when opened, bumped the GPU clock frequency to maximum (532MHz) while rest of the apps and games were limited to use 480MHz.
For those of you who aren't familiar with the Exynos 5 Octa in these devices, the SoC integrates four ARM Cortex A15 cores (1.6GHz) and four ARM Cortex A7 cores (1.2GHz) in a big.LITTLE configuration. GPU duties are handled by a PowerVR SGX 544MP3, capable of running at up to 533MHz.
The CPU of the Galaxy S4 variants was also found to behave somewhat odd with its clock speed forced to the maximum possible the minute you run a benchmark. That's not technically cheating though, as the power is available if needed elsewhere - there's no overclocking.
So, it seems Samsung is trying to polish the octa-core Galaxy S4 reputation. Whatever the reason, we are hoping it doesn't become a habit - the company's flagships have enough power and they don't need to use such unfair practices to gain advantage.
Source: AnandTech
Tags:
samsung
galaxy
tops
antutu
benchmark
with
exynos
octa
processor
powervr
sgx
gpu
samsung
galaxy
iv's
gpu
similar
iphone
gpu
benchmark
optimizations
galaxy
could
fake
Some more details about the Google Nexus 10 tablet are been rumored around the web, according to the semi-conductor focus website BrightSide of New, Google will be showing off a Galaxy Nexus 10 tablet at Mobile World Congress. If rumors are true, the next-gen Nexus tablet will sport a quad-core processor and new 8-core Mali-T678 GPU, 4 million pixel, 300ppi resolution would suffice to choke even the best mobile can offer.
According to the people we spoke with, the new Nexus 10 addresses that with a significant increase in "digital horsepower", moving from a dual-core to a multi-core design, with the T604 GPU core being replaced with an 8-core T628 GPU. If our sources hold true, the Nexus 10 refresh might be the first design out the door packing the Mali T678 GPGPU chip. This chip supports from a single to an 8-core design with all the bells and whistles one might come to expect from a desktop 2013 GPU.
If these sources are correct, the device could be on display at MWC, but may not ship for months, the earliest introduction of Google Nexus 10 is expected at Mobile World Congress 2013 in Barcelona. We don't know of pricing yet but it'll likely hover around the same price as the original, or probably a little bit higher.
Tags:
samsung
galaxy
tops
antutu
benchmark
with
exynos
octa
processor
powervr
sgx
gpu
samsung
galaxy
iv's
gpu
similar
iphone
gpu
benchmark
optimizations
galaxy
could
fake
google
launch
new
nexus
tablet
mwc
2013
with
quad-core
gpu
© 2020 YouMobile Inc. All rights reserved