Search result
Tags - looking
If the HTC One is just too small for your needs, how about the HTC T6, a 5.9-inch HTC device code-named the T6 is purportedly in development.
It's rumored that HTC is planning to launch a 5.9 inch Full HD Android device, currently codenamed T6. According to EVleaks, the HTC T6 will come with a quad-core 2.3GHz Qualcomm Snapdragon 800 processor, Boom Sound speakers, an Ultrapixel rear camera, 2.1MP front-facing camera, 2GB of RAM, 16GB of expandable internal memory, and a 3300 mAh battery. It's said that the T6 will run the unreleased Android Key Lime Pie.
The HTC One already encroached on Samsung's Android dominance with the Galaxy S4, but based on newly leaked specs, HTC is thinking bigger.

While the phablet game has largely been Samsung's to lose at this point, the supposed specs for the T6 might finally give the Note series a run for its money.
Earlier this week there were rumors that the Samsung Galaxy S4 will not be unveiled at MWC 2013 next month in Spain. However, same rumors went around that it will arrive at a special media event that could take place in the U.S. in March, with pre-orders taken place around April 15th.
Current flagship model, Samsung Galaxy S3 passed 40 million sales recently, while the Galaxy S2 also topped 40 million units, but in a much longer period of time.
According to Money Today, a South Korean publication called Money Today, Samsung has plans to sell about 10 million Samsung Galaxy S4 units in each month following the release. It's not specified for how many months this is going to continue, though. Money Today claims it has obtained information that Samsung has ordered its subcontractors to produce about 10 million GS IV components each month.
The Galaxy S IV is rumored to be equipped with a high-end 4.99-inch 1080p full HD display, 1.8GHz 8-core Exynos 5 Octa processor and a 13-megapixel rear camera. The smartphone is also expected to include 4G LTE connectivity, 2GB of RAM, a microSD slot, wireless charging capabilities and Android 4.2 Jelly Bean.
Source: MoneyToday
Tags:
htc
phablet
looking
challenge
samsung's
galaxy
note
iii
samsung
looking
sell
million
galaxy
smartphones
each
month
Samsung might not have figured out how to entice buyers into arranging for its phones quite yet, but the organization does seem know the buzzworthy phone when it sees one. Samsung introduced via it's United Arab Emirates Facebook and Twitter accounts each a Gold Brown as well as Gold Red Galaxy S4.
Unfortunately Samsung didn't mentiona nything about the cost, the release day, or whether the Gold Edition Galaxy S4 phones would observe an international launch. As Apple company proved over the weekend, gold-colored phones are the first to sell out, so even though the Gold Brown and Precious metal Pink phones are being launched overseas, a U.S. release might not be a bad idea. Browse the photos of the gold phones above.
Tags:
htc
phablet
looking
challenge
samsung's
galaxy
note
iii
samsung
looking
sell
million
galaxy
smartphones
each
month
samsung
galaxy
gold
looking
sexy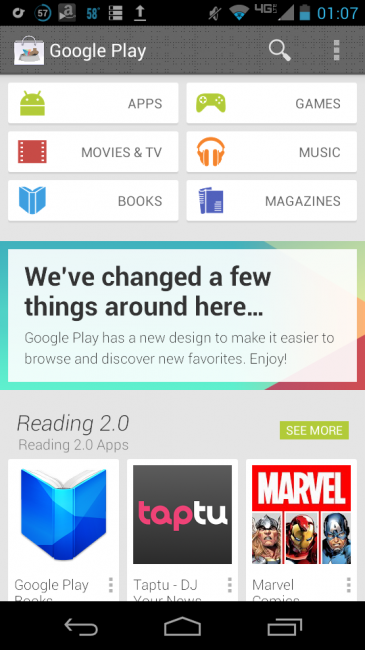 YouTube's Eileen Rivera posted the screenshot above on Google+, showing a lighter, more colorful design with more prominence given to the main store areas, and larger app icons below. "Games" also gets its own entry, whereas before it was found under "Apps."
These are the features as rumored:
Access the same conversation list from anywhere

A new, conversation-based UI

Advanced group conversations

Ability to send pictures

Improved notifications across devices
Google Play 4.0 will likely be released at this year's Google I/O (Google Developer Conference)
Source: AndroidCentral
Tags:
htc
phablet
looking
challenge
samsung's
galaxy
note
iii
samsung
looking
sell
million
galaxy
smartphones
each
month
samsung
galaxy
gold
looking
sexy
new
google
play
4.0
makes
another
appearance
looking
real
good
© 2020 YouMobile Inc. All rights reserved