Search result
Tags - make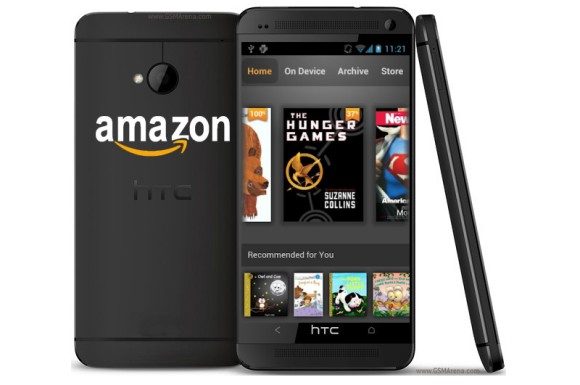 We have heard rumors of an Amazon smartphone for more than a year now, according to Financial Times report, the retail giant uses HTC to help it make its upcoming devices. Three different smartphones have been demonstrated to be in development, according to The Financial Times article, only one of the HTC-made devices is apparently close to completion.
One source warns the paper that while one of the devices is in the advanced stages of development, Amazon has pushed back its timetable before.
Amazon has not responded to requests for discuss the report, though it stated it has "no plans to offer a phone this year". HTC's chief of promoting Ben Ho also declined to discuss the Amazon partnership, but said that the manufacture is "always exploring new opportunities".
There is no doubt that the Samsung Galaxy S IV has brought plenty of new things to the table, as Samsung continues to improve its user interface that is based on Android. Intriguingly, Samsung does not pertain to its UI as TouchWiz anymore, nor do we still hear "Nature UI" to refer to it, which could mean that they might be planning to introduce a new or improved UI, don't you think?

Also, this is good news for other Samsung devices that have been consistently selling strongly in the market. The Galaxy S III and the Note II will also receive upgrades and will have some similar features to the S IV, according to Samsung.

Furthermore, these devices might already be getting the Andriod Jelly Bean 4.2 roll out and along with the added features, these devices will ensure improved user experience.
Source: pcmag
Espier Screen Locker is an iOS-style screen locker plugin dedicated to Espier Launcher (v2.0.9 or later). Espier screen locker can show missed calls, unread text messages and other notifcations from third-party apps on the locked screen, and can quickly activate the camera, easily browse the latest information, fast capture the beautiful scenery around.
Beautify your Android device from Espier Screen Locker!
Features:

1. Simple setup to experience the iOS-style screen locker;
2. Sliding to unlook and the simple password allows you to experience the easiest and most secure lock screen;
3. Display the missed calls, the unread SMS on the locked screen. This allows you to quickly browse the latest information;
4. Camera button to activate the camera, you can easily and fast capture the beautiful scenery around;
5. Easy-to-use, simple, and beautiful UIs;
6. Use Espier Notifications plugin at the same time, you will get a complete "iPhone"!
Tags:
htc
make
future
amazon
phones
software
features
samsung
galaxy
make
iii
app
make
android
run
like
iphone
Skala View is the companion app to Skala Preview for Mac - the fastest way to send pixel perfect, colour perfect design previews from your Mac to your Android device.

Previewing your design in situ lets you test tap sizes, text sizes, colour, contrast and ergonomics, all at a time where changes can be easily made - during the design process. It closes the loop, meaning you can iterate faster to a better final design.
★ Pixel Perfect

Skala Preview sends lossless, colour accurate image previews to any Android or iOS device. Previews are pixel perfect. Colours are identical to how the final app or website will look on the device.
★ Zoom In

Preview at precisely 100%. Zoom to exactly 200% to view a mdpi design full screen on an xhdpi device. Zooming in shows crisp pixels, not an interpolated, blurry mess.
★ Portrait & Landscape

Preview designs in portrait or landscape orientation.
★ Realtime Preview

If you're using Photoshop CS5 12.0.4 or newer, Skala Preview can preview your canvas as you edit. No saving, no keyboard shortcuts, just lossless previews in realtime.

It is the absolute fastest way to preview a design mock up on an Android device.
★ Send Files & Clipboard

If you're using Fireworks, Pixelmator, Acorn, another image editor or an older version of Photoshop, Skala Preview can send images via the clipboard or by dragging files to its dock icon or window.

The clipboard is sent automatically, so you don't have to break your workflow to send - Just copy something and it'll appear on your device.
★ Multiple Devices At Once

Send to as many devices as you'd like. It's even possible to view different colour blindness testing, orientation or zoom level on multiple devices at once.
★ Colour Blindness Testing

Ensure your design can be used by those with protanopia, deuteranopia, tritanopia or complete colour blindness.
★ Brightness

Quickly test your design with a variety of display brightness settings.
Tags:
htc
make
future
amazon
phones
software
features
samsung
galaxy
make
iii
app
make
android
run
like
iphone
skala
view
make
your
apps
look
better
© 2020 YouMobile Inc. All rights reserved