Search result
Tags - makes
Samsung, the world's top technology firm by revenue, reported record quarterly profit of $7.4 billion dollars today, with strong sales of its Galaxy range of phones masking sharply lower memory chip sales.
The South Korean firm said July-September operating profit almost doubled from a year ago to 8.12 trillion won, in line with its earlier estimate.
Samsung, reporting its results just hours after main rival Apple Inc, did not detail its third-quarter smartphone shipments, though these are estimated to have soared to 58 million. Apple said it shipped 26.9 million iPhones in July-September. It launched its latest iPhone 5 on September 21.
Profits from Samsung's mobile division more than doubled to 5.63 trillion won - more than two-thirds of the group's total - as sales of the Galaxy S III, introduced in late May, powered ahead of the iPhone 5 launch. Samsung is estimated to have shipped 18-20 million S IIIs in July-September.
Keep up the good work Samsung!
With Multi Window features, Samsung releases a video showing how the Galaxy Note II makes the perfect office companion. The Samsung Galaxy Note II is one of the best sellings Android Device of 2012 and has a large user base which also the reason why Samsung keeps on updating this device with all the latest available Android updates.
In case you miss our ealier article, here are some of the Android 4.1.2 new features:
Android 4.1.2 - JZO54K

New Additions in Notifcation Toggles

Notification Panel can now be customized

Brightness Slider in Notification Panel Can Now Be Disabled

Multi-View Can now be disabled

Browser Is Smoother Then Before

Status Bar has been changed from Grey to Black

Continues Input in Samsung Keyboard (Like Swipe or Android 4.2 Keyboard)

New Ink Effect On Lockscreen

New Group Cast Application

Keep an eye on @SamKiesUpdates to get the latest information on Official Firmwares for your Samsung device.

You can update your Galaxy Note II through Samsung KIES or by using OTA.
Check out the video below:
Tags:
samsung
makes
$7.4
billion
profits
beat
expectations
samsung
galaxy
note
makes
perfect
office
companion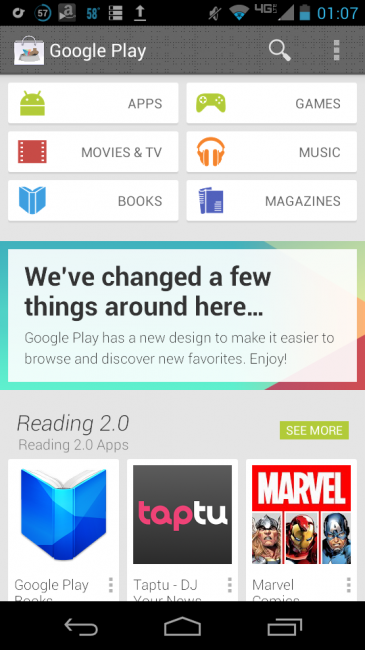 YouTube's Eileen Rivera posted the screenshot above on Google+, showing a lighter, more colorful design with more prominence given to the main store areas, and larger app icons below. "Games" also gets its own entry, whereas before it was found under "Apps."
These are the features as rumored:
Access the same conversation list from anywhere

A new, conversation-based UI

Advanced group conversations

Ability to send pictures

Improved notifications across devices
Google Play 4.0 will likely be released at this year's Google I/O (Google Developer Conference)
Source: AndroidCentral
Tags:
samsung
makes
$7.4
billion
profits
beat
expectations
samsung
galaxy
note
makes
perfect
office
companion
new
google
play
4.0
makes
another
appearance
looking
real
good
© 2020 YouMobile Inc. All rights reserved