Search result
Tags - metal
We already reported before that the Moto 360 Smartwatch was already sold-out on the Play Store in just a few hours after launch, but that was the leather band variant. If you wanted a Metal wrist band you were out of luck even if you got to the store in time Motorola released the phone with a choice of two leather bands saying it will make it available with a metal band later on.
Now however, Verizon has put the metal strap version on pre-order for $300 with a choice of Black and Silver colors. Sadly, the Black Metal version is already sold-out to, but you still have the Silver metal variant available.
The regular price is $250 so you pay a $50 premium for the metal band. That's still better than getting a metal band after the fact though, then it will be $80 extra (that puts the price of the leather band at $30).
Incase you are not familiar with the Moto 360, here are some of the cool features that will spark your interest:
Quality craftsmanship - Finely crafted with stainless-steel, genuine leather from Horween and scratch-resistant Corning Gorilla glass.


Responds to your voice - Just speak to get the info you need using the dual microphones.


Doubles as an activity tracker - Track your steps and heart rate with a built-in pedometer and heart rate monitor.


Works with your Android phone - Pair with most smartphones running Android 4.3 or higher.


Bluetooth 4.0 technology - Pairs with your smartphone through the latest Bluetooth technology.


Sensors - Include a pedometer, an ambient light sensor and an optical heart rate monitor (PPG) for versatile use.


Mobile notifications - Let you view alerts from your device simply by looking at your wrist. A vibration option provides discreet alerts.


Built-in microphone - Allows clear hands-free communication.


1.56" LCD touch screen - With Corning Gorilla Glass 3 construction, 320 x 290 resolution and 205 ppi makes navigation simple and clearly presents visuals.


Water resistant - Moto 360 withstands both water and dust, so you don't have to worry about a splash at the pool or a little sand at the beach*. IP67 Certified.


Stainless-steel case - With a plastic case back and a leather watch band creates a stylish, yet durable, design.



All-day battery - Go all day and recharge on a dock at night.





4GB internal storage and 512MB RAM - Help ensure fast, efficient performance.
------------------------
Mo Cheng
Editor in Chief
YouMobile, Inc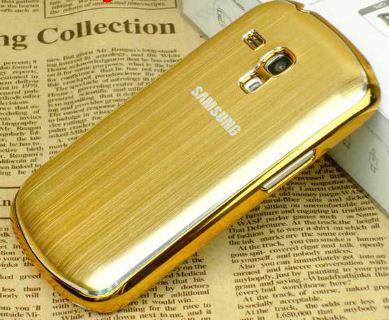 South Korean media site have reported that samsung is preparing to adopt a metal housing to its next smartphone to be released in early next year Samsung. Could it be the Samsung Galaxy S5?
The report also claims that Samsung is looking to start a production line later this year to create those metal chassis, with a sample produced in Europe sent for testing to Vietnam earlier this year. Samsung is reportedly treading lightly and is looking to minimize effects of a metal housing, such as on the antenna reception (Apple's "death grip" on iPhone, remember that?). Hopefully, things like removable batteries and expandable storage are being focused on, too.
Still alot of time before the Galaxy Galaxy S5 makes its way to market, so it's best to take these rumors as grain of salt, but nothing stop us from hoping, right?
Tags:
motorola
moto
360
metal
variant
now
available
verizon
300
usd
samsung
galaxy
have
metal
chassis
starting
production
end
2013
The next flagship also known as the Galaxy S5 by Samsung to launch in 2014, has reported the possibility of us a metal housing. According to a Taiwanese media company.
According to the report, Catcher will start supplying a certain amount of the required metal housings this month, while Chinese company BYD and Taiwan's Ju Teng will be contracted for supplying the remaining units. As always, considering Samsung's love for plastic, it wouldn't be a good idea to get your hopes too high, but going by the numerous reports, a metallic Galaxy S5 is looking to be more and more likely.
Samsung Galaxy S5 has been rumored to be announced in March next year equipped with a 2560x1440 2K AMOLED and 64bit Exynos processor.
Tags:
motorola
moto
360
metal
variant
now
available
verizon
300
usd
samsung
galaxy
have
metal
chassis
starting
production
end
2013
taiwanese
media
reporting
galaxy
have
metal
body
© 2020 YouMobile Inc. All rights reserved