Search result
Tags - powered
According to Korean ETNEws reports, about 70% of the first 10 million Samsung Galaxy S4 production batch will come with Qualcomm Snapdragon 600 CPU, instead of its own Exynos 5 Octa.
The reason claimed by the site is that the System LSI division could not iron out the performance and design issues before it could be mass produced to satisfy the demand for Galaxy S4. Also because the fact that Samsung wants to bring the Galaxy S4 to as many markets as possible by the end of first half of this year and waiting for the Exynos chip could have led to delay in some markets.
Qualcomm's Snapdragon 600 is a quad-core chip that clocks at 1.9GHz whereas Samsung's Exynos 5410 comes with four Cortex-A15 cores clocking at 1.6GHz and four Cortex-A7 1.2GHz cores and supports ARM's big.LITTLE architecture.
Source: etnews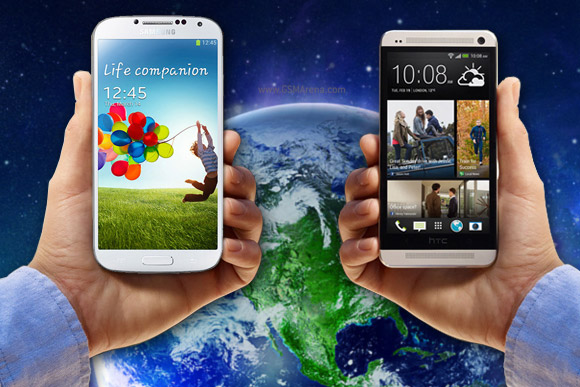 The Galaxy S4 is the Samsung's latest flagship smartphone for 2013 but how does it stack up against the well-received HTC One performance wise? well, AndroidAuthority did a great job running the Benchmark on it.

As a quick hardware recap, the HTC One is running a Snapdragon 600 chip using a Krait 300 CPU clocked at 1.7Ghz, it's the same chip found in the most common Samsung Galaxy S4. The Galaxy S4 Snapdragon 600 is clocked slightly higher than the HTC One at 1.9Ghz, so we should already expect the Galaxy S4 to pull out slightly ahead. The Snapdragon 600 used in both handsets has an Adreno 320 for its graphics processor.
And the winner, without a surprise, by a decent enough margin, is the Exynos 5 Octa powered Galaxy S4.
Source: androidauthority
Tags:
percent
galaxy
s4s
initial
batch
powered
snapdragon
600
cpu
exynos
octa
powered
galaxy
benchmark
There were rumors floating around the internets a few weeks ago saying that Samsung was working on a variant of the Samsung Galaxy Note II that used Qualcomm's new Snapdragon 600 chip instead of the company's own Exynos 4 Quad. Well, turns out those rumors were true.
China Mobile, the world's largest operator, just announced a device called the GT-N7108D on Weibo (the Chinese version of Twitter), and yes, it uses the new Snapdragon. Why would Samsung make this variant? Because it'll be able to support the operator's complicated network, which right now uses TD-SCDMA, W-CDMA, TDD-LTE, and FDD-LTE.
We think there's really no reason to bring it to more markets - the Exynos 4 chip does a pretty darn good job. Not to mention the fact that the Galaxy Note 3 should be announced pretty soon, which is also rumored to have a Snapdragon 800 chip. It'd be almost pointless to bring a Snapdragon 600 powered Galaxy Note 2 to other markets with that in mind.
What do you think?
Tags:
percent
galaxy
s4s
initial
batch
powered
snapdragon
600
cpu
exynos
octa
powered
galaxy
benchmark
snapdragon
600
powered
samsung
note
official
© 2020 YouMobile Inc. All rights reserved