Search result
Tags - receive
Meet the latest devices to update to Android Jelly Bean 4.1. The DROID RAZR and the RAZR MAXX users have waited for so long to be updated to Jelly Bean and although it hasn't happened yet, at least a formal announcement have already been made by Motorola.

Although many devices have already upgraded to Jelly Bean and have reported awesome enhancements and additional features such as Google Now, camera and notification features, among others, owners of these Motorola devices will surely find Android Beam and near field communication technology (NFC) to be useful when exchanging information.

These are only some of the things that Jelly Bean can bring about on a DROID RAZR or a RAZR MAXX phone. Perhaps the best news is that although Motorola was a bit late on providing update, it hasn't completely forgotten to upgrade and have kept these devices alive. Now, the only thing left to be worried about is how long it will take to actually "roll-out" the Jelly Bean.
Source: Motorola/phandroid
Verizon Wireless today said that the Samsung Galaxy Stellar will be updated to Android 4.1 Jelly Bean beginning March 4. The update will be pushed out in phases, though it can also be downloaded manually starting Monday afternoon.
Jelly Bean includes enhancements and new features like Google Now as well as a new notification panel that displays missed calls and emails and lets users return the call or email right from the notification. A brightness bar has also been added as an easy way to adjust and dim the screen's brightness.
For more information on the Jelly Bean upgrade, visit the Galaxy Stellar support page.
See more at: Verizon Support Page
Tags:
droid
razr
maxx
motorola
receive
android
4.1
jelly
bean
samsung
galaxy
stellar
verizon
receive
jelly
bean
update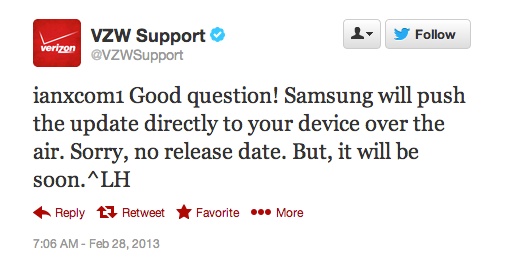 In case you are still speculating whether or not Verizon will update their Galaxy Nexus to the Android Jelly Bean 4.2.1 version, don't lose hope yet. According to Verizon, the update will be sent overt the air "soon" by no less than Samsung. As to 'how soon' remains a question. Also, this was posted by a representative in answer to a furious customer's question on their Twitter page.

It can be recalled that the Galaxy Nexus has seen better days with people who wanted to have the latest Android version during its release in 2011. However, Verizon wasn't too keen on having it updated and it has remained on Android 4.1.1 since, annoying many of those who have been waiting for an update. Furthermore, last year, it was reported that Verizon will not be selling Galaxy Nexus units anymore, which may be one of the reasons for the delay.

So if you still own a Verizon Galaxy Nexus, you can already set your sights on a better smart phone or you can wait for the update SOON.
Source: @VZWSupport
Tags:
droid
razr
maxx
motorola
receive
android
4.1
jelly
bean
samsung
galaxy
stellar
verizon
receive
jelly
bean
update
verizon
galaxy
nexus
receive
software
update
soon
The non-takju/yakju Samsung Galaxy Nexus devices are quite late when it comes to receiving the latest Android roll outs and until last week, they were still stuck with Ice Cream Sandwich, months after the second Jelly Bean version has been released. However, the good news is that folks in Canada can now experience the perks of the Android 4.2.1 as some have already reported that they have received the updates on various carriers.

Android 4.2.1 is the first Jelly Bean 'edition'. The latest one came out only in February and although it is the better version, Galaxy Nexus owners can still enjoy improved features and additional applications with the 4.2.1, than if they were still using the ICS. Also, at least they can be thankful that the next roll-out is just around the corner and that is not such a bad thing.
Source: mobilesyrup
Tags:
droid
razr
maxx
motorola
receive
android
4.1
jelly
bean
samsung
galaxy
stellar
verizon
receive
jelly
bean
update
verizon
galaxy
nexus
receive
software
update
soon
samsung
galaxy
nexus
receive
android
4.2.1
roll
out
canada
© 2020 YouMobile Inc. All rights reserved