Search result
Tags - stores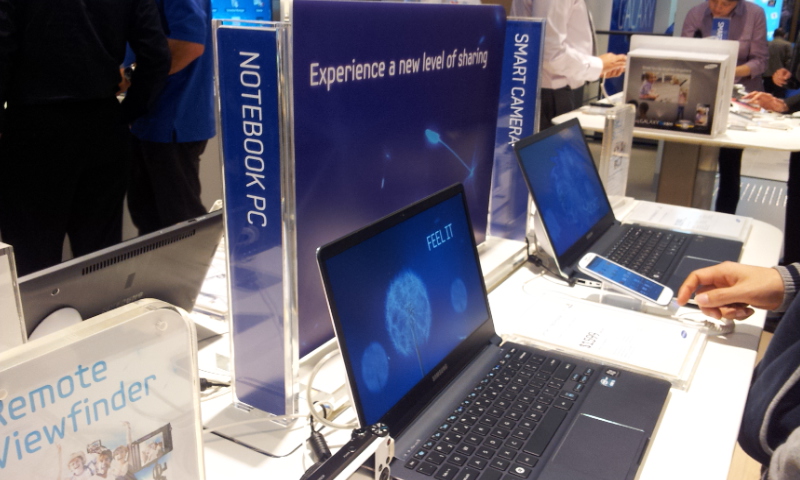 According to Geek.com, some of the Best Buy stores will soon feature a special section dedicated to showing off tablets, computers, and smartphones from Samsung.
Apparently there will be "large Samsung signage" and demonstration stations to show off the features of Samsung products. And like the Apple mini-stores, Best Buy employees will receive special training, though it appears that the entire mobile department staff will be receiving this training instead of select individuals like the Apple sections. If all goes according to plan, Samsung and Best Buy plan to eventually roll the mini-store expansion out to all of Best Buy's locations.
The installation of special in-house Samsung "stores" are timed to coincide with the launch of the Galaxy S4, which is widely expected to be one of the best-selling smartphones of 2013.
Source: geek
Samsung has officially released a press release regarding to the Samsung Galaxy Note 8.0, it will hit US stores on April 11 for a suggested price of $399. It will be available directly from Samsung, as well as Amazon, Best Buy, Newegg, Staples and other retailers.
While that $399.99 price tag may be slightly higher than the Apple's iPad mini price, Samsung says that buyers will get "pre-loaded content and services valued at over $200" with each Galaxy Note 8.0 purchase.
The list includes 50GB of Dropbox storage for 2 years, 1 month free of unlimited music streaming in Samsung's Music Hub, and "for a limited time," $25 Google Play credit.
Samsung Brings Power and Portability to the U.S. with the Galaxy Note(R) 8.0 Tablet
In stores April 11, the Galaxy Note 8.0 delivers an unparalleled tablet experience for work and play
RIDGEFIELD PARK, N.J., Apr 09, 2013 (BUSINESS WIRE) - Samsung Electronics America, Inc. today announces that the Galaxy Note 8.0 is coming to the U.S. market on April 11. Unveiled globally at Mobile World Congress in February, the Galaxy Note 8.0 will be available in stores and online at retailers including Amazon, Best Buy/Best Buy Mobile, h.h. gregg, Newegg, P.C. Richard & Son, Staples and TigerDirect.com.
A mid-sized addition to the Galaxy Note family of products, the Galaxy Note 8.0 has the power and advanced technology to enable multi-tasking at home, at work or on the go. The Galaxy Note 8.0 is the perfect size for entertainment and productivity, with unrivaled multimedia performance in a compact format. The S Pen has evolved to improve everyday usability with Air View, and Multi Window now supports more apps to perform tasks simultaneously allowing users to do more.
"The Galaxy Note defined an entirely new smartphone category and the Galaxy Note 10.1 tablet redefined the tablet experience for consumers," said Travis Merrill, vice president of Samsung Electronics America, Inc. "With the Galaxy Note 8.0, we fully expect to ignite the mid-size tablet market Samsung pioneered with the first Galaxy Tab. The Galaxy Note 8.0 is small enough to fit in your pocket or purse and packs the power needed for full mobile entertainment and productivity."
Galaxy Note 8.0 at Play
The Galaxy Note 8.0 will be the first product to feature Samsung WatchON, a new search and recommendation service that alleviates the chore of channel surfing and makes finding TV shows and on-demand video content faster and easier. Samsung WatchON simplifies the process of discovering new content to watch by searching across multiple content sources, such as live TV and streaming video-on-demand sources such as Samsung's Media Hub*, to recommend movies and TV shows. It also provides complementary content including actor bios, reviews and related information.
With the built-in IR blaster, the Galaxy Note 8.0 acts as a powerful universal remote, eliminating the need for multiple remotes to control the TV viewing experience. Users can browse for content then change the channel on the TV or cable box directly from the search window.
For entertainment on the go, the Galaxy Note 8.0′s screen is great for everything from content viewing to reading. With its dazzling 8-inch WXGA screen, the Galaxy Note 8.0 is perfect for watching HD content, packing 1280 by 800 pixels. The Galaxy Note 8.0 also has Reading Mode, which adjusts color and brightness to an optimal level for reading. It provides the ability to customize fonts and themes so select books, magazines, documents and Web pages are easier to read. Combined with Smart Stay, which keeps the screen awake while you are reading, the Galaxy Note 8.0 is customized to ensure the best reading experience.
Galaxy Note 8.0 at Work
The tablet is quickly becoming a primary computing device for employees. The Galaxy Note 8.0 offers multi-tasking and productivity features, making users more efficient at everyday tasks, whether working at the office or on the go:
- Multi Window: The Galaxy Note 8.0 offers true PC-like multitasking, so you can use two apps side-by-side. Multi-Window now supports 20 apps, including Polaris Office, Google Chrome and Facebook.
- Air View: Conveniently preview your content without opening files or folders. The S Pen held above the screen allows you to preview pictures in the Gallery, open menus on Web sites, and preview a message or an attachment in an email.
- AllShare(R) Play: Pass content to the TV or remotely access files on your desktop computer.
- Polaris Office: View, create, and edit Microsoft(R) Office Word(R) documents, Excel(R) spreadsheets and PowerPoint(R) presentations right on your tablet. With the Galaxy Note 8.0, you can add handwritten notes and drawings to your documents.
- Awesome Note: A note-taking application and to do list manager, Awesome Note enables you to customize folder icons, colors, fonts and backgrounds for quick reference and visual organization.
- Group Play: Share and collaborate on content, including documents, which allows users to work together.
For those using tablets for work, Samsung offers improved security levels for IT managers and employees. SAFE, or Samsung for Enterprise, is the security standard to provide enterprise- and consumer-friendly devices to businesses and their employees. With SAFE, the Galaxy Note 8.0 supports the needs of IT managers while providing businesses with the functionality needed to enhance productivity.
Powerful Performance
The Galaxy Note 8.0 features a powerful 1.6GHz Quad Core processor and 2GB of RAM to ensure optimum performance. Wi-Fi technology with dual-channel bonding offers more efficient connectivity for faster loading of Web pages and video streaming.
With a large, 4,600 mAh battery, the Galaxy Note 8.0 offers long battery life to work and play all day. Beyond the 16GB** of internal memory, the Note 8.0 can handle microSD cards up to 64GB, for a combined possible 80GB of storage. The 5-megapixel camera on the back can shoot 1080p video, and the 1.3-megapixel front-facing camera can handle video chats at 720p resolution.
Preloaded with Content and Services
Buyers will enjoy preloaded content and services valued at over $200, including 50GB of free Dropbox storage for 2 years***, 1 month free of unlimited music streaming in Samsung's Music Hub, Samsung's Smart Remote, Awesome Note, and more. For a limited time, they will also receive a $25 Google Play credit with the purchase of a Galaxy Note 8.0, when they register their device.
The Galaxy Note 8.0 will be available in white for $399.99 MSRP. Accessories will be available beginning mid-April. These include Book Covers in white, grey, pink or green, as well as USB and HDMI adapters, and a travel charger that connect via the device's microUSB port.
For multimedia content and more information, please visit www.samsung.com/us/note8.
Tags:
bestbuy
give
samsung
apple-style
space
its
stores
samsung
galaxy
note
8.0
hit
stores
april
$399
Officially announced yesterday, the Galaxy S5 is now a 5.1-inch unit, comes with a 16 MP rear camera with LED flash and 4K UHD video recording, a 2.1 MP front camera, a 2.5 GHz quad-core processor (almost certainly the Qualcomm Snapdragon 801 MSM8974AC), 2 GB of RAM, 16 or 32 GB of internal storage, microSD card support, 150 Mbps 4G LTE, Wi-Fi 802.11 ac, Bluetooth 4.0, GPS, NFC, IR remote, fingerprint sensor, heart rate monitor, and a 2,800 mAh battery. It runs Android 4.4 KitKat.
Weighs at145 grams with dimensions at 142×72.5×8.1 mm, and, it's bigger than the Galaxy S4 by every measure, and it's 15 grams heavier too. The Galaxy S5 adheres to the IP67 standard for water and dust resistance, meaning it can withstand being submerged in up to 1 m of water for up to 30 minutes.
Samsung Galaxy S5′s camera mentioned by the Executive as the fastest ever smartphone autofocus time (0.3 seconds), and improved HDR. The fingerprint sensor is embedded into the Home button and works by swiping your finger across it.
There's a Protected Mode which hides images and stuff from prying eyes and can be entered by, you guessed it, using your fingerprint. Mobile payments will also be supported via PayPal, with no need to enter a password.
Samsung Galaxy S5 will be available in 150 countries on April 11. Pricing has not been announced yet, we are guessing $199 with a 2-year contract in the US is expected.
Tags:
bestbuy
give
samsung
apple-style
space
its
stores
samsung
galaxy
note
8.0
hit
stores
april
$399
samsung
galaxy
now
official
stores
april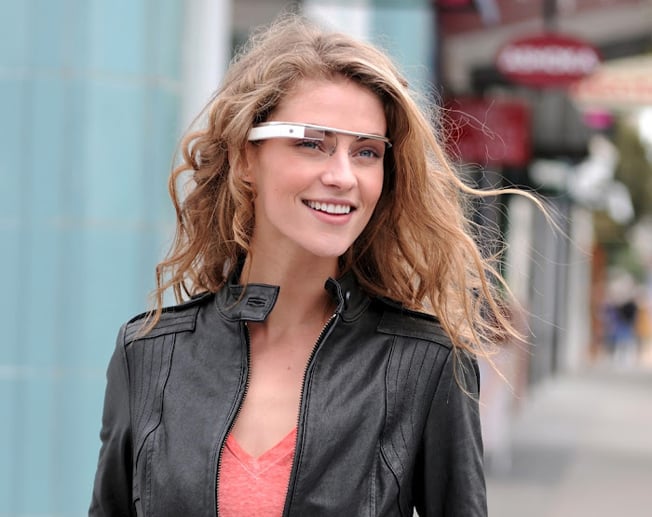 According to Business Insider, Google may be planning its own retail stores. While we've heard this kind of rumor before, what makes this claim truly interesting is that the retail front supposedly will only feature Google Glass. When briefed on this story, Google said, "we don't plan to comment on rumor or speculation."
Google Glass is quite a bit different than other mobile computing devices out there, which could make for a sharp learning curve. Having a retail presence for Glass could be an important way to train new owners, educate about Glass, and even help some folks get over the fear or distrust of it.
Right now it's sending out Glass to developers as part of its "Explorer" program. Developers pay $1,500 for Glass. They then test Glass, and build applications, helping Google figure out how Glass is really going to work.
Read more: Business insider
Tags:
bestbuy
give
samsung
apple-style
space
its
stores
samsung
galaxy
note
8.0
hit
stores
april
$399
samsung
galaxy
now
official
stores
april
google
planning
retail
stores
sell
its
glasses
© 2020 YouMobile Inc. All rights reserved