Search result
Tags - tegra
Fujitsu did not have much to display at the CES 2012. They had only ONE really special device to show, a quad-core Android smartphone running on the latest Ice Cream Sandwich 4.0.3 (photo above).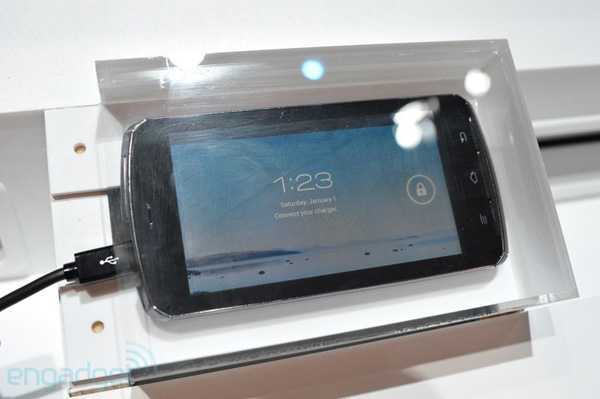 The phone currently is just a prototype and the specifications could change before it is announced officially at the MWC this year but it seems mighty impressive as it is. For starters it will run on the quad-core Nvidia Tegra 3 processor, which will take care of all your gaming needs.

This prototype device had a 4.6-inch 720p HD display and a 13.1 MP camera capable of ISO 25,600 sensitivity. The phone will launch duting this year with Ice Cream Sandwich 4.0.3 out of the box.
NVIDIA will not limit its Tegra 3 processor to mobile devices like tablets and smartphones (Quad-core CPU) they are going for cars as well. Audi is the first car company that will integrate the powerful processor in its vehicles starting from 2013, with Tegra 3 powering up in-vehicle infotainment systems as well as new digital instrument clusters that replace traditional dashboard gauges. Both systems will utilize Tegra 3 "Visual Computing Modules" (VCMs) which include processors, memory and IO controllers, designed specifically for automotive applications.

The tight integration of these systems with the vehicle, as well as their simple user-interface and realistic graphics, will enable safer, more intuitive driving by providing critical information that can be easily understood with a quick glance.

There is only one problem, by 2013 NVIDIA may launch something even more powerful than the Tegra 3.
We all saw the powerful Nvidia Quad-core Tegra 3 processor with its CPU Geforce ULP (Ultra-Low Power) and it has an amazing performance. Well, its time for an Upgrade, Nvidia announced that it will release "Tegra 3+" the Update version with the same 4-PLUS-1 architecture during this year.

The New Tegra 3+ will feature an improved CPU performance with the Same GeForce GPU and will be available on both tablets and smartphones, However, Nvidia deiced that it won't be brining the LTE-support to the Tegra 3+ leavin this feature to the Tegra 4 which will be released during 2013.

Tags:
fujitsu
quad-core
tegra
android
ics
device
audi
use
nvidia
tegra
processors
its
vehicles
nvidia
tegra
© 2023 YouMobile Inc. All rights reserved