Search result
Tags - what's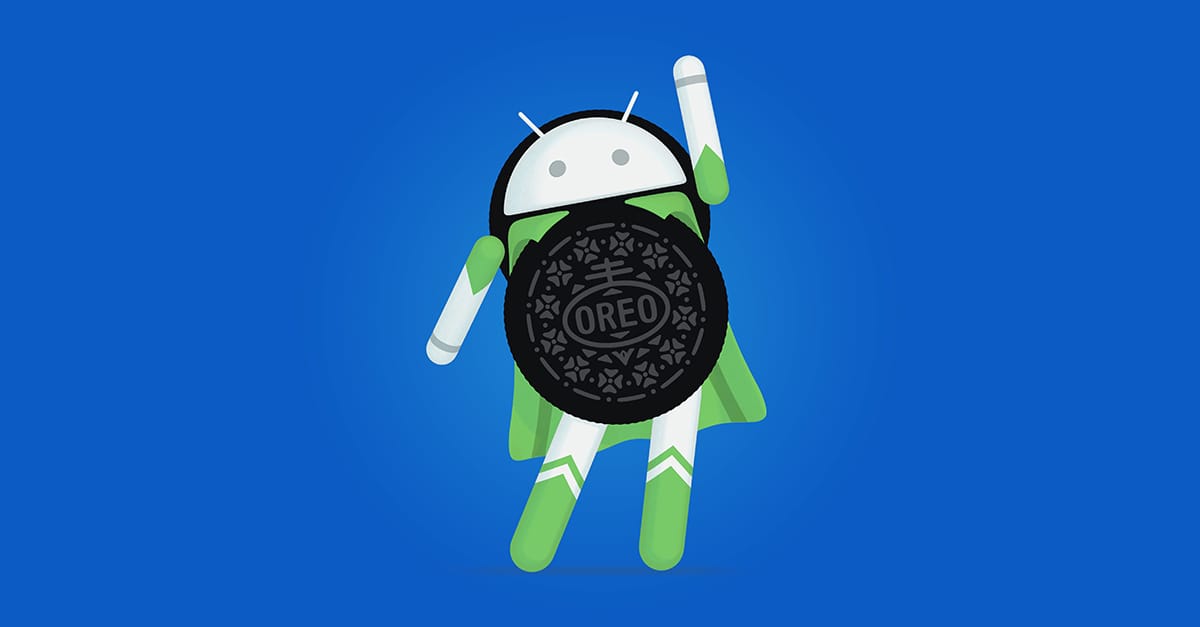 If it feels like donkeys ago that Google officially launched Android 8.0 Oreo, that's because it was - the announcement was made way back at the end of August '17.
And although it's already been rolled out on Google devices, the rest of us using non-Google smartphones are likely going to have to wait until the start of next year, according to most predictions.
It may be frustrating but it's no real surprise. Android isn't exactly renowned for quick updates, after all (the previous update, Nougat, is still only running on just 17.8% of devices a year after its release).
To help tide you over, we're running through a few of the key new features and improvements Android 8.0 Oreo is set to bring when it finally arrives. Take a look.
A boosted battery life
Whether you're playing online games on the likes of Casinomir and right near a big win, or in the middle of composing an important work email, there's nothing more frustrating than having your battery die on you.
According to Google, it's a nightmare situation that will soon become a thing of the past for Android users. Yup, the Google gods have heard your curses and your prayers, and Oreo, with its focus on improving battery life, is their answer.
How's it managing to accomplish this awe-inspiring feat? Well, mostly by cleverly limiting battery-draining background processes and apps that are not essential to your current activity.
Safety First
From hackings to harmful malware, there are plenty of nasty dangers waiting to corrupt your smartphone.
Oreo hopes to put your mind at rest with a new and improved security feature called Google Play Protect. It will update automatically, continually monitor your phone for threats or risks and take action to resolve them (by removing risky apps, for example).
It evens boasts a Safe Browsing feature for Chrome which will warn you of any dodgy sites or pop-ups as you browse the internet.
Other notable features
Android 8.0 Oreo also boasts a range of handy streamlining features to help you save some valuable time, including:
· Android Instant Apps - instead of waiting for apps to download before deciding whether you actually need them, this feature lets you use them online through your browser instead.
· Autofill API - fed up of manually typing in your email and passwords? Or are you that person that's continually forgetting their password? New autofill capabilities help you quickly log in to your favourite apps without all the hassle of manually putting in your details.
· Accessibility - simplified audio controls and new quick access options on the navigation bar for things like magnification are added bonuses.
We're also being treated to some new emojis (apparently these will include a fairy and a mermaid, amongst others), notification dots on apps in the homescreen and new downloadable fonts.
All in all, with a few much-needed security and battery improvements alongside some handy visual changes, there's a lot to look forward to with Android 8.0 Oreo. It seems as though the wait will be worth it, you'll be pleased to know.
The Width
The Note 7 is 73.9mm wide and that's even narrower than the first Note which sported a smaller 5.5-inch display. The Dual Edge device is the slimmest in Samsung's Note arsenal yet.
Dual Edge
This is the first in the series to feature a display that's curved on both sides, complete with Edge features from Samsung.
Biometric ID
The Note 7 features the first of its kind iris scanner that works in sync with KNOX and Samsung Pay to make payments even more secure.
IP68 certified water-resistance
Even though the S7-series already had the IP68 water and dust resistance certification, it is the first Note device to have that.
Waterproof S-Pen
The S-Pen can be used underwater as well and features 4096 levels of pressure sensitivity. Also, the tip won't be damaged if you insert it in the wrong way into the slot.
USB Type-C
Staying true to the rumors, the latest Note does feature Samsung's first USB Type-C port as expected. This should allow for faster charging and data transfer speeds.
Gorilla Glass 5
The phone will be able to survive falls from up to a height of 1.6m due to the brand new Gorilla Glass 5 protection on it. It's also the first smartphone in the market to feature Gorilla Glass 5.
Minimum internal memory of 64GB
The Galaxy Note 7 will have at least 64GB of UFS 2.0 internal memory with an expandable SD card slot. The higher storage variants may even offer up to 256GB of space.
New color
The new Blue Coral color is quite beautiful and makes its appearance for the first time in the Note series.
In case you are interested to buy one, pre-orders will open on August 3 and the official sale will begin from August 19.
Saikat Kar (tech-enthusiast)
As you probably know already, the next Qualcomm Snapdragon flagship chipset has been made official jointly by Samsung and Qualcomm at a press event two days ago. The Snapdragon 835 chip marks Qualcomm's shift from the older 14nm process to the new 10nm FinFET process by Samsung, who will also be manufacturing all of the chips for Qualcomm in 2017.
According to a recently leaked spec sheet online, the MSM8998, aka the Qualcomm Snapdragon 835 SoC will be powered by an octa-core processor and the Adreno 540 GPU based on the company's own 64-bit Kryo 200 architecture. Support will be added for 4-channel LPDDR4X-1866 RAM and UFS 2.1 for internal storage. The 835 chip will also be compatible with LTE X16 modems with up to 1Gbps speed on LTE Cat.16.
Interestingly, the Qualcomm Snapdragon 660 SoC also came into focus via the same leak and was revealed to be an octa-core CPU as well. Instead of the Adreno 540 GPU, the 660 will be powered by a less powerful Adreno 512, but the sheet promisingly shows that the mid-range CPU is capable of being clocked as high as 2.2GHz. Unlike its more premium sibling, the SD 660 will be built on the 14nm FinFET LPP process by Samsung. It will support the X10 LTE modem, UFS 2.1 for internal storage and 2-channel LPDDR4X-1866 RAM.
As far as release dates are concerned, it looks like the Snapdragon 835 will make an early debut in the first quarter of 2017, while the Snapdragon 660 will be released later in Q2, 2017.
Saikat Kar (tech-enthusiast)
Tags:
android
8.0
oreo:
what's
new?
what's
new
samsung
galaxy
note
qualcomm
snapdragon
835
660:
what's
inside?
According to the latest statistics, there are over 2.5 billion smartphone users in the world. Most of these people own Android-based mobile devices because Android is the most used and popular operating system. Modern mobile users no longer rely on their devices for sole communication - they use it for many other things including shopping and gambling.

That's why there are many specially designed online casinos for Android users. It's worth mentioning that in most cases, you will find standard casino sites which are available exclusively to Android users. Regardless of the type of casino you are looking at, you can rest assured that with the best Android casinos out there, you will have a thrilling and rewarding gaming experience.

How to find a good online casino for Android OS?

If you ask this question, most people will say "Google it". Well, this sounds like good advice, but you should keep in mind that there are literally hundreds of casinos out there that are compatible with this operating system. So, it will take a lot of time to visit all these sites, analyze their offers, and learn how they work. Of course, you can also ask your colleagues, friends, and relatives and maybe they can share their positive experience.

However, if you want to save more time and energy, it's probably the best idea to use a specialized website where you can find reviews and information about popular online casinos including the ones designed for Android-based device users. One of the sites that can help you in situations like this is Casinopedia. With detailed reviews, comparisons and the latest news from the world of online gambling, you can rest assured that you will find what you are looking for.

How to play casino games on an Android-based smartphone or tablet?

There are basically two options for Android users when they want to play casino games on their device. First and foremost, they can access mobile-friendly casino sites through their browsers. The majority of online casinos have a responsive design which allows players to access their site with the help of a browser on their Android-based device.

The other option you have is to download a specially designed app offered by the casino. Unfortunately, not many of these casinos have standalone apps, so it might take some time before you find one. When you do, check the requirements because some of them require a higher version of Android OS to work.

Regardless of the option you have, check which games on the desktop version of the casino are also available to mobile users.

Android Casino Bonuses

Finally, before you join any Android casino on the Internet, check their bonus offer. The fact is that there are many online casinos compatible with Android OS that have a special bonus offer for mobile users. Don't miss the opportunity to get a generous welcome bonus or loyalty promotion.

Tags:
android
8.0
oreo:
what's
new?
what's
new
samsung
galaxy
note
qualcomm
snapdragon
835
660:
what's
inside?
online
casinos
android-based
devices:
what's
hype
about?
© 2018 YouMobile Inc. All rights reserved