HTC Sensation launches today in the UK and France
HTC Sensation launches today in the UK and France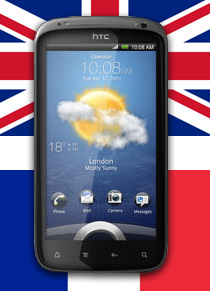 France and the UK are seeing the HTC Sensation enter availability today. HTC new super phone should go on sale today in France and if you have pre-ordered one from Vodafone UK, it should be arriving today.
Here the breakdown yesterday, French carrier SFR announced that the HTC Sensation will go on sale today. Maybe its a little early in the morning since they have not set it to available just yet, but that should happen soon.
Vodafone UK has it for free on contract starting from £35/month for 2 years. Technically, its still on pre-order but anyone who has pre-ordered the Sensation from them should be receiving it today.
If you are not into signing long term contracts you will probably have to wait a while longer though. Clove UK lists the HTC Sensation and the arrival date they mention is 27 June. The price of the SIM-free version is set to £500.
If your Sensation happens to arrive today from Vodafone UK or if you grabbed one in France don't forget to brag about it in the comments we are interested in hearing where you got it from and for how much and we are sure other commenters will be interested too.
© 2023 YouMobile Inc. All rights reserved