3D Drawing Software: A Discussion
3D Drawing Software: A Discussion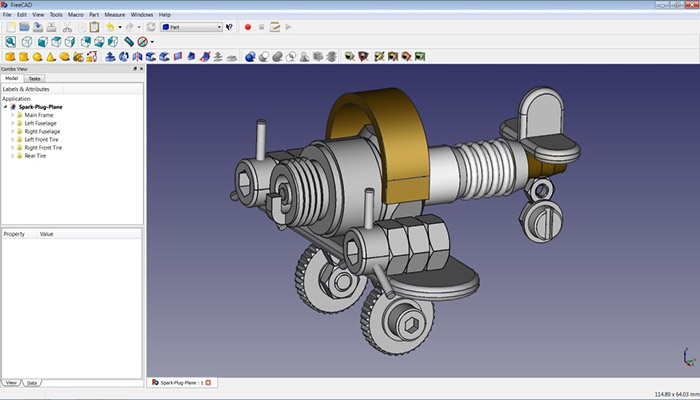 Every designer working with 3D models understands the importance of correctly selected software. User-friendly interface, multifunctionality, the ability to quickly switch between drawing modes - everything is important and has a direct influence on the result of work. Often such applications work in a narrow way, focusing on one direction. 3DCoat developers decided to change the paradigm and break the mold, creating a program with the ability to multitask. Here, you can work with 3D-sculpting, retopology, 3D-rendering, and UV-mapping almost simultaneously.
This means the program can really replace two or more similar applications at once. Now all solutions are located in one place, which will allow you to avoid losing money and time.
Their trial version is available for a month and downloadable at https://3dcoat.com/download/.
Investing in 3DCoat program can be considered the best investment in software working with 3D content.
Import/Export
The program supports popular file formats for import/export:
geometry (obj, fbx, lwo, dae, ply, wrl).

graphics (bmp, tga, jpg, png, tif, tiff, dds, ptex, exr).
3DCoat program interface
In general, the program interface is both convenient and functional. A large number of windows are easily adjustable, and the same goes for camera angles. The program imposes an average load on a computer system, but it's normal, given the amount of information it processes.
It doesn't matter whether you have prior experience with 3D modeling programs or not - you can easily learn to work with 3DCoat.
"Rooms" or Workspaces
There are next rooms also called workspaces within the software:
drawing (work with textures)

retopology

sculpting - digital and 3D

UV cameras

Rendering
Feature: It's not necessary to use a UV-map to clarify the color or depth of an object because you can do it through a vertex. Thus, a designer has more space for imagination, operating with PBR textures.
Voxel Workspace and 3D Sculpting
3DCoat Voxel Sculpting is simple, fast and powerful, featuring a large choice of curvatures, lasso, primitives, etc. A designer can use files recorded in raster and vector formats to create his own unique types of frames. The designer will like palettes of models and mesh objects, not to mention special tools.
The user can work with objects by subtracting or combining them. There are voxel layers with visibility control and transparency; it's easy to manage the hierarchy of layers. Up to 50 million voxels and more can be there in the scene.
Organic sculpting in 3DCoat is not as functional as hardsurf sculpting. The main reason - when using sculpting, the topology of an object will change. But through mastering and adapting a little to the interface and the program's functionality, you can create excellent objects.
When working with brushes, the built-in Sculpt Layer will be useful for you, deleting depth data and modeling a local depth and layer level. The main feature of 3DCoat is employing dynamic tessellation, which works with the sculpture layer without changing it. Also, the user can apply logical values to this layer, while the rest of the data located outside this operation doesn't change.
It's simply implemented in practice. Say, a created object has wrinkles throughout the skin. The designer wants to change a small area like a finger, leaving the same layer of sculpture. The skin will remain at its original position, in other words, any other points will have a modulated depth. This feature is considered unique and has no worthy analogs in the field of digital modeling.
Retopology Room
Retopologization remains one of the best and unique advantages of the program. No other specialized application can match the 3DCoat retopology. In addition to the various operating modes of the individual tools provided by the retopo room toolbox, the user will definitely appreciate the polygonal modeling of objects.
There are 2 engines used and a built-in set of Instant Meshes. With such a complete set of tools, the 3DCoat retopo room has no rival on the market. Both modes (manual and automatic topologization) are functional and equally convenient to use. We advise you to pre-plan actions, creating grids.
A great advantage of the functionality is the ability to easily edit manually after auto-editing.
UV Workspace
It's a room where texture coordinates are created for a 3D model (3D mapping). The functionality affects:
toolbar

bar of scene objects

bar working with UV tiles

a bar that allows you to select a subobject, creating a UV

UV preview, due to which it is possible to expand the model
Drawing Room
This space uses technologies like Per Pixel Painting (texture quality is determined by its resolution), PTEX (local change of resolution on texture), Micro Vertex Painting (texture quality is determined by the mesh density, i.e. the number of tops), and Voxed Painting.
Drawing textures in the program is very simple. It uses several channels, supports UV tiles, and provides resolutions up to 16,000. The users can customize brushes or create their own using different methods (2D and 3D, screen projection, ABR). You can use separate channels or transfer information from one channel to another, as well as perform operations with layers.
There are great opportunities for procedural texturing (noise, patterns, etc.). The artist can operate with regular and topological symmetry, work with 2D and 3D grids, including snapping.
The program is perfectly compatible with various 2D editors like Photoshop, Krita, or Gimp. There is support for UV tiles, which allows working with 10-15 tiles per 1 model, including 20 or 30 layers or even more. The specified parameters are quite enough for the full texturing of the model.
It is interesting that the developers covered the possibility of implementing the same task in various ways. Due to this, the designer can leapfrog some difficulties arising in the process of creating models.
The toolkit for drawing is huge:
brushes

layers

bar with a choice of main channels, transparency and stroke properties

polycount counter

presets, masks

palette
A model polygon can be 30 million voxels or more in voxel drawing.
Compatibility with Other Programs and Scripting
3DCoat works great with other software. These are 3DSMax, Maya, Cinema4D, etc. There are uplinks for Fusion, Nuke, and so on. Obviously, the compatibility with Photoshop is ensured.
It is possible to use a C ++ -like language with a proud name AngelScript.
Multilingualism
If you don't speak English fluently, you will like the opportunity to work in the program in Russian, German, Japanese, French and three more languages. Moreover, you can switch to English on the fly, after reading and realizing a necessary term, and return to your native language. It's very convenient, especially if you have just started working with the program.
The program has a powerful community (FB, VK, etc.), primarily in social networks, where you can ask a question and get an up-to-date answer.
Work with Textures
If you have worked with textures in other programs, then mastering the interface in 3DCoat will not be difficult for you. Photoshop hotkeys will help you transfer the generated textures between applications. It's possible to use 2 displays. These programs allow you to smoothly switch to 3D from 2D, making the transition more harmonious.
The built-in editor of 2D textures is very convenient. The designer easily moves from a 3D image to a 2D background by fixing the drawing editor. It is worth mentioning that a 2D drawing is quickly updated in a window with a 3D picture.
The choice of drawing "conditions" allows everyone to determine suitable conditions, such as "More in convex areas" or "More in shadows". Easy changing of pictures, an increase/decrease of wear and other nuances simplify designer's task greatly. And you can preview the changes first after having made them, and only then activate them to the 3D model.
3DCoat Target Audience
The program will appeal to conceptual designers for whom a high speed of creating 3D models coupled with high detail, yet without UV cards and policies is important. But those who like to delve into settings and test various solutions in 3D modeling will also find 3DCoat a very attractive variant - both in price and in the number of tools.
Retopologization and 3D rendering will satisfy the most fastidious artists due to their modern tools and fast engine. Textures created in 3DCoat will be as realistic as possible, and their creation can take a short while. The properly configured tools and the convenient interface will organically complement the general view and make the process of 3D objects creating as comfortable as possible.
The program was and remains very popular among developers of computer games due to its convenient interface, huge toolkit, and great opportunities for drawing, rendering, sculpting, etc.
Who Developed the 3DCoat Program?
In 2007, the world's designers saw the first version of this software for working with 3D models. The program was made by Pilgway Studio, whose chief, Andrew Shpagin, was directly involved in the process. Thanks to this specialist in the field of computer games, the expertise in 2D and 3D graphics was brought together with subsequent processing and optimization for 3D painters. The program is unique in its kind, having several exclusive features highly praised in the world of digital modeling. It combines the capabilities of several similar programs while being easy to learn and use.
© 2018 YouMobile Inc. All rights reserved