Content Distribution Platform PRposting Has Gathered 44 K Publishisher to Promote Any Site
Content Distribution Platform PRposting Has Gathered 44 K Publishisher to Promote Any Site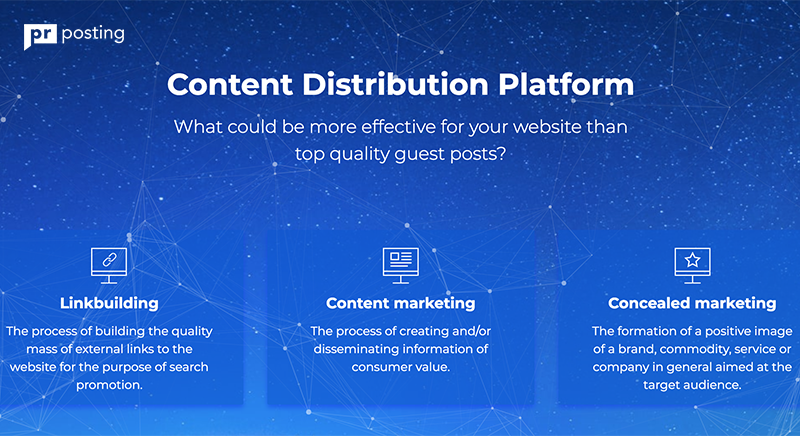 PR posting - sponsored guest posting, link building, and content distribution platform that has collected the largest donor websites database. The base contains 44000 publishers from 177 countries. Within one resource, you can select donors by topic and region, as well as get high-quality content for publications. Professional promotion is easier now.
PRposting announced: "We created a platform for the SEO specialists' needs, so we have implemented the functional strategically."
Successful promotion results come when a strong link is placed on the right resource. PRposting expands the boundaries of the usual link-trading service. A strong player-content enters the link- publisher bundle. PRposting offers PR publications, buzz marketing, guest posting, and link building. Nowadays, 6103 projects are already collaborating with PRposting. The team is not complacent and continues to build up the base of placements.
Platform advantages:
The database can be filtered by different metrics. All information about donors is updated from reliable SEO and backlink tools daily (MOZ, Ahrefs, Similar Web, Majestic).
There is a manual content placement because the platform contacts editors directly.
The permissible topics and conditions of publications are agreed upon in advance.
You can upload ready-made content into a text editor without changing the formatting or place a content writing order within your account.
PRposting gives a 100% guarantee for placement, otherwise, the money will be refunded within 7 days.
Balance replenishment without commissions.
The platform offers favorable terms of cooperation. How to make money with a referral program? Register on the service and share the referral link. Each attracted client brings you 5% of his order amount. You can use the received funds for your projects or withdraw them.
PRposting solves the issue of a constant search for new placements. Detailed sorting will help to find good donors at adequate prices. The functionality of your personal account allows you to manage content making, donor selection, and financial issues for each project. PRposting optimizes work and frees up time for project development.
© 2020 YouMobile Inc. All rights reserved