Domain Expired but Not Available: What It Means and How It Happens
Domain Expired but Not Available: What It Means and How It Happens
If you have ever set your sights on an elusive domain name, you know that feeling of excitement when the WHOIS registry indicates the registration is about to expire.
For those who flip expired domains, obtaining these domain names can be quite lucrative. However, occasionally, you will find a domain name expired but not available.
The frustrating reality of the situation is not as dire as you may think. There are a few ways you can still search for and acquire the expired domain name even if it isn't available-though you may have to be patient.
Let's explore how obtaining an expired unavailable domain is possible and the necessary actions to take while it goes through the expiration process.
We'll cover everything you need to know to complete the complex process of purchasing a registered top-level domain that expires.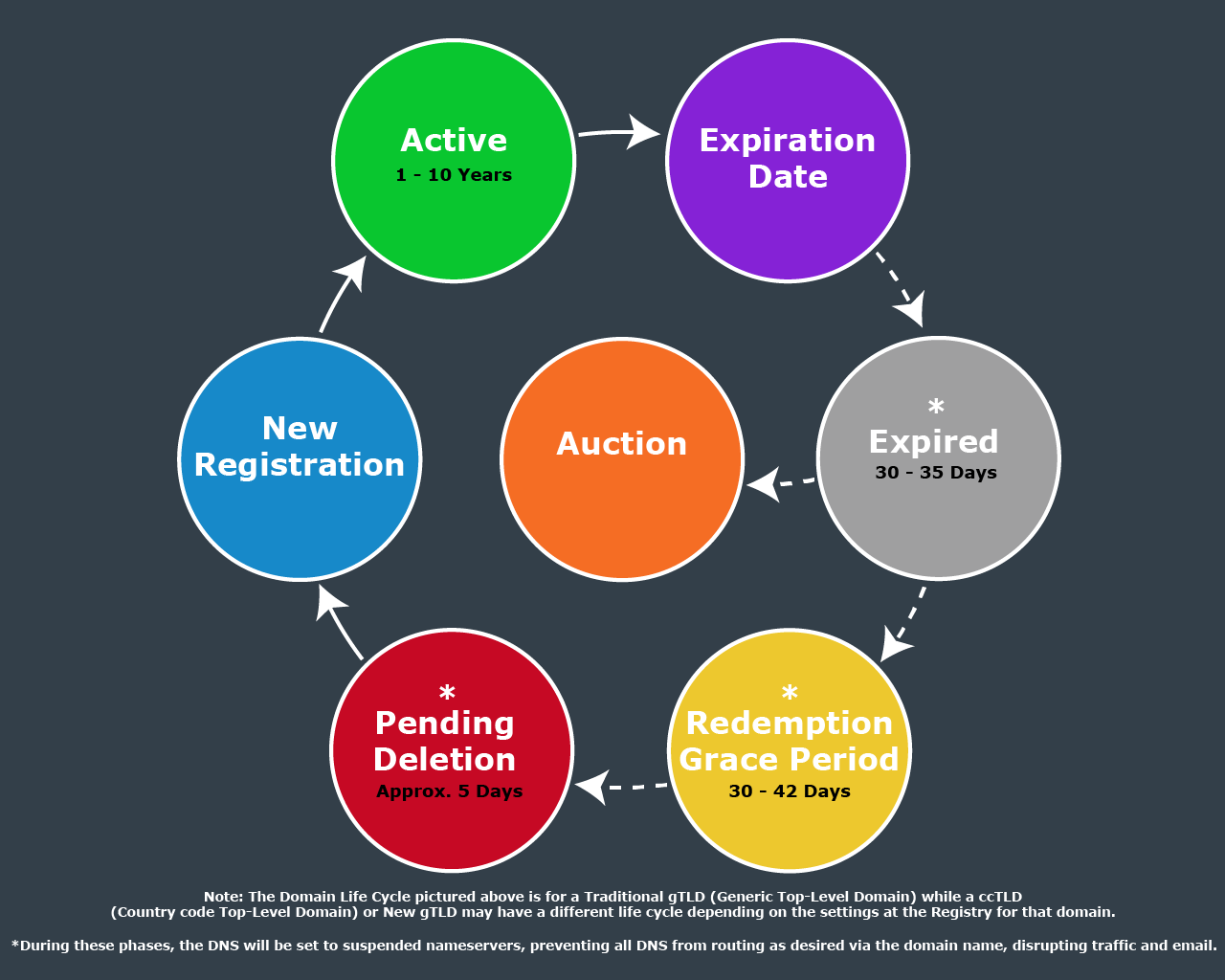 How Can a Domain Name Be Expired but Not Available?
Domain names register their existence through an organization known as ICANN (The Internet Corporation for Assigned Names and Numbers).
This group developed a registry for domain names that govern the rules associated with expired domains. Through these rules, customers can renew their websites before, during, and after the expiration date.
There are three distinct phases that a domain goes through before it becomes available for purchase. These are the automatic grace period, redemption grace period, and deletion period.
Domain names in these phases may show an expired status on WHOIS, but they are not yet available for new registration.
This system is excellent for a registrar who wants to extend their ownership beyond the expiration date or accidentally lets their domain expire. However, this process requires patience for those looking to register expired domain names.
A key sign in this process of the time it takes for domain names to become registered is based on the website's Google search link performance metric.
Additionally, agreements between the domain name owner and the registrar impact the time before the domain expires.
Automatic Grace Period
The first of three designated stages of domain expiry date is the automatic grace period. For a domain name to reach this point, the owner receives two notifications to check your domain expiration date.
These domains are not under an auto-renew status. This notification gives the owner ample time to renew.
If the owner chooses to renew during this time, the domain is removed from the expired registry. Further, there is rarely an additional fee for domain name renewal services during this stage of the process.
Redemption Grace Period
If a domain registrar fails to pay the relevant renewal fee during the automatic period, the domain moves into the next stage of the process, known as the redemption period.
This phase of the process requires customers to submit a redemption fee on top of existing fees for the domain name to be reinstated.
Due to the relative severity of the domain reaching the redemption period, registrars will often suspend services of the domain during this time.
Owners of these websites can link their domains to a different registrar for lower renewal fees if they choose.
Auctions for Expired Domain Names
When a domain name isn't renewed beyond the redemption grace period, registrars will put it up for auction.
These events allow a registrant to bid on their chosen domain renewals, with the transfer of ownership going to the highest bidder. However, due to its popularity and lucrative nature, the registration price may become high.
Deletion Period
If a website isn't purchased during the auction period, the domain registry list schedules it for deletion. The deletion process takes a few days, which causes the domain to go into "pending status."
During this time, a registrant can assume control of the deleted website simply by registering it. Registrants are on a first-come, first-serve basis.
What to Do When a Domain is Expired but Not Available
Waiting to assume control of a domain that is expired but not available requires patience.
However, there are recommended steps a registrant can take to prepare as the domain reaches a deleted status.
Verify the Domain Authority
Before leaping to register the domain that you've been waiting for, it's vital to verify the domain's performance. This performance indicator is known as the site or page authority.
This Google metric for search engines details the domain's reputation in the digital community. It is preferable to avoid domains with poor marks in this area.
You can check a domain's authority through tools such as open site explorer. Another option is using a comprehensive expired domain finder such as SpamZilla to streamline this process.
Buying an Unavailable Expired Domain Name: Create a Plan
Once the domain authority metric is determined and you feel comfortable moving forward, it is time to determine the best course of action for seizing control of the account. There are two recommended strategies to approach this purchase:
Purchase the Domain as Soon as Possible
The simplest action for obtaining an expired domain name is to bid for it when it becomes available at auction. The problem with this strategy is the competitive nature of auctions. It's best to be quick on the draw in these situations.
Backorder the Domain to Secure the Website
Some registrars provide an option to backorder an expired domain name. While this is an excellent method for securing the website, it does not guarantee the domain will be yours.
Multiple people may backorder the domain. When this occurs, the domain goes to the highest bidder.
Obtaining a desirable domain is often of great interest to an individual or company. However, having extensive knowledge of events that occur when domains expire is vital to securing the one you desire.
Following the steps discussed in this article should help you find and obtain your white whale domain.
© 2020 YouMobile Inc. All rights reserved