SK Telecom launches world's fastest mobile network service with Samsung Galaxy S4 LTE-A
SK Telecom launches world's fastest mobile network service with Samsung Galaxy S4 LTE-A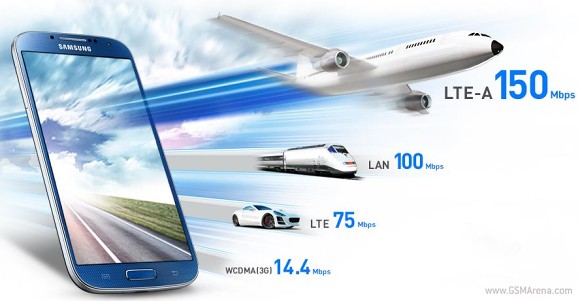 South Korea Telecom Co., the country's leading mobile carrier, introduced the next-generation mobile network on Wednesday, offering speeds twice as fast as the existing long-term evolution (LTE) network.
SK Telecom is the first mobile operator in the world to launch the so-called LTE-Advanced network service, which is 10 times faster than the old 3G network service, it said.
With the commercialization of the world's first LTE-Advanced network, Samsung Electronics Co., the largest smartphone maker, also released today the Galaxy S4 LTE-A, the world's first phone optimized to work on the country's LTE-A network.

Yesterday we have told you about Samsung Galaxy S LTE-A version. The main difference between the Galaxy S4 LTE-A and the version we are familiar with already is the presence of a more powerful Qualcomm Snapdragon 800 SoC under the hood. Other specs are very similiar, both include 5" 1080p Super AMOLED display, 13MP camera, 32GB of built-in memory, microSD card slot, and IR port.
Source: Samsung
© 2023 YouMobile Inc. All rights reserved