Search result
Tags - lte-a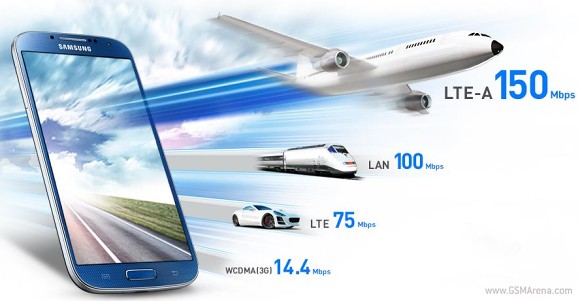 South Korea Telecom Co., the country's leading mobile carrier, introduced the next-generation mobile network on Wednesday, offering speeds twice as fast as the existing long-term evolution (LTE) network.
SK Telecom is the first mobile operator in the world to launch the so-called LTE-Advanced network service, which is 10 times faster than the old 3G network service, it said.
With the commercialization of the world's first LTE-Advanced network, Samsung Electronics Co., the largest smartphone maker, also released today the Galaxy S4 LTE-A, the world's first phone optimized to work on the country's LTE-A network.

Yesterday we have told you about Samsung Galaxy S LTE-A version. The main difference between the Galaxy S4 LTE-A and the version we are familiar with already is the presence of a more powerful Qualcomm Snapdragon 800 SoC under the hood. Other specs are very similiar, both include 5" 1080p Super AMOLED display, 13MP camera, 32GB of built-in memory, microSD card slot, and IR port.
Source: Samsung
According to ETNews.com, the new upgraded Samsung Galaxy S4 LTE-A has been a huge hit in Korea, with 150 000 units shipped in 14 days since its launch.
The Samsung Galaxy S4 LTE-A comes with the powerful Qualcomm Snapdragon 800 SoC rather than the Snapdragon 600 that powers the international version, but is otherwise identical to its predecessor. The international variant comes with a 5-inch 1080p Super AMOLED display, 2 GB of RAM, 13 megapixel rear camera, 32 GB in-built memory, microSD card slot and IR port.
Except for iPhone, no foreign smartphone vendor has been able to crack Korean market in the last few years. And Samsung's main rival -LG - has scheduled the announcement of its first LTE-A supporting G2 smartphone for August 7th. Another major smartphone OEM in Korea - Pantech - hasn't even even announced when it plans to have its first LTE-A device ready.
Source: news.mk.co.kr
Tags:
telecom
launches
world's
fastest
mobile
network
service
with
samsung
galaxy
lte-a
samsung
ships
150000
galaxy
lte-a
units
korea
Samsung has now announced a new model of the Galaxy S5 for Korea that features some improved specs over the original model.
Samsung Galaxy S5 LTE-A will supports LTE-A connectivity. Some of the boosted specs include a 5.1-inch QHD (2560×1440) Super AMOLED display at 577 PPI, 2.5GHz quad-core Snapdragon 805 CPU, Adreno 420 GPU and 3GB RAM.
The Galaxy S5 LTE-A is certainly an improvement over the standard Galaxy S5, however, the battery size which remains at 2,800mAh, kind of disappointing.
Tags:
telecom
launches
world's
fastest
mobile
network
service
with
samsung
galaxy
lte-a
samsung
ships
150000
galaxy
lte-a
units
korea
samsung
announces
has
announced
galaxy
lte-a
with
qhd
display
© 2023 YouMobile Inc. All rights reserved