Top Stock Trading Apps for Professional Traders
Top Stock Trading Apps for Professional Traders
Trading apps have recently become a crucial tool in most professional traders' arsenal. Obviously, due to certain restrictions that mobile software present, a stock trading app is not enough to support a professional trader's every single trade. Nevertheless, they are a great way of improving once availability and, when used right, they can help boost profitability.
Even serious day traders are using stock trading apps to make sure they never miss an opportunity or are forced to close a position too late, only because they were out or not sitting in front of their trading rig.
The only issue with the rise of the trading app is that there are so many different options available and it quickly becomes an overwhelming task to figure out which one to use.
So, in an attempt to minimize this issue, we have tested and reviewed a range of popular trading apps and have listed the best of the best below.
Initial Advice
Before we get started with the recommendations, we want to offer a quick tip. Considering that you're found this article, chances are that you're already trading and that you're using a broker that you feel comfortable with.
In that case, we suggest you look into what app you're broker is offering to see if it would be a good fit for you. If that's the case, you should stick with that said app. Otherwise, you can pick one of the following.
MetaTrader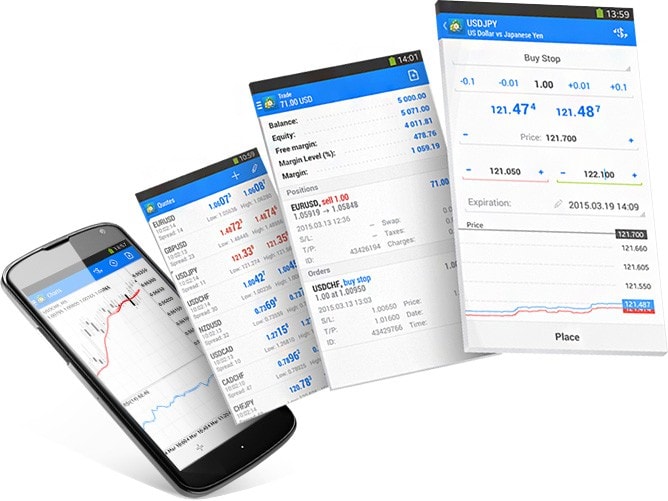 The mobile versions of Metaquote's incredibly popular trading platforms MetaTrader 4 and MetaTrader 5, are some of the most used trading apps in the world. In fact, as seen in BullMarketz trading app guide, a majority of all online brokers, rely on the MetaTrader trading apps.
The reason for this is that Metaquote is one of the most established trading software developers on the market and their apps have been around for longer than most other similar apps.
Moreover, the apps are really easy to use, available on both iOS and Android and they come with every tool you would need to trade on your smartphone, including graphs, market updates, comparison tools, and extremely easy execution.
Plus500
Plus500 is globally known as one of the best online stockbrokers ever. With a selection of stocks ranging from the main ones listed on American exchanges, to companies listed on smaller more local exchanges, this broker has it all.
This broker also happens to have developed one of the most award-winning trading apps ever, and there is no question as to why that is.
You see, trading with the Plus500 app is as close to trading on a regular desktop platform as you can come. The interface is designed to be as clear and easy to use as possible with all the tools you could wish for.
Better yet, you can test the app for free and without risk by opening an unlimited Plus500 demo account before you download the app from one of the app stores.
TD Ameritrade
TD Ameritrade is not only one of the most well-established "traditional stockbrokers" in the world - available from the US to the UK and Europe, all the way to Asia - but they also have the best stock investment app.
In fact, whenever the best stock investment and trading apps in the world are listed, TD Ameritrade places at the very top.
With the TD Ameritrade stock trading app, you gain access to all of TD Ameritrade's tools and features, directly on your smartphone. Moreover, being the fact that TD Ameritrade already has a huge user base, their app is the obvious choice for many.
Acorn
As a last bonus tip, we want to recommend Acord - an automatic stock investment app that can help you create a decent passive income, without lifting a finger.
By connecting the app to your debit or credit card, you will automatically invest the spare change from every purchase done with that card, in a portfolio of low-risk, low-reward stocks and EFTs.
Now, Acorn should not be the main app used by professional traders since you can't use it to find your own investment opportunities. However, we believe that every professional trader should have this stock trading app to maximize their opportunities.
© 2023 YouMobile Inc. All rights reserved