Verizon Galaxy Nexus to receive a software update soon
Verizon Galaxy Nexus to receive a software update soon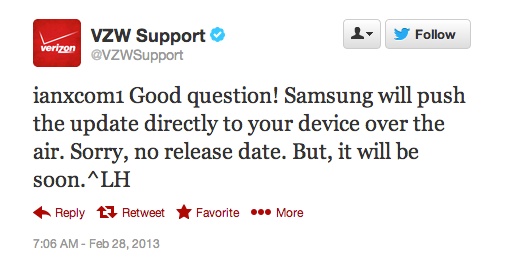 In case you are still speculating whether or not Verizon will update their Galaxy Nexus to the Android Jelly Bean 4.2.1 version, don't lose hope yet. According to Verizon, the update will be sent overt the air "soon" by no less than Samsung. As to 'how soon' remains a question. Also, this was posted by a representative in answer to a furious customer's question on their Twitter page.

It can be recalled that the Galaxy Nexus has seen better days with people who wanted to have the latest Android version during its release in 2011. However, Verizon wasn't too keen on having it updated and it has remained on Android 4.1.1 since, annoying many of those who have been waiting for an update. Furthermore, last year, it was reported that Verizon will not be selling Galaxy Nexus units anymore, which may be one of the reasons for the delay.

So if you still own a Verizon Galaxy Nexus, you can already set your sights on a better smart phone or you can wait for the update SOON.
Source: @VZWSupport
© 2020 YouMobile Inc. All rights reserved