Search result
Tags - international
Google has decided to suspend its license to Android operating system to Huawei. Trump administration's action has started to impact Chinese smartphone makers Huawei already. Google has decided to stop licensing its Android OS to Chinese Telecommunication Company, in order to comply with U.S trade blacklist rules. The company however can continue to use open-source version of Android but won't be able to get the security and OS updates, along with usage restrictions on Google's apps like Gmail, Play store etc.

The move will have significant effect on millions of Huawei users and the company's global ambitions. Android operating system powers more than 80% of the world's smartphones. Huawei said they will continue to support existing customers. But if this problem isn't solved, the device will not have access to new version of Android OS called Q. "The revocation of its Android license will mean that it won't be able to provide core Google services to its smartphones," Richardson said.

"The current devices will continue to support Google services and Google updates," Francisco Jeronimo, associate vice president for European devices at IDC, told CNBC by telephone. "I think it's more of a long-term impact than very short term." In China, the story is a different. Consumers there have a limited version of the OS which doesn't come with the pre-installed Google's app like Gmail etc. For Chinese consumers, the impact is almost NILL. Many people suggest that U.S and China will reach a trade deal, and Google will resume its licensing to Huawei. In that case, things will come back to normal. However, if it is a long-term impact, the sales of Huawei will drop as well as its resale value. There won't be any consumers outside the Chinese if this situation continues.

Yes, Planet Earth Now Has its own Flag. Pledging allegiance to the international flag of our planet could become a worldwide practice with this exciting design of a flag for Earth.
A new project by Oskar Pernefeldt, a graduate-to-be from Beckmans College of Design in Stockholm, Sweden, sees a new flag for the entire planet emblazoned in scenes around the world and beyond.

The minimalist design of the flag shows seven rings intertwining on a deep-sea-blue background, forming a flower in the flag's middle. Simple but contemporary, the flag evokes the natural beauty of the Earth.

"The blue field represents water which is essential for life also as the oceans cover most of our planet's surface, The flower's outer rings form a circle which could be seen as a symbol of Earth as a planet and the blue surface could represent the Universe." - describes Pernefeldt on his website.

If you can't imagine such a flag in use, Pernefeldt's got you covered. In stunning scenarios envisioned by Pernefeldt, the flag could be part of an astronaut's space suit, displayed proudly outside homes and waved at sporting events.
Tags:
google's
decision
cut-off
ties
with
huawei
impact
international
users
photo
video
say
international
flag
planet
earth

The international Galaxy Note 4 with the model number N910C has started receiving its Android M update from Samsung. This version of the Galaxy Note 4 is powered by Samsung's own Exynos 5433 processor, unlike the US version which is powered by the Qualcomm Snapdragon 805 SoC.

The 1.3GB update is expected to bring new features to the Note 4 as is common with Android 6.0.1 devices, but people have also reported that the Screen-Off Memo capabilities seen on the Galaxy Note 5 is now a part of the Note 4 as well, after the upgrade. It seems like a good addition to TouchWiz by Samsung and a nice gesture towards their older customers.

On the other hand, the only carrier-locked US model of the Note 4 that has been upgraded to Android M yet is the Sprint version of it. However, it is expected that other carriers will follow suit very soon. If you want to check if your update has arrived yet, just go to Settings, open About device and Check for updates. Once the update arrives, you will be notified and from there onwards, you can choose when to download the package and when to complete the installation. If you are in the US and Sprint is not your carrier, you might have to wait for a while longer though.


Download from our Firmware Section
Tags:
google's
decision
cut-off
ties
with
huawei
impact
international
users
photo
video
say
international
flag
planet
earth
samsung
galaxy
note
gets
its
international
marshmallow
update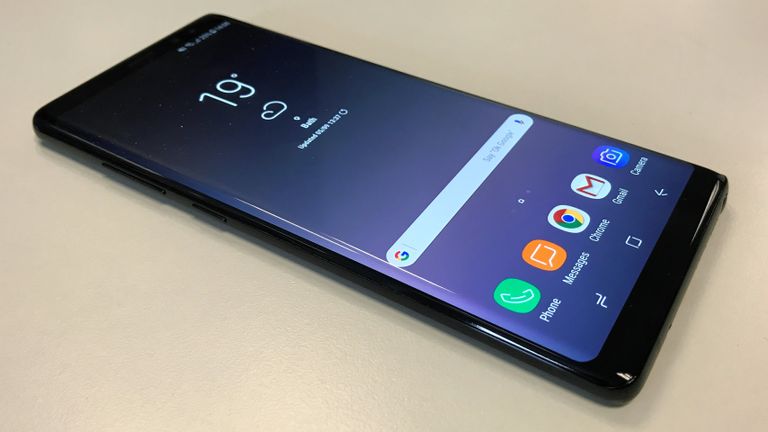 Just a few days ago, Verizon, AT&T and T-Mobile started to upgrade the OS on their respective variants of the Galaxy Note 8 in US with Android 9 Pie, which also had the March security patch embedded in it as well.
Now Samsung has begun to send the April security update for the Note 8 (international variant) in Europe. Although a number of other countries could also be included on the list by the time you get around to reading this, the source names Netherlands, Germany, Italy and Russia to be among the first. Take a look at the firmware version and a few key elements to be expected from the update below.
· Firmware Version: N950FXXS5DSC5
· Fixes multiple High-Risk vulnerabilities in the base Android OS, as stated by Google
· Fixes five Critical vulnerabilities in the base Android OS, as stated by Google
· Patches fifteen vulnerabilities unique to the Samsung UI, as stated by Samsung
Saikat Kar
Via: SamMobile
Tags:
google's
decision
cut-off
ties
with
huawei
impact
international
users
photo
video
say
international
flag
planet
earth
samsung
galaxy
note
gets
its
international
marshmallow
update
international
variant
galaxy
note
starts
receiving
april
patch
europe
© 2023 YouMobile Inc. All rights reserved