Search result
Tags - razr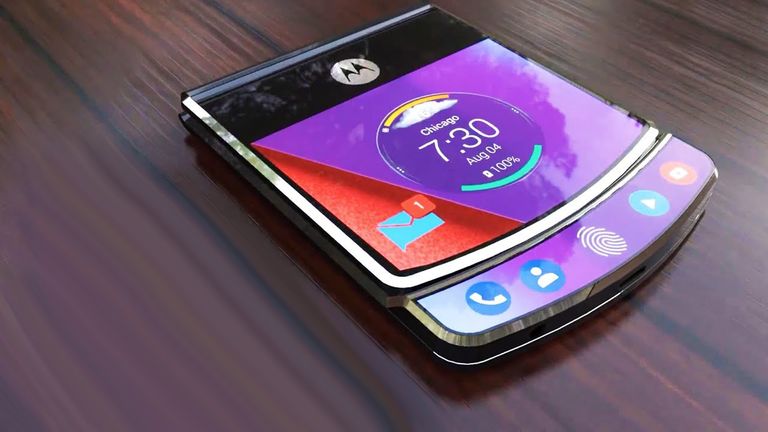 Samsung is the leading smartphone business right now, but there was a time when Motorola was the undisputed king of smartphones, before being dethroned by Nokia. While that time may have truly come and gone, the Moto RAZR continues to be one of the most iconic smartphones of all time for more reasons than one. If you were lucky enough to have used a Moto RAZR back in the day and you secretly regret not having anything similar available for purchase today, we have good news for you. According to multiple sources, most notably the Wall Street Journal, a new Moto RAZR is all set to be released, but as an Android smartphone this time around! While the report is still shrouded in mystery, go through the following to know everything that has been rumored and reported about the upcoming Moto Razr so far.
· It will feature a foldable display, instead of the bottom half being a keypad
· The first batch of 200,000 units might be exclusive to the US and only Verizon at that
· The price of the smartphone is expected to be around the $1,500 mark
· It could launch next month, i.e. in February
Personally, I can't wait to experience this device first hand, provided Lenovo doesn't end up ruining it, because that is a highly likely scenario here.
Saikat Kar
While there are companies like Samsung and Huawei designing foldable devices, the Moto Razr V4 is expected to be one of the first affordable foldable. The launch date for the device is rumored to be November 13, at an event in Los Angeles, so it could be available long before the Huawei's foldable. According to the latest rumor, it will be cost around $1500. Since the prices can be different in other regions, it could be something around the base price. The main selling point of the mobile phone is its foldable screen. The first hint came from Lenovo's CEO, who said, "With the new technology, particularly foldable screens, I think you will see more and more innovation on our smartphone design. So hopefully what you just described [the Motorola Razr brand] will be developed or realized very soon."
Then, at MWC 2019, Motorola vice president and general manager Anthony Barounas, said, according to TrustedReviews: "If you go around the stores today, for me the phones all look the same. It's difficult to see if it's a Motorola, or [another brand]. How we differentiate to the consumer, show them something different, that's where foldable comes in. And that's where Motorola also has a very big investment. I can't say much but we have one franchise that will have a very big impact there."

We have finally seen some leak images of the possible design of the upcoming Moto Razr 2019, and they are expected to be like a clamshell-like design with a screen of 6.2-inches that folds in the middle. The size would be much smaller than the other foldable devices when folded. There will be a small camera bump and a power button on the front. When open, there seem no visible hinge. There are also some pictures of the Moto Razr v4 patent pointing to the folding screen.

The rumors suggest that there will be a secondary screen that can be used to display notifications and clock, or to interact with the Google Assistant when the device is closed. It sounds like it won't have the full functionality of the main screen if this rumor is right. The device might be powered by Snapdragon 710 and have 4/6 GB RAM with a 64/128GB storage configuration. Finger crossed, let's see what Moto bring for its fan base in the foldable category.
Tags:
legend
moto
razr
set
make
comeback
motorola
razr
2019
–
another
foldable
device
about
hit
market
The Motorola Razr was one of the bestselling mobile phones before the iPhone era. It has debut it's come back with an admirable foldable phone with same the iconic design with a touch of modern technology. The Moto did an amazing job and would stand out. But the phone isn't a cheap one. It is a $1500 device with the not-so-much screen than other foldable devices.

The original device that was launched back in 2004 left some serious impact on mobile phone designs. The company's mid-range and budget smartphones are also liked for its functionality and value. Moto tried to experiment with its most ambitious and successful design. The Moto Z4 looks almost similar to the original Moto Z. The Razr 2019 is a chance for the company to come back and win the market most suddenly. We have seen foldable devices folding horizontally but the Razr has its idea of foldable design and reveals the folding screen in a vertical way.

When the device is close you get a much smaller screen that gives you small real estate for checking emails, text messages, or make calls. This is similar to what you get on a smartwatch. There is a rear-side camera on the quick-look screen, which becomes a selfie camera when the phone is closed. The device is perfectly small to use with one hand. You can claim shut it fits in your hand or your pocket. This small design makes Razr special and different. The price is although a major factor for many people so this phone is not for everyone. The Motorola Razr 2019 was announced on November 13 with pre-orders opening on December 26, 2019 before a release date sometime in January 2020 in the US.
Tags:
legend
moto
razr
set
make
comeback
motorola
razr
2019
–
another
foldable
device
about
hit
market
motorola
razr
2019:
folding
back
future
Motorola astonished the tech world last year when it reappeared with its iconic Razr flip phone as a foldable smartphone. It worked well and got lots of attention from its fan base but its success was overshadowed by the more powerful Galaxy Z flip from Samsung. However, in December, the company revealed that they are working on a 5G version of the Razr, and recently they announced a revamp of the upcoming smartphone.

The Motorola Razr was the first vertically foldable phone to hit the market on Feb 6, 2019. It features a 6.2-inch display and a secondary 2.69-inch glass display when folded. Razr was a rather unimpressive mid-range smartphone, packing the Qualcomm Snapdragon 710, 6GB of RAM, 128GB of internal storage, a 16MP rear camera, a 5MP front camera, Android 9 Pie, and a 2,510mAh battery. The Galaxy Z Flip, on the other hand, had an arguably better display in terms of look and feel, a better processor, more RAM, more storage, a larger battery, newer software, faster charging, and better cameras.

According to the latest rumors and leaks, the second-generation Motorola Razr has the code name "smith". The foldable is powered by the Qualcomm Snapdragon 765, 8GB of RAM, 256GB of internal storage, and a 2,845mAh battery. The rear camera is also getting an upgrade to Samsung's 48MP ISOCELL Bright GM1 sensor while the front camera is getting upgraded to a 20MP shooter.
The device will run Android 10 out-of-the-box, presumably with Motorola's many improvements to the Quick View display. The dimensions of the main "Flex View" and closed "Quick View" display themselves, as far as we know, haven't changed from the first-generation model, though we hope that Motorola will introduce enhancements like a layer of Ultra-Thin Glass. Razr will support 5G connectivity, made possible with the inclusion of the Snapdragon 765 with its Snapdragon X52 modem.
Tags:
legend
moto
razr
set
make
comeback
motorola
razr
2019
–
another
foldable
device
about
hit
market
motorola
razr
2019:
folding
back
future
motorola
razr
(second
generation)
–
here
what
know
about
far
© 2023 YouMobile Inc. All rights reserved