Search result
Tags - cpus
Samsung's Exynos 5 Octa series of mobile processors with ARM© big.LITTLETM technology now supports heterogeneous multi-processing (HMP)! This advanced technology allows the Exynos 5 Octa processors to provide exceptional performance and increased power efficiency. In the OCTA-pella video, you'll see how the Exynos 5 Octa uses ARM big.LITTLE processing to balance workloads across CPU cores, using the right core for the right task.
Press release:
Samsung Primes Exynos 5 Octa for ARM big.LITTLE Technology with Heterogeneous Multi-Processing Capability

Seoul, Korea, September 10, 2013

Samsung Electronics Co., Ltd., a world leader in advanced semiconductor solutions, today announced its Heterogeneous Multi-Processing (HMP) solution for the Exynos 5 Octa to fully maximize the benefits of the ARM® big.LITTLETM technology. The HMP capability gives system-level designers the ability to develop solutions that deliver the right combination of high-performance and low-power to carry out tasks such as 3D gaming, complex augmented reality and advanced web browsing.
"It's usually assumed that the big CPU will do all the performance-critical work, however, power-efficient little cores can handle many significant workloads all on their own, so the workload is balanced within the system," said Taehoon Kim, vice president of System LSI marketing, Samsung Electronics. "big.LITTLE processing is designed to deliver the right combination of processors for a specific job. An eight-core processor with HMP is the truest form of the big.LITTLE technology with limitless benefits to the users of high-performance, low-power mobile products."
"ARM big.LITTLE multi-processing technology delivers the highest performance and efficiency across the widest range of workloads," said Noel Hurley, vice president, Strategy and Marketing, Processor Division, ARM. "We welcome Samsung's continued commitment to deploying the leading-edge technology on their latest chips featuring the ARM CortexTM-A series of processors, ARM MaliTM GPUs and ARM ArtisanTM physical IP."
HMP is the most powerful use model for ARM big.LITTLE technology, as it enables the use of all physical cores at the same time. Software threads with high priority or high computational intensity can be allocated to the 'big' Cortex-A15 cores while threads with less priority or are less computationally intensive, can be performed by the 'LITTLE' Cortex-A7 cores, enabling a highly responsive, low-energy system to be built.
Software implementation is essential to maximizing the benefits of big.LITTLE technology. Multi-processing software controls the scheduling of threads of execution to the appropriate core. In earlier versions of the big.LITTLE software, the whole processor context is moved up to the 'big' core or down to the 'LITTLE' core based on the measured work load. In-depth study and analysis of diverse use case scenarios enable Samsung to achieve efficiency and high-performance, while managing power levels to deliver optimal user environments.
The HMP solution for Samsung's Exynos 5 Octa application processors will be available to customers in 4Q of 2013.
About Samsung Electronics Co., Ltd.
Samsung Electronics Co., Ltd. is a global leader in technology, opening new possibilities for people everywhere. Through relentless innovation and discovery, we are transforming the worlds of televisions, smartphones, personal computers, printers, cameras, home appliances, LTE systems, medical devices, semiconductors and LED solutions. We employ 236,000 people across 79 countries with annual sales exceeding US$187.8 billion. To discover more, please visit www.samsung.com.
Check out the video below: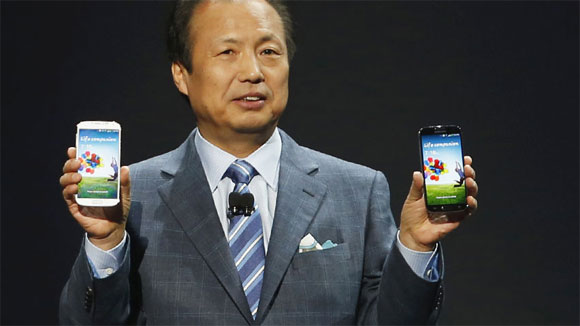 A Samsung Electronics executive said Wednesday the firm will expand its smartphone business in China to better compete with Apple in the world's largest smartphone market.
"Samsung understands that Apple intends to boost its mobile business in China, as well as in Japan, meaning that we should try harder in these countries," Samsung's mobile business chief Shin Jong-kyun said.
This announcement follows hot on the heels of Apple's recent event that brought us the iPhone 5S with a 64-bit CPU. But while Apple did optimize the iOS 7 for 64-bit processors, Android OS is yet to support such thing.

The 64-bit CPUs are a must-have for devices with 4GB or more RAM and there is a chance Android 4.4 KitKat brings 64-bit support. There is also a probability Samsung unveils a flagship with 4GB of RAM next year, since the Note 3 already has 3GB.
Source: korea times
Tags:
samsung's
exynos
octa
cpus
could
use
eight
cores
once
samsung
add
64-bit
cpus
its
2014
smartphones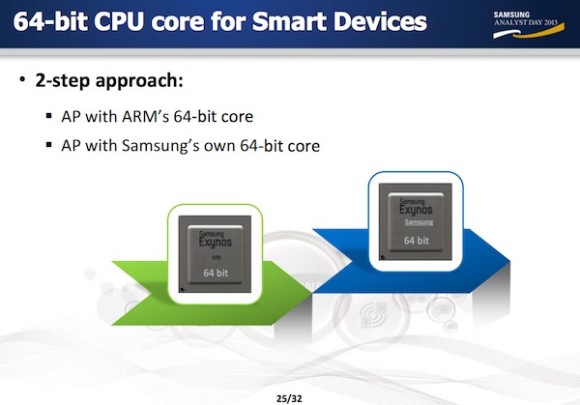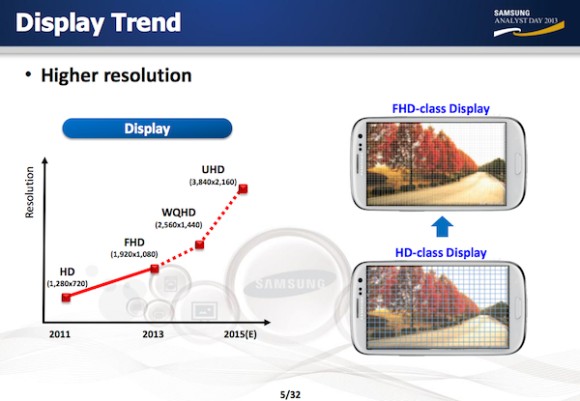 Samsung's mobile products will feature house-made CPU core and shows with 560ppi soon. This shows up throughout presentation business conference call, in which the company's executive team spoke by what is coming up next.
The move of CPU core production internally is a particularly significant change for Samsung, as presently, their chipsets feature CPU cores licensed from ARM. It will likely be accomplished in 2-steps - Samsung will first develop 64-bit cores according to ARM designs after which proceed to its very own.
Mobile shows were another hot subject of conversation throughout the analyst event. The coming year, Samsung will out RGB AMOLED shows having a pixel density of 560ppi. Combined with specific WQHD resolution (2,560 x 1,440 pixels), these pixel density points in a display having a 5.25" diagonal coming our way (quite sufficient for any Samsung Universe S5 we'd say).
In addition, Samsung will out mobile products with 4K shows in 2015. Having a resolution of three,840 x 2,160 pixels, individuals screens will represent an enormous leap in comparison towards the 1080p models that are popular today.
Source: Samsung Analyst Day
Tags:
samsung's
exynos
octa
cpus
could
use
eight
cores
once
samsung
add
64-bit
cpus
its
2014
smartphones
samsung
devices
pack
made
cpus
560ppi
displays
future
© 2020 YouMobile Inc. All rights reserved