Search result
Tags - glasses
Wearable technology is still finding its niche in the accessory space, particularly when it comes to the stuff designed to be worn on the head. The latest out of Japan is from the latter.
The FUN'IKI Ambient Glasses are about subtle notifications with a bit of style. Equipped with multi-colored LEDs and Audio Speakers, the FUN'IKI glasses look like traditional eyewear. If you receive a Notification on your iPhone, color coded LEDs will provide an ambient alert along the lenses.
There are also speakers-embedded on the arms of the glasses. The dedicated iOS app for the FUN'IKI allows you to assign color and sounds to specific notifications. The glasses also have a text-to-speech feature as well, so if you get an extra important message, you can have it read to you. There is even a party mode for the LEDs.
The FUN'IKI Ambient Glasses are available through a Japanese crowd funding site. Expecting shipping will be in December. The lenses can be made to prescription. The team behind FUN'IKI have an SDK for developers at the ready too. The normal retail price for these glasses will be roughly $230. They can be secured through the crowd funding source for less than half that amount.
Recently there has been some talk of Samsung designing its own augmented reality glasses, as well as exploring mobile hologram possibilities. These headlines can blend in given the clutter of AR- and VR-related news that's saturating internet tech news these days, but they may actually be quite significant. In fact there are various reasons that Samsung may essentially need to put forth an appealing device in this emerging market.

First and foremost is the fact that other major tech companies are known to be developing similar glasses. Apple, most notably, has long been rumored to have patents filed and designs in the works for AR glasses, and depending on where you're reading you might even get the impression the company expects these to be its next major products. One can imagine Apple putting out glasses (and expertly marketing them) to be essentially an even more convenient version of what the Apple Watch was billed as: a wearable accompaniment to an iPhone that fuses the real world and users' tech needs together right before their eyes. If the device is appealing enough, and pairs exclusively with iPhones, Samsung simply can't afford not to compete, nor to rely only on third-party Android headsets (which will be widely available in short time).

As for specific uses, there are some markets just waiting to explode in AR, and which will drive users' need for the glasses Samsung may be providing. Gaming certainly comes to mind first. Right now AR games are fairly limited, but the added flexibility of AR glasses will make them more appealing, and allow hugely popular genres to thrive all over again. There has been some talk of casino games' potential in AR, for instance. Right now, mobile and online casinos are driven by the game variety of international hosts and developers, and the slew of welcome bonuses that attract gamers. But the good ones thrive when they can make people feel like they're playing more realistic games, or in more realistic environments - all of which AR can help with. Shooting games, too, will be poised for a leap forward. Right now, while there are innumerable mobile shooters (including major titles like Fortnite) they're constrained by s mall screens and touch controls. With AR they could be brought into the real world, so to speak, with greater scope and more interesting controls.

Gaming isn't the only space in which one can imagine AR apps exploding in populalrity, ether. Personal health is another area to keep an eye on. In fact it's been specifically mentioned that Apple's forthcoming AR glasses could be the company's next health device. This could apply to everything from specific disease monitoring and detection (glaucoma has been mentioned specifically). But it could also simply refer to new levels of fitness tracking and exercise assistance. Imagine the related features of a fitness band or smart watch simply transferred to smart glasses, such that you can see before your eyes how far you've run, how fast you're going, what your heart rate is, or maybe even how many calories you've burned. Health and fitness have come to comprise a great deal of the activity people look to their mobile devices for, and like gaming, this is a potential whole ne w marketplace of AR apps that would make Samsung's glasses more desirable and valuable.

We could go on well past gaming and health. Some see glasses as the next step in making navigation programs like Google Maps safer and more efficient; there are already lots of practical applications for AR, from taking virtual measurements to shopping for furniture; we don't even know yet how these devices might be used for things like messaging, social media, or internet browsing. But even the few examples outlined above, coupled with the fact that Apple is making strides in this space, speak to the necessity for Samsung to get in the game. Surely there will be other, Android-compatible glasses that can pair with Samsung phones - a sort of variety that iPhone users may not be able to tap into. But it's looking more and more like AR glasses are going to be major new tech devices in and of themselves, and Samsung will need its own.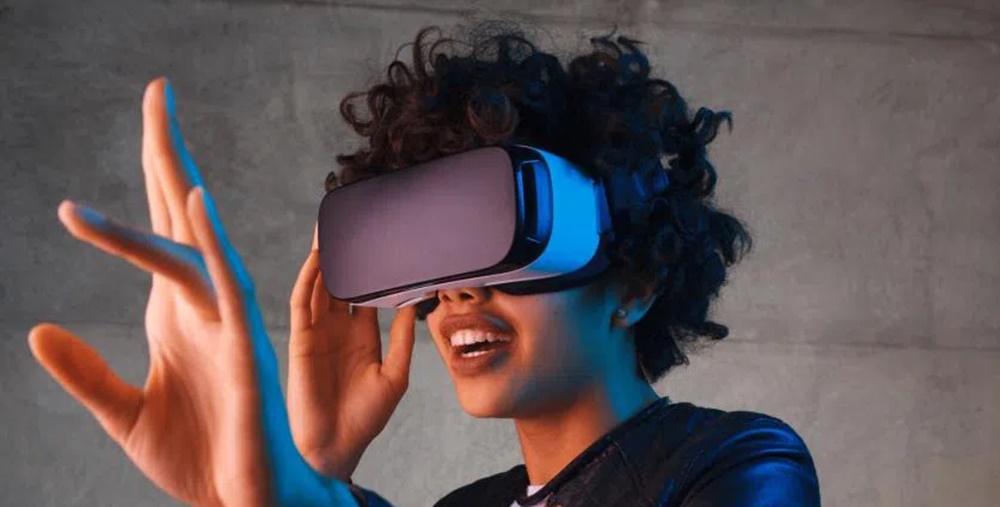 Apple's alleged initial foray into AR and VR has been kept under wraps, but a fresh story claims that the mixed-reality gear is moving closer to a public debut.

Apple's board of directors got a sneak view at the company's future mixed-reality headgear at a quarterly meeting, according to Bloomberg. "Eight independent directors" and CEO Tim Cook were present at the meeting.

According to unnamed insiders acquainted with the situation, Apple showcased the headset's capabilities, according to Bloomberg.

Apple is also accelerating development of the headset's operating system, known as "realityOS" or just rOS. This maintains Apple's name convention for its previous products.

According to the story, Apple had planned to introduce the headset during its Worldwide Developers Conference this year, but had to postpone it owing to overheating difficulties. In addition, supply chain concerns and inflation have made things difficult for the electronics industry as a whole.

There have been a lot of different rumors regarding how Apple's mixed-reality headset would appear and work. Most rumors agree, however, that there will be a multitude of cameras and sensors that will allow you to see the outside world.

Micro-LED panels with an incredible 8K resolution for both eyes are also expected. A third monitor for peripheral vision might potentially be included. Ming-Chi Kuo, a well-known Apple analyst, claims that the lenses may integrate iris recognition for verification.

Apple Silicon will almost probably power the headset, which might be even more powerful than the existing M1. Of course, a wearable would benefit from a strong chip that is also energy efficient. Apple will hopefully be able to resolve the rumored overheating issues.

RealityOS, the operating system that powers the headset, has been detected in Apple code several times. On an Apple GitHub page, developer Matthew Davis discovered references to "realityOS."

While this will be Apple's first entry into virtual and augmented reality, other businesses, such as Meta, have extensive experience in the field. Meta's Project Cambria aims to replace a laptop and workstation in the future.

Despite Meta Quest 2's full dominance, Apple may be one of the few corporations capable of actually challenging (and surpassing) Meta.
Mo Cheng
Editor-In-Chief
YouMobile, Inc
Tags:
japanese
fun'iki
smart
glasses
with
ambient
light
speakers
why
samsung
needs
glasses
apple
has
given
preview
its
ar/vr
glasses
board
directors
implying
launch
soon

While the Google Glass project seems to have run its course Sony is picking up the slack with its Single-Lens Display Module. Unlike Glass, Sony's device can be attached to conventional corrective glasses, sunglasses and even goggles. Not much is known about the device itself though the company will make it available next year and will release the SDK to select partners.
The main element is a color OLED microdisplay that projects a 640 x 400 image into your field of vision. The module also contains a processor along with Wi-Fi and Bluetooth plus a selection of sensor. The device is based on the SmartEyeglass announced earlier this year.
Tags:
japanese
fun'iki
smart
glasses
with
ambient
light
speakers
why
samsung
needs
glasses
apple
has
given
preview
its
ar/vr
glasses
board
directors
implying
launch
soon
sony
releases
its
first
smart
glasses
single-lens
display
module
© 2023 YouMobile Inc. All rights reserved