Search result
Tags - on7
As expected and rumoured earlier, the next iterations of the Samsung Galaxy On5 and On7 are out now, but they are not called "2016 Editions" like we expected. Instead, Samsung has dubbed the two smartphones as Galaxy On5 Pro and On7 Pro. Both the phones are exclusive to India just like their predecessors, but will sport better hardware (only slightly so) and software.
On5 Pro
Display - 5-inch TFT panel with 720p resolution
SoC - Exynos 3475 1.3GHz Quad Core processor with Mali-T720 GPU (No change)
RAM - 2GB
Internal Storage - 16GB
Front/rear camera - 5-megapixel/8-megapixel
Battery - 2,600mAh
Dual SIM with 4G LTE connectivity
Android Version - Marshmallow
S-Bike mode, Ultra Data Saving Mode, etc.
Colors - Black/Gold
Price - INR 9,190 ($137 approximately)
On7 Pro
Display - 5.5-inch LCD panel with 720p resolution
SoC - Qualcomm Snapdragon 410 1.2GHz Cortex A53 processor with Adreno 306 GPU (No change)
RAM - 2GB
Internal Storage - 16GB
Front/rear camera - 5-megapixel/13-megapixel
Battery - 3,000mAh
Dual SIM with 4G LTE connectivity
Android Version - Marshmallow
S-Bike mode, Ultra Data Saving Mode, etc.
Colors - Black/Gold
Price - INR 11,190 ($167 approximately)
We were disappointed to see that the processors on both the devices have not been upgraded, in spite of them being dated now. Then again, that's what we have come to expect from budget Samsung devices anyway!
Author: Saikat Kar (tech-enthusiast)
Although we do not generally associate Samsung smartphones with MediaTek processors, according to GFXBench, that's about to change. A Samsung smartphone with the model number SM-G615F was earlier spotted on the benchmarking site and as far as we can tell, this could very well be the next iteration of the Galaxy On7. If you are wondering why we think that the unnamed phone could be the On7 (2017), consider the fact that the On7 (2016) had the model number SM-G610 and things should start to make more sense.
However, what was surprising to see is the fact that the smartphone will be sporting a MediaTek CPU, something that we have not yet seen on a Samsung device. I guess all those rumors about Samsung planning to buy chips from MediaTek weren't hogwash after all! Take a look below to see the specs of the upcoming anonymous smartphone from Samsung.
5.7-inch 1080p display
MediaTek Helio P20 octa-core chip, clocked at 2.3GHz and Mali-T880 MP2 GPU
3GB of RAM
32GB of internal storage
12-megapixel rear and front cameras with autofocus, touch focus, face detection, flash and HDR
Check out the screenshot below for more details.
Saikat Kar (tech-enthusiast)
Finally, Samsung has released a stable version of Android Marshmallow for the Galaxy On7. Both the On5 and the On7 was released in 2015 and was due for the update and it's good to see Samsung deliver it to the On7, albeit a little later than most users would have liked. There is no definite news as to when the On5 will be upgraded to Android Marshmallow right now, but we are pretty sure that it will be sooner than later. The Galaxy On-series is also rumoured to receive new handsets this year with more up to date hardware and software. However, they will still be named On5 and On 7, but with the 2016 moniker attached.
Go to Settings > About device > Software update and check whether the update has arrived on your On7 yet. If not, don't worry, OTA updates are sent out in batches and it may take a while before all smartphones receive the package. Once you have downloaded and installed the update on your smartphone, you can expect all the features that make Android M great, like Doze, Google Now on Tap, customizable app permissions and a new UI to name a few.
Download all the latest firmware from here - samsung.youmobile.org
Tags:
samsung
galaxy
on5
pro
on7
released
india
galaxy
on7
2017
could
powered
mediatek
processor
android
6.0.1
marshmallow
released
samsung
galaxy
on7
(finally!)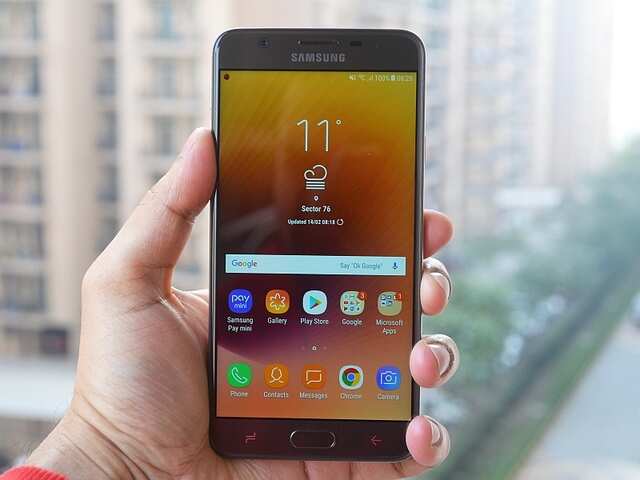 Android Q might already be in the works but most low to mid-range Samsung smartphone owners would be just happy if they get updated with Android 9 Pie for now. Well, if you happen to own a Galaxy On7 Prime, we have that much awaited news for you because Samsung has finally released the Pie for On7 Prime. As of now, it's rolling out in India, which was and still is the main market for teh model when it came out more than a year ago in January, 2018.
The file weighs in at just over a gigabyte (1034MB), so do connect your Galaxy On7 Prime to the Wi-Fi before downloading it directly on your phone. Some of the important changes which the update brings with it are as follows.
· The new One UI
· A more thoroughly implemented Night-Mode
· Support for floating mode in Samsung Keyboard
· Camera Screen Optimizer
· Kids Mode shortcut in the notifications panel
· Security update of the Month (May)
We expect that this will be the last major OS upgrade the Galaxy On7 Prime will receive, since it already got updated to Android 8.1 Oreo last year. The security patches will be released for the device for a long time though, albeit on a quarterly basis.
Saikat Kar
Tags:
samsung
galaxy
on5
pro
on7
released
india
galaxy
on7
2017
could
powered
mediatek
processor
android
6.0.1
marshmallow
released
samsung
galaxy
on7
(finally!)
galaxy
on7
prime
gets
updated
android
pie
© 2020 YouMobile Inc. All rights reserved