WinX DVD Ripper Platinum: You Can Now Play DVDs On Any Android Device!
WinX DVD Ripper Platinum: You Can Now Play DVDs On Any Android Device!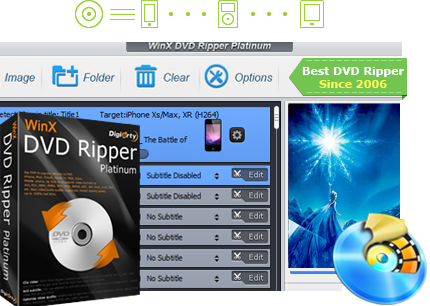 WinX DVD Ripper Platinum by Digiarty Software brings the unique feature of copying DVD to Android devices. It perfectly bridges the gap between the last gen DVD technology and next gen portable media storage by enabling DVD ripping, copying and playing on all Android smartphones and tablets.
Why You Need a DVD Copy Software for Android Devices
In case you are wondering why one may need a DVD copy software to begin with, then you are probably unaware of the fact that Android can't decode encrypted DVD content. What it means is that since all original movies, songs, videos etc. on physical discs are encrypted by default, you can't copy any such content from a DVD to Android devices, without first using a DVD copy software like WinX DVD Ripper Platinum to rip the content and make it compatible with the Android OS.
What WinX DVD Ripper Platinum DVD Copy Software Brings to the Plate
Now that we have discussed why we can't load content from DVD to Android devices directly and need a separate DVD ripper software to do get it done, it's time to take a look at the features which makes WinX DVD Ripper Platinum the leading DVD copy software in the market.
Preventing Loss of DVD Content and Quality
Whether it's 720p high definition or a 1080p Full High Definition video content, WinX platinum can help you rip the DVD without any loss ion quality whatsoever. Furthermore,. Once you have your DVD content stored away in soft format on smartphones, tablets, hard drives or even a SD card, it isn't just limited to the physical life of the DVD disc anymore!
Even when you just clone (1:1) the content to an ISO Image file or convert it in MPEG2, MP4, 3GP, MKV, WebM and TS or any other format that you want with the WinX DVD Ripper Platinum, no quality is lost whatsoever. The developers even provide constant updates for new formats, so that users can continue to rip new DVD formats without facing any issues.
Play Your DVD Content on ANY Device
WinX DVD Ripper Platinum can rip and convert any DVD content (Music, movie, workout videos, etc.) into so many formats that TV sets, PCs, Macs, Android smartphones and tablets, iOS devices, USB/Micro-SD/HDD, Xbox gaming consoles, PlayStation Portables and just about every other device which supports audio/video playback will now be able to recoignize and play your DVDs!
How to Use WinX DVD Ripper Platinum?
The steps are pretty intuitive, but here's a small step-by-step tutorial to help you get started, post installation.
Step 1 - Either insert the DVD via an optical drive, or load any ISO image or DVD folder.
Step 2 - Run WinX DVD Ripper Platinum and select the DVD/ISO file, after clicking the DVD Disc tab.
Step 3 - Select the DVD Backup Mode/Device Profile from Output Settings.
Step 4 - Select the To MP4/MP3/MPEG/3GP or any of the other long list of formats that you need the DVD to be ripped in.
There is a simpler alternative which lets you choose the manufacturer of your Android smartphone (To Samsung, To Huawei, To Sony, etc.), so that the DVD is automatically ripped in a format that best suits the manufacturer's usual playback capacities.
Step 5 - For those that want to enhance or customize the final content to their liking, WinX Ripper Platinum also allows users to set/change the video/audio codec, output quality, audio volume, frame rate, resolution, subtitles and much more.
Step 6 - Click the Browse button, select the destination folder and click on Run.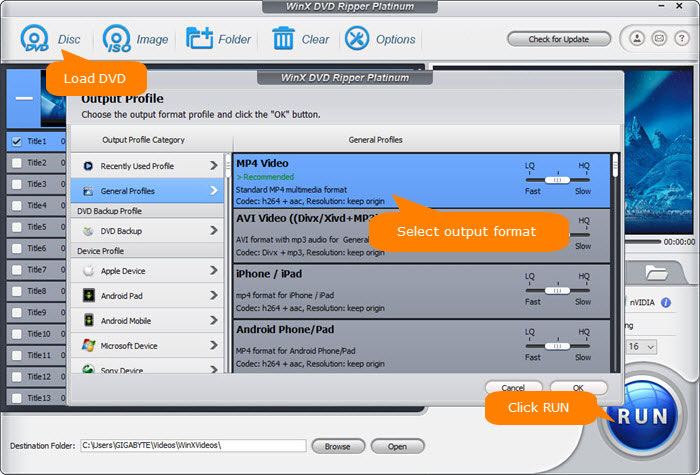 That's it for your part, because now you just have to sit back and watch the DVD get ripped according to your desired criterions, at 32X real-time speed, as WinX DVD Ripper Platinum utilizes your PC's CPU and GPU to hardware accelerate the whole process! Most tasks are completed in roughly 5-minutes or less.
WinX DVD Ripper Platinum is Free to Download and Use
You know that you have a confident and reliable developer behind the software, when they allow a trial period, which is exactly what Digiarty Software always has on offer with their releases. Try the WinX DVD Ripper Platinum software out for free first before purchasing it, to know how useful it can actually be. They also have a 30-day money back guarantee, in case you want to try the fully featured package without any risks.
© 2023 YouMobile Inc. All rights reserved