Search result
Tags - rugged
If you thought that tablets are way too flimsy, Samsung has just released the Galaxy Tab Active 2 which can take a hit and then some! Exclusive to the US, the device is internally the same as any other Galaxy Tab 2, but on the outside, it's quite literally a beast. The MIL-STD 810 certification guarantees that the Galaxy Tab Active 2 can survive through high pressure, extreme temperatures (hot or cold), rapid vibrations and even drops from heights that would shatter other lesser tablets. Additionally, it also sports a standard IP68 rating for dust and water resistance.
While we all would like our devices to be a bit sturdier than they generally are, this may seem a bit excessive to many, until they realize that Samsung has a specific crowd in mind for the Galaxy Tab Active 2. Apparently, this is tablet for employees who must work in the harshest of conditions. While targeted primarily at businesses, those that love camping, trekking and mountaineering might have use for the tab Active 2 as well.
Saikat Kar (tech-enthusiast) When someone mentions a smartwatch, rugged is usually not the first thing that comes to our mind, and that's part of what makes the T-Rex from Amazfit such an unique product. Not that there are no other tough products like Huami's new adventure - sport watch mind you, but none of them come even close to the price point at which the T-Rex is being offered by Huami.
What Does the T-Rex Have to Offer?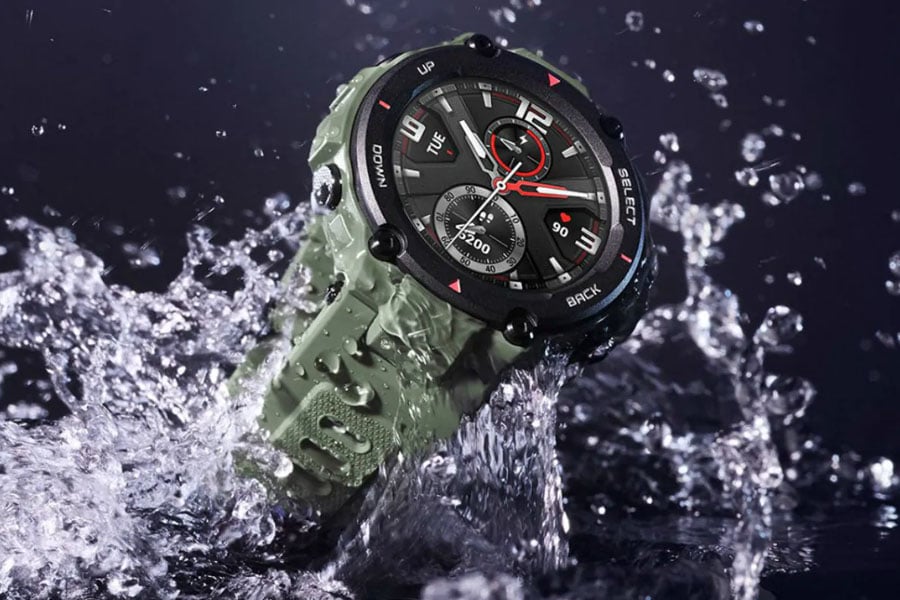 Quite simply put, the answer would be everything you can possibly expect, and we are not even exaggerating here! Consider the following to get an idea of how feature packed the T-Rex is really.
12 Military Grade Certifications (MIL-STD-810G, 5ATM, etc.) for resistance to water, dust, shock, heat, cold and humidity among others

The T-Rex can survive in between -40 degrees Celsius to 70-degrees Celsius, alongside 240h humidity and 96h salt spray (sea water) exposure

A battery that can last up to 20 days even under extremely rough conditions and moderate usage

14 sport modes: outdoor jogging/running, jogging/running on the treadmill, cycling, hiking, open water swimming, swimming in a pool, elliptical training, regular gym exercises and the list goes on

Includes an optical heart rate sensor

An advanced GPS system and even a built-in GLONASS system for flawless, satellite navigation

1.3-inch OLED display with a resolution of 360 x 360, with Gorilla Glass 3 protection
It's difficult to believe that all these features and more are packed into the T-Rex by Huami for a selling price of meagre $140! For the record the Amazfit T-Rex is also Huami's cheapest and toughest smartwatch till date.
A Closer Look at Applicability of the Features: Is the T-Rex Really that Good?
Off the bat, let's make a few things clear, this is not the world's best or the most perfect smartwatch that we are dealing with here. What Huami's latest offering can be called however, is the best bang-for-your-buck smartwatch in the fitness and adventure segment by a long shot. With that perspective in mind, there is really nothing about the watch that doesn't work as advertised.
One may notice that steep changes in heart rate will take the optical sensor an extra second or two to adjust with, but the data will not be erroneous on account of the slightly slower change. Setting that aside, there's nothing else that we can complain about here, especially at that price point.
Sleep and step tracking works as accurately as you would expect from a $500 fitness wearable, while the Amazfit app records all data seamlessly from your smartwatch for your review later or in real time. However, there is no support for third party apps such as GoogleFit for example and that is disappointing.
A Smartwatch Designed for Performance Not Superficial Impression
The T-Rex is not going to win any beauty contests, but that's perfectly alright. Huami did not launch the T-Rex with a name like that to look pretty, but to get the job done in the most robust way possible. It's a big watch with a huge dial and a lot of girth to it, but surprisingly enough, it is deceptively light at just under 57g. Coming in Army Green, Camo Green,Rock Black, Khaki and Gun Gray, this is a watch that prioritises functionality, mobility and even comfort above everything else.
The OLED display is big, bright and gorgeous, which really comes on its own during the night, as is the nature of all OLED dispalys. During the day, even direct sunlight cannot affect this AMOLED display's visibility to the point where everything on it can be called anything but clearly legible. The straps on the other hand, can be described as comfortable, silicone dust magnets!
Although the clean and muscular design of Huami T-Rex is not for someone with tiny wrists, or a preference for more stylish options, it embodies the spirit of the rough and tough adventurer, who's wrist this massive beast of a watch is supposed to adorn in the first place. If you can relate yourself to being a real adventurer, and don't want to shell out $200 - $500 for features that Huami is offering for just $150 with the T-Rex, there is absolutely no reason why you shouldn't order one right now.
Tags:
galaxy
tab
active
most
rugged
android
tablet
can
buy
huami
amazfit
t-rex
review:
most
affordable
rugged
smartwatch
ever?
© 2023 YouMobile Inc. All rights reserved