Search result
Tags - earbuds
We have enough leaks of the Galaxy S6 and S6 Edge... Now we got some more leaked photos of the upcoming Samsung's flagships Earbuds. Samsung always delivers the best Sound experience for its users on its high-end device, this year Samsung made a new earbuds unique design for better sound quality
These alleged hands-on shots of the earpods that were sent to Vietnamese mobile site Tinhte show the 'phones that will be packaged with both versions of Samsung's forthcoming flagship Android handsets.
A previous rumour also suggested that Samsung was working with Sennheiser on the technology for its new included headphones, so these might be a result of that partnership. However, there is no visible Sennheiser branding on them, so either that was part of the deal or that team-up failed to materialise in time.
Over the past couple of years, the wireless earbuds have grown from a luxury into a necessity. There is no shortage of the company's manufacturing earbuds but recently there has been some trend towards the Samsung Galaxy Buds, and now they have released the second generation.

So should you buy the Galaxy Buds Plus? The biggest advantage of using the earbuds is the way they work with Android. Although pretty much all kinds of earbuds work okay with Android in one way or another, even you can connect Apple's AirPods. However, a lot of them lack these lack extra features on the platform. With the Samsung Galaxy Buds plus, there are many extra features available, especially if you own a Samsung phone.
On a Samsung smartphone, just pair the earbuds with the phone and you will be greeted with a pop-up that displays the battery status of each bud and the case too. It is exactly how Apple works with AirPods. However, this isn't available to all phones. If you own a Google Pixel 4, you need to download an extra app. Once the app is installed, you will have control over the buds plus to customize taps and the like. But you won't get any pop-up with battery information. This has to be checked within the app only.

Samsung has included a USB-C port on the back of the charging case and a Qi wireless chagrining receiver inside the case. The earbuds have pretty good battery life and can last up to 11 hours by Samsung's rating. I don't think that anyone would use the earbuds for that long but even if you use it aa for 4,5 hours, the battery hardly gets any drainage.

There are a few different sound profiles in the Samsung app but if you settled down Dynamic, this sounds pretty normal. The Normal setting although won't get you the best result. Another big plus here is the Spotify integration that enables you to assign a long-press on either bud to a Spotify shortcut. This shortcut initiates Spotify on your connected phone to play either your most recent track or your daily mix playlists.
Now, to talk about the cons or not so good features of the earbuds. The buds plus case isn't huge but still unflattering and thick and the default sound profile isn't so good. Samsung has used two microphones to make call audio to sound better and isolate your voice but you may not find the quality of the mics quite impressive.
Tags:
samsung
galaxy
earbuds
leaked
showing
new
unique
design
photos
samsung
galaxy
buds
plus
–
truly
wireless
earbuds
that
worth
price
Wireless earbuds have taken over the market over the years.
You can choose from hundreds of wireless earbuds and enjoy the freedom that they offer. I personally believe that wireless earbuds became popular because they have no wires.
Without wires running between your phone and headphones, you're free to do whatever you want and go wherever you want while listening to your favorite music.
Wireless earbuds are handy for everyday life and commuting. They're also perfect for sporty people who want to listen to their favorite songs while training.
Nowadays, wireless earbuds have true wireless designs. This means that they don't come with a cable or neckband connecting them together. They look like earplugs.
Other advantages of truly wireless earbuds include noise-canceling tech, carry cases and touch controls. The carry cases can be used as portable chargers.
What I like most about true wireless earbuds, is that some of them have a built-in heart rate monitor. If you're a fan of true wireless earbuds and want to buy a pair, you're in the right place.
Selecting the right pair can be overwhelming with so many products on the market but I'm here to help. After hours of research, I have found the 3 best true wireless earbuds for android phones.
Without any further ado, let's jump into my product reviews and buying guide.
If you're looking for the best active noise-canceling earbuds, look no further than Sony WF-1000XM3.
Their battery life is estimated at 6 hours (ANC on) and 8 hours (NC off). However, what I like most about this product is the elegant, stylish design.
They're the perfect combination of impressive noise cancellation and great audio quality. If you want a rich, deep bass and tonal balance, this pair is perfect for you.
You also have the option to play with the built-in EQ and make your own sound profile or pick from nine various presets as well as set up the ambient sound levels.
Sony earbuds weigh 0.3 ounces and have a Bluetooth range of 30 feet. They also deliver digital assistant support.
Pros:
Stellar audio performance
Impressive noise cancellation
Lots of personalization through the companion app
Super long range with no cuts or stutter
Sharp-looking, elegant design
Cons:
Touch controls need improvement
The Samsung Galaxy earbuds represent the first truly wireless earbuds with wireless charging.
All you need is a Samsung S10 phone and you can charge your earbuds whenever you want. They have a great sound and come with a sweatproof, lightweight casing.
The battery life of these earbuds is estimated at 6 hours. They have a sleek, elegant design, a Bluetooth range of 33 feet, and digital assistant support. The Samsung earbuds fit perfectly.
They stay in place all day and have great noise cancellation. Also, you don't have to worry about quality because they deliver high-quality sound from both the microphones and earbuds.
A recent update delivers other impressive features such as hands-free access to the Bixby assistant and the option to tweak equalizer controls with your voice.
If you want top-quality, elegant and popular earbuds for your android unit, the Samsung Galaxy earbuds may be the perfect choice for you.
Pros:
Quality sound from both microphones and earbuds
Fit great and stay intact all-day
Cons:
Sometimes, the earbuds don't recognize being tapped
Not a lot of customization on tapping the earbuds for other features
Not the greatest call quality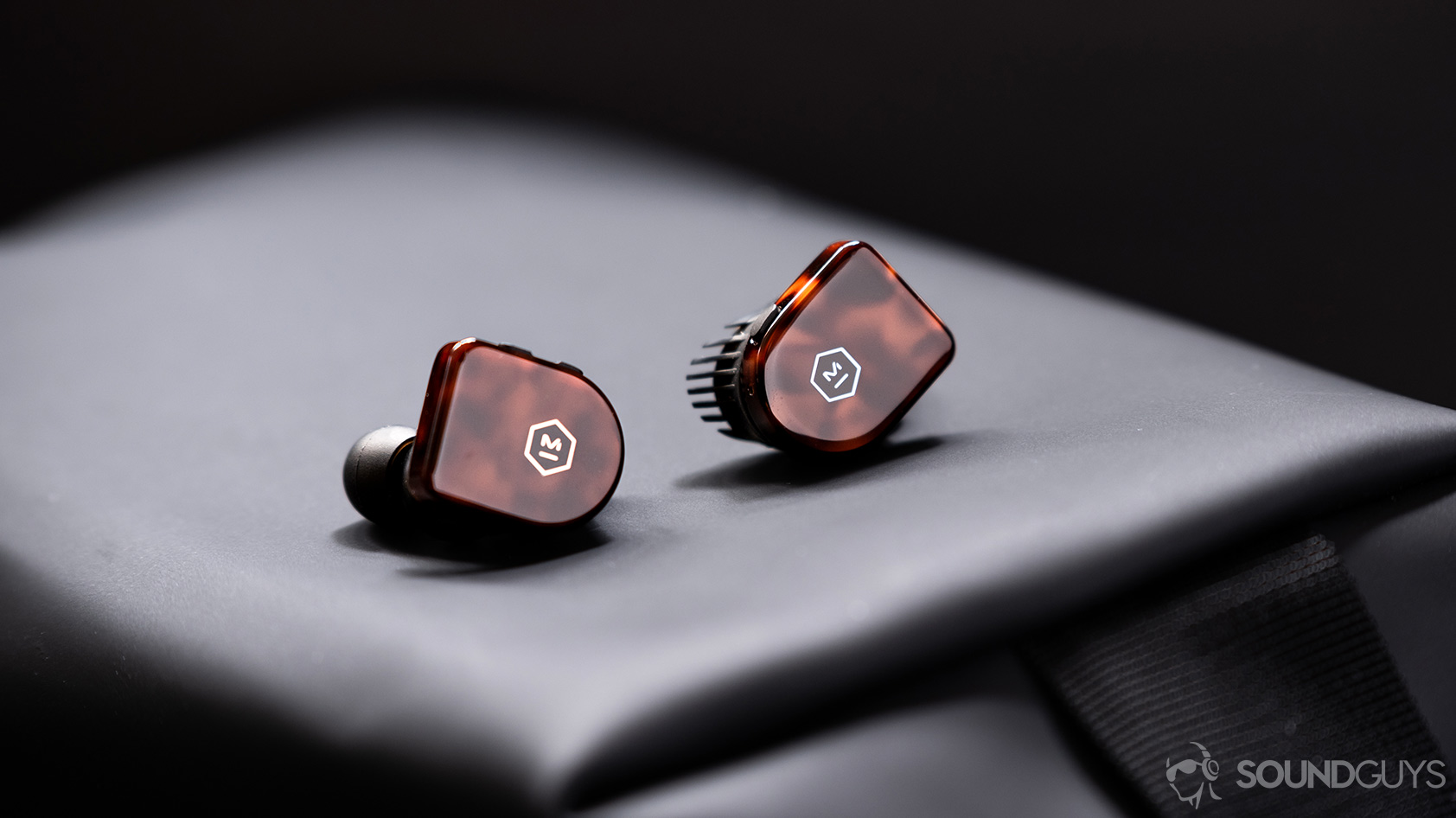 If you're in the mood to spend money on professional earbuds with excellent performance, consider the Master & Dynamic MWO7 Plus.
They're splurge-worthy wireless earbuds that weigh 0.6 ounces. However, what I like most about them is their battery life. It is estimated at 10 hours and 40 hours with a charging case.
Their Bluetooth range is 98 feet and people love them not only because of their performance but design as well. The stainless steel and acetate give these earbuds a stylish, elegant look.
Punchy lows and crisp highs combined result in a perfectly-balanced soundstage. The noise cancellation is also impressive. It minimizes ambient noises during commutes.
As I already mentioned, these earbuds cost a lot. However, they bring great value for money. Let's check some of their main pros and cons before you make your purchase.
Pros:
Impressive audio performance
Eye-catching, elegant appearance
Long battery life (10 hours per charge)
Cons:
No AAC Bluetooth codec support, just SBC/AptX
Wireless and True Wireless Earbuds: What is the Difference?
Wireless earbuds have been present on the market for a while now.
They're not physically connected to your device. However, they do have a wire connecting the earbuds. True wireless earbuds, on the other hand, have no wire whatsoever.
While wireless earbuds allow you to wear headphones a couple of feet away from your mobile unit, true wireless earbuds cuts provide complete freedom.
How to Choose the Best True Wireless Earbuds for Android Phones?
Selecting the right true wireless earbuds can be hard with so many products on the market.
They come in different sizes, shapes and comfort can differ greatly from one product to another. Also, it varies on the size of your ears.
However, there are universal factors you need to consider when choosing the best true wireless earbuds for android phones, including:
Final Thoughts
True wireless earbuds became very popular over the years. Nowadays, they make the perfect choice for people who prefer complete freedom over wired earbuds.
They're also perfect for sporty people. However, picking the right earbuds for you can be a daunting task with so many products available for purchase.
Hopefully, my reviews of the 3 best true wireless earbuds for android phones can help you make a smart choice. Select the product that meets your needs and fits your budget.
Tags:
samsung
galaxy
earbuds
leaked
showing
new
unique
design
photos
samsung
galaxy
buds
plus
–
truly
wireless
earbuds
that
worth
price
best
true
wireless
earbuds
android
phones
If you're still thinking about whether to take the wireless earbuds to a gym or not, let it be your insight into the subject today. Yes, take them for sure. And here's why. Listening to music adds to mood elevation and boosted performance, according to the National Center for Biotechnology Information. However, it's not always easy to find the best wireless earbuds for workout in the pool of hundreds represented on the market.
When surveying the models, you need to take into consideration the fit options, water-resistance, battery life, and, of course, sound quality. Based on these criteria, we've picked 5 pairs of

best truly wireless earbuds for working out

that work with any budget.
Jabra Elite Active 65t Earbuds
We would agree with multiple reviews stating that this pair is the best Bluetooth earbuds for workouts. By workouts, we mean you can use them when doing exercises, lifting weights, boxing or running on a treadmill. They deliver an excellent audio quality that might be personalized via the Jabra Sound+ app. The build is durable and protected with the IP56 dust and water-resistance rating. The Active 65t are super tiny and come only with the ear-tips, which is enough for a snug fit. The pair is easy-to-use, with onboard basic controls. You can summon the digital assistants with them as well. As for the battery life, it's about 5 hours on a single charge and an extra 10 hours from the portable case. The quick charging is just another strong point of this pair. Thus, a 15-minute charge provides an additional hour and a half of juice.
TREBLAB xFIT
These are the best workout earbuds under $100. For truly wireless earbuds, they even have a pretty decent sound reproduction with boosted bass. They operate via the latest Bluetooth 5.0, which means stable connectivity and an instant pairing. Speaking of comfort, they are IPX6 waterproof, feature easy-to-use button controls and come with custom ear-tips. The icing on a cake is the battery life. Its single charge is 5 hours. But the case is so compact and, thus, super portable so that together the pair can last for up to 30 hours. You can also summon digital assistants as well. Actually, the brand has the whole lineup of workout earbuds wireless for working out. Check other earbuds for workout, if necessary.

JLab JBuds Air Icon
The reason why these might be called the best workout Bluetooth earbuds is pretty simple - they are super durable and meantime affordable. So, the pair is IP55 certified, which means it withstands well dust and sweat. It features a dual connection system for seamless connectivity within the 10-meter range and the AAC codec for the great audio reproduction (that can be customized via EQ3, by the way), especially from iPhones (Apple uses AAC for its devices). The package comprises signature Crush Fin ear-tips that prevent the buds from falling out. The battery lasts for up to 6 hours. Herewith, the charging case provides an extra 18 hours of playtime.
Jaybird Vista
If you're after that type of wireless earbuds for workouts with an over-clip design, then this pair is for you. Besides, they come with 3 sets of ear gels that together definitely provide a tight hold. Also, they are super compact and meantime rugged and durable. The headset features the IPX7 water-resistance rating that allows a full immersion. The battery life is about 6 hours and 10 more from the case. The Vista work via the latest Bluetooth 5.0 and the controls are very intuitive to use. Users can also customize the audio reproduction via EQ control provided by the Jaybird iOS or Android app.

Bose SoundSport Free
These might be placed amongst the best sounding workout earbuds, according to many athletes. They stand out in the crowd for powerful bass. In general, they do a great job when reproducing a well-balanced sound, good enough at highs and mids. As for the fit, Bose worked out the StayHear+ ear tips precisely for intense workouts. The battery lasts for about 5 hours and you can also squeeze out an additional 10 hours from the case. Athletes love the pair for being super handy to use thanks to a multi-function button. They are IPX4 rated, which means they can tolerate light jets of water but not immersion.
Why aren't AirPods included?
We excluded the traditional AirPods because athletes can find absolutely decent wireless earbuds like AirPods with a lower price-tag. Besides, some don't like the stems that protrude from the ears, while others reject them due to a mediocre sound. In a nutshell, it is always possible to find the best pair without breaking the bank account and compromising on the quality.
Tags:
samsung
galaxy
earbuds
leaked
showing
new
unique
design
photos
samsung
galaxy
buds
plus
–
truly
wireless
earbuds
that
worth
price
best
true
wireless
earbuds
android
phones
top
best
bluetooth
wireless
earbuds
workout
© 2023 YouMobile Inc. All rights reserved