Search result
Tags - also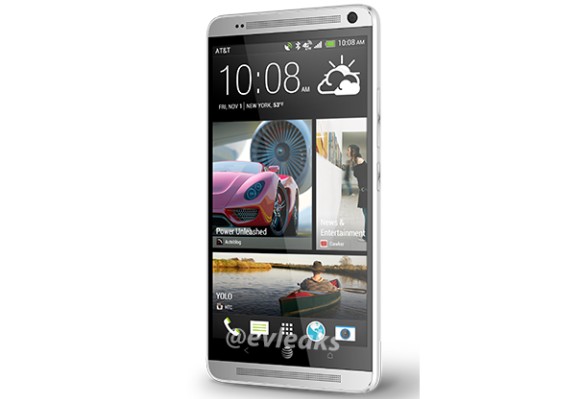 It looks like HTC One max will also be on AT&T, according to GSMArena, who got a press photo of the phone courtesy of @evleaks. Initially, Sprint and Verizon Wireless were the only US carriers to carry the HTC One max in the United States. Therefore, the appearance of the phablet in AT&T livery surely caught us by surprise.
HTC One Max will get the latest Android release, coupled with the most up-to-date edition of HTC's proprietary Sense UI.
HTC One Max Features:
Quad-band GSM/GPRS/EDGE support; 3G with HSPA; LTE

5.9" 16M-color 1080p Super LCD3 capacitive touchscreen with 373ppi pixel density

Android OS v4.3 Jelly Bean with Sense UI 5.5

Quad-core 1.7 GHz Krait 300 CPU, 2 GB RAM, Adreno 320 GPU; Qualcomm Snapdragon 600 chipset

4 MP autofocus "UltraPixel" camera with 1/3" sensor size, 2µm pixel size; LED flash

1080p video recording @ 30fps with HDR mode, continuous autofocus and stereo sound

HTC Zoe

2.1 MP front-facing camera, 1080p video recording

Wi-Fi a/b/g/n, Wi-Fi Direct and DLNA; Wireless TV-out (Miracast)

GPS with A-GPS, GLONASS

16GB/32GB of built-in storage, expandable via a microSD slot

MHL-enabled microUSB port

Bluetooth v4.0

NFC

Standard 3.5 mm audio jack

Accelerometer and proximity sensor

Active noise cancellation with dedicated mic

Sleek aluminum body

Front-mounted stereo speakers with BoomSound tech

Class-leading audio output
Source: twitter
Soon, the LG Optimus G Pro will also be featuring innovative technology such as those that are allegedly found on the Samsung S IV like eye recognition and other capabilities.

The Optimus G Pro is one of the leading smartphones in the market today and the company also promises upgrades that will improve the phone's use. Hands-free movie playback and smart scrolling are also very likely to be integrated and is clearly the direction that most smart phones are going.

Perhaps the most important thing that users are waiting for is the ability of a smartphone to perform optimally and consume very little battery life. Unfortunately, no company has come up with an extremely efficient device that has really awesome capabilities.

LG plans to roll out a Value pack upgrade that will allow Optimus G Pro users to use their eyes when playing and pausing videos and QRemote functions that will work well with any LG smart TV.
Press Release:
EYE RECOGNITION TO BRING NEW LEVEL OF ENTERTAINMENT CONVENIENCE TO LG SMARTPHONE Technology to Debut in Smart Video Feature in Optimus G Pro
SEOUL, Mar. 14, 2013 - Smart Video, a new multimedia UX feature from LG Electronics (LG), will be unveiled for the first time in the Optimus G Pro. Smart Video takes viewing videos on mobile devices to a whole new level of convenience with eye recognition that eliminates the need to manually control playback during the viewing experience.
Through the implementation of advanced eye recognition technology, Smart Video recognizes the position of the viewer's eyes and automatically plays or stops the video without any manual input from the user. When the viewer's eyes are no longer focused on the smartphone display, the front camera recognizes this and immediately pauses the video automatically. Once the user's gaze returns to the smartphone, the video resumes playback from the point last viewed.
In addition to the Smart Video feature, Optimus G Pro will also be equipped with the world's first Dual Camera function. The Dual Camera feature is an extension of the Dual Recording feature which debuted on the Optimus G Pro introduced in the Korean market last month. Dual Camera simultaneously captures photographs using both the front and back cameras for a picture-in-picture composition. Users can now be a part of the story, not just observers.
"LG is continuously innovating to offer creative ways to offer a user experience that adds value to our customers," said Dr. Jong-seok Park, president and CEO of LG Elec-tronics Mobile Communications Company. "It's the positive UX that will differentiate smartphones in 2013 and beyond, not only cutting-edge hardware specs."

The Smart Video and Dual Camera features will be introduced as a part of the Value Pack upgrade which will be offered for the Optimus G Pro in the Korean market next month. These features will also be made available for some LG premium smartphones in the future.
Other features in the Value Pack upgrade include:

• Magic Remote Pad and Text Keypad via the QRemote function. These new options for QRemote work specifically with LG Smart TVs to enhance convenience when using Optimus G Pro as a remote control for LG Smart TVs.

• The Smart LED Lighting outlining the home button of the Optimus G Pro will be upgraded so users can customize the colors to correspond to their favorite contacts. The flashing of the LED in different colors will allow users to identify the source of incoming calls, missed calls, unread messages and emails.

• Video Pause/Resume allows the user to stop and start in record mode for one continuous video file.

• The first Color Emoticons in an Android smartphone for more personalized text messages.
Source: AndroidAuthority
Tags:
htc
one
max
released
att
also
also
bring
eye-tracking
"smart
video"
other
features
optimus
pro
A leaked photo of the Samsung Galaxy Note 8.0 shows that it also comes in black. The 8-incher that was introduced in last week's Mobile World Congress was a white marble Note 8. This device is Samsung's answer to the Apple iPad mini and it comes with a stylus or the S Pen, possibly for illustration and other features.

Another cool feature of the Galaxy Note 8.0 is the Smart Stay that allows your tablet to recognize if you are still up. It will automatically go on standby, once you sleep or stop using it. The user interface is seamless and very responsive.

Many people are quite happy with the black Note 8, but some still need a bit of convincing because of the polycarbonate plastic build, instead of glass. Furthermore, some do not like the 1280x800 resolution, which is quite short for good movie watching. However, this is enough with good gaming already.
source: phonearena
Tags:
htc
one
max
released
att
also
also
bring
eye-tracking
"smart
video"
other
features
optimus
pro
samsung
note
8.0
also
comes
charcoal
black
Google has announced that Quickoffice is now free to download for iOS and Android. Google also concedes that not everyone has "gone Google" yet, and also the '.doc' holdouts don't make it easy for those who have.
You can get the free Quickoffice app on Google Play and in the App Store. Simply sign in with your Google Account to start editing Microsoft Office Excel, Word and PowerPoint files on your iPhone, iPad, Android phone or tablet. Quickoffice is integrated with Google Drive so you can safely and easily store and access your files across devices. Users who currently have Quickoffice for Google Apps for Business can update their app to the new version and will notice a new icon.
You'll also see a number of new features including the ability to create .ZIP folders and view charts in Excel and PowerPoint files. Plus, the new app works across devices so you don't have to worry about installing separate versions anymore when you go from using your phone to editing on your tablet.
Source: Google Play Store
Tags:
htc
one
max
released
att
also
also
bring
eye-tracking
"smart
video"
other
features
optimus
pro
samsung
note
8.0
also
comes
charcoal
black
google
offers
quickoffice
android
free
also
comes
with
storage
© 2023 YouMobile Inc. All rights reserved