Search result
Tags - spotted

The above photo may be our first look at the LG Nexus 4 in white, but that depends on how much you can believe the word of an anonymous tipster from PhoneArena. The silver trimming and white exterior suggests this is the first we're seeing of the long-rumored release from LG. We can't make any guarantees for the validity of this image, but the clean lines and similar layout suggests this could be the true successor the Nexus line.
All of the photo and its 13MP of glory can be reviewed over this link, and we've acquired a detailed view of the lens and the flash below. LG already has white offerings for the Optimus G, which the N4 was originally based on and designed around.
Source: phonearena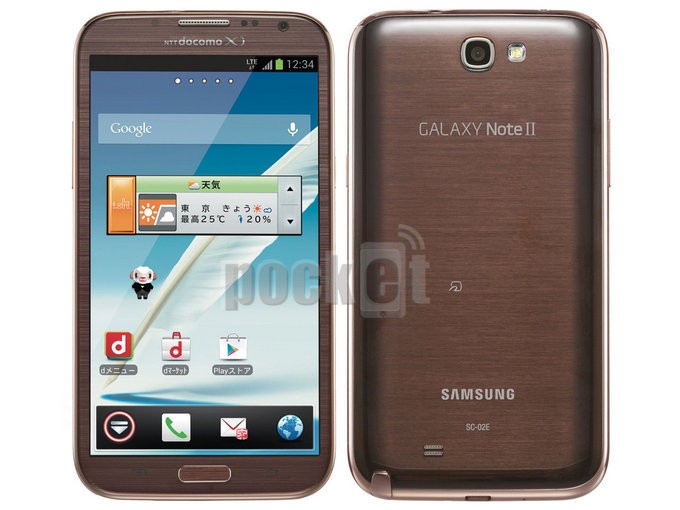 As rumored before, Samsung should be launching its its Galaxy Note II phablet in more color versions. Red and brown have been spotted on a Japanese blog website.
The Samsung Galaxy Note II in red and brown have appeared in a magazine from South Korea, which probably means the two versions will be released there soon. We are not sure when it will be released in the US. As you may already know, Samsung Galaxy Note 10.1 tablet should be also available in red starting next year.
Speaking of next year, Samsung could launch at lest three new Galaxy Note devices throughout it: Galaxy Note III with a 6.3 inch 1080p display, the GT-N5100 with a 7.7 inch display, and a giant 13.3 inch model. We are looking forward to see more details of those models.
The Galaxy S IV has finally appeared in the online database of GLBenchmark. The sources are pretty excited about these results, and even if there's the slightest chance of them being true, this means that it's impossible for us to ignore them.
According to Glbenchmark Results Samsung Galaxy SIV is equipped with 1.9Ghz processor and Adreno 320 GPU and the above combinations is only possible in that condition if 1.9Ghz Quad Core APQ8064T Qualcomm Snapdragon processor is used.
Rumor has it that Samsung would be set to make the phone official during March, while aiming at bringing it to shelves in various markets around the world starting with the April-May timeframe. More info on the matter should emerge soon, so stay tuned.
According to Glbenchmark Specifications of Samsung Galaxy SIV (SHV-E300S) are:
1.9Ghz Quad Core CPU

Adreno 320 GPU

1920*1080 Display

Android 4.2.1 Jelly Bean

navigations keys are not present on Display

Other Rumored Specifications Of Samsung Galaxy SIV
Supports Wireless Charging

4.99 inch Full HD Display with 400ppi pixel density

Come with S-Pen Accessory

2GB RAM

13Mpx Camera
Source: GLBenchMark
Tags:
white
nexus
spotted
wild
samsung
galaxy
note
spotted
red
brown
samsung
galaxy
spotted
glbenchmark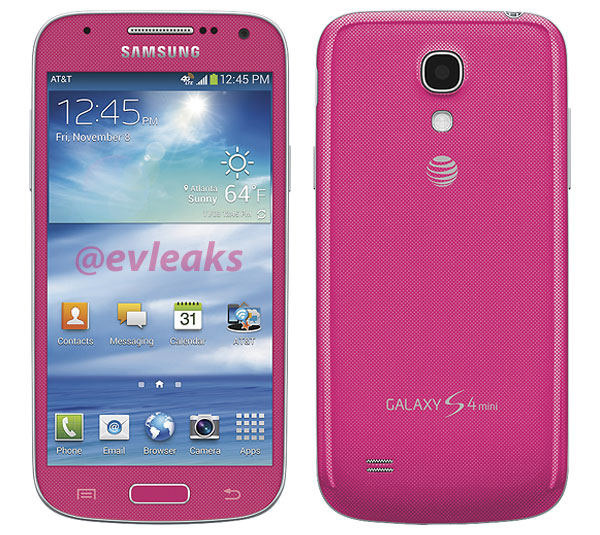 Above image is the Samsung Galaxy S4 mini for the US carriers. According to evleaks, it has revealed three new hues from the S4 mini, arriving on AT&T and Sprint networks in the US.
AT&T will be getting an extremely flashy shade of pink, or hot pink because it is often referred to. That one is bound to divide opinions but there is no shortage of people that like pink devices.
Sprint has got the more sober shades. You have the standard monochrome, or Black Mist and White Frost, as Samsung likes to call them.
Other than the colors, they are identical to the existing Galaxy S4 mini available in the US.
What do you guys think about the pink Galaxy S4 mini?
Tags:
white
nexus
spotted
wild
samsung
galaxy
note
spotted
red
brown
samsung
galaxy
spotted
glbenchmark
pink
samsung
galaxy
mini
spotted
likely
available
sprint
att
© 2020 YouMobile Inc. All rights reserved