Search result
Tags - air
Realme is making news again. The company seems ready to compete with giants in the mobile manufacturing industry. It has launched a few mobile phones in almost every price category. Its latest smartphone, the Realme X2 is great phone from the company. The Chinese tech startup is also venturing out in the wearable category and has launched true wireless earphones in the Realme Buds Air.

The Realme X2 was launched in China a few months back and has now made its way to Indian market. It is essentially an upgraded version of Realme XT smartphone which was powered by the Snapdragon 712 chipset. In comparison, the Realme X2 gets the snapdragon 730G processor with Adreno 618 GPU. In the indian market, the Realme X2 will face off against the likes of Samsung Galaxy A80, Oppo Reno 2, Redmi K20, and also the Redmi K30 when it launches in the country.

Other specs of the Realme X2 are pretty similar to the Realme XT. It gets the same 6.4-inch full HD+ AMOLED display with an in-display fingerprint sensor to act as the security layer. The phone has a large enough 4,000mAh battery with VOOC flash charge 4.0. This means the phone as a greater charging speed than its predecessor. The device has Android 9 with ColorOS 6.1, but it will be upgraded to ColorOS 7 based on Android 10.

The phone has a 64MP primary camera, an 8MP ultra-wide camera, a 2MP macro lens, and a 2MP depth sensor. The video camera specs is similar to Realme XT smartphone. With this device you can shoot up to 4K videos at 30fps while the 1080 mode goes up to 60fps. The phone is dual sim and has face-unlock feature as well. The Realme X2 is available in peral green, pearl white, and pearl blue colors and weigh only 182g.
We already posted first Exclusive Teaser of the Lexus Hoverboard, which the company's claims it's the World's first ridable hoverboard. Today, Lexus published the 2nd Teaser showing its hover board "floating on air", giving us a closer look at it.
This "Back to the future" Hoverboard is using a very complicated superconductive technology. The team is using magnetic levitation with liquid nitrogen-cooled superconductors and permanent magnets to give the hoverboard frictionless movement of a kind that had been thought impossible.
Lexus is said to officially announce this hoverboard later this year and we are waiting on fire for it. Check out the two mind-blowing Teasers below.
Tags:
realme
has
arrived
india
with
buds
air
[video]
lexus
published
its
2nd
hoverboard
exclusive
teaser
floating
air
With a lot of individuals and business entities having to deal with overclocking, having in place the best cooler is an ideal way of ensuring that they keep their expensive and lovingly overclocked processors alive for long. However, looking around, one will realize that liquid CPU Coolers are increasingly becoming widespread, and being tried by many people.
Air Cooling works in a simple way, and only relies on two essential components; a fan and heatsink. Made of highly thermo-conductive materials, the heatsink is mainly a combination of copper and aluminum. The main purpose of the heatsink is to draw heat and direct it away from the CPU. But before the dissipation of heat, a fan is needed, and here, it plays the role of spinning so as to keep some cool air running, and preventing the heatsink from overheating.
On the other hand, Liquid Cooling is slightly more complicated as it requires additional parts that air cooling. Here, a fan, hoses, pump, and radiator are needed. Liquid cooling adopts the same approach as Air Cooling, only that it uses liquid as opposed to air.
Water or any other liquid coolant gets pumped through the hoses that connect the component where cooling is intended, and in this case, it is the CPU. But again, circulating around isn't sufficient, with the liquid requiring its own form of heatsink.
This is where the radiator comes in regarding this type of set up. And to ensure that it doesn't overheat, there's a fan in place that keeps some cool air running over it.
So, which is the best cooler to choose?
As mentioned way back earlier, a lot of people around the globe would go for liquid coolers as their first option. However, this is not to say that air coolers are bad and that people should use them. In fact, they are cheap to maintain, especially for those that are on a budget.
However, if you are looking for cooling efficiency, then you better go for liquid coolers that are known to be highly efficient. Additionally, you may find liquid coolers to be highly ideal, especially if you areare using them in a factory where machines run at faster speeds and cooling is needed.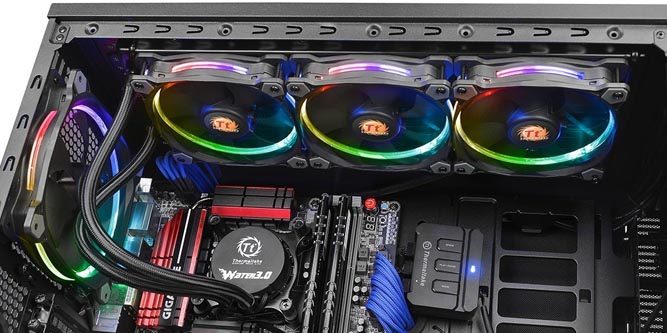 Are you in the market for the best liquid CPU cooler that will serve you well? There are plenty of them that you can find out there. However, some of the best ones around include the following:
This is one of the best liquid CPU coolers that you can find in the market. Even though its installation could be tricky, the good thing about it is that it has got an excellent thermal performance, a bit cheap, and expandable and refillable.
Again, this is another good liquid cooler that a lot of business entities and people use. It is near silent and comes in with a good software. Sadly, its RGB lighting could be a hit or miss, but nevertheless, it's one of the best liquid coolers in the market.
Thermaltake 240 Water 3.0
This one is budget-friendly and makes little to no noise when in performance. It also consist of a simple hardware controller.
The Bottom Line
So there you have it. Liquid Coolers vs. Air Coolers, the choice remains yours. However, looking around, it seems as if Liquid Coolers are the first choice for many users and industries.
Tags:
realme
has
arrived
india
with
buds
air
[video]
lexus
published
its
2nd
hoverboard
exclusive
teaser
floating
air
liquid
vs.
air
cpu
coolers

Looking back at the whole iPhone 6 Plus #Bendgate debacle, it's impossible for anyone to downplay the incredible effect a single video from a guy who thought it's a good idea to test out the phablet's rigidity generated. In fact so easy was the iPhone 6 Plus to bend that the original clip that started it all racked in views in the tens of millions on YouTube alone a fraction of the total interest generated throughout the web.
It's hard to pinpoint any one single factor that contributes to content's sudden rise to viral status, but in the case of #Bendgate, it probably had at least something to do with the fact that we were talking about an Apple product, Besides, there's just something oddly-satisfying about witnessing the destruction of tech that costs hundreds of bucks as if it's no big deal. But enough with the introduction.
When Apple took to the stage about ten days ago and announced that its new iPad Air 2 will be impossibly-thin, at 0.24 inches (6.1 mm), many of you have probably paused for at least a second to consider the possibility that it, too, will easily bend. Interestingly enough, the first bend test of the iPad Air 2 that we saw just two days ago lead us to think that the Air 2 won't suffer from a similar issue. The slate looked rigid. But another video that followed up just hours later shows a completely different picture not only does the iPad Air 2 bend, but it can be literally snapped in two with just two hands. Check out the Video below!
Tags:
realme
has
arrived
india
with
buds
air
[video]
lexus
published
its
2nd
hoverboard
exclusive
teaser
floating
air
liquid
vs.
air
cpu
coolers
bendgate
back
again
with
ipad
air
snap
half
video
© 2018 YouMobile Inc. All rights reserved