Search result
Tags - including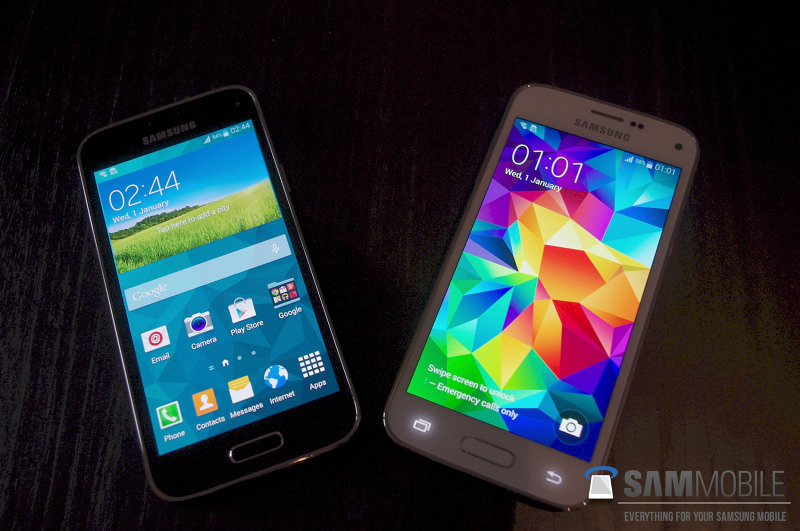 Today, the same anonymous tipster has sent in screenshots of Antutu benchmark and CPU-Z, confirming the specifications we were provided earlier, and a heap of new pictures of the device, some alongside the Galaxy S5 for size comparison.


We can now confirmed that confirm that the S5 will feature a 4.5" Super AMOLED display of 720p resolution and runs on Exynos 3 Quad chipset with a quad-core Cortex-A7 CPU @ 1.4GHz, Mali-400 MP4 GPU and 1.5GB of RAM.

The rest of the Samsung Galaxy S5 mini specs highlight include Gorilla Glass 3 screen protection, 8MP rear camera, 2.1MP front snapper, 16GB expandable storage, fingerprint scanner and heart-rate monitor.

The connectivity options are pretty much the same as the Galaxy S5 - LTE, 3G, Wi-Fi, Bluetooth 4.0, NFC, IR blaster, GPS with GLONASS.

Samsung Galaxy S5 mini is running on Android 4.4.2 KitKat with the latest available TouchWiz UX that premiered on the Galaxy S5. You will be getting Ultra Power Saving Mode, Kids Mode, Private Mode, KNOX, among others.
Facebook Home has created a buzz in the internet world and many people have tried the leaked download on their phones. However, many complained that app access and switching are significantly slowed down by the controversial launcher.

On the other hand, if you are one of the more adventurous and would try everything to see if it's worth giving a chance to, you can already download and install it to verify these claims. Most Android phones that run on version 4.0 and above can install this launcher.

Also, you need to update your Facebook apps prior to activating the APK, but you can also get patched Facebook apps versions, if you have hardware issues.

The Company has not yet released any official statement regarding the Facebook Home launcher and interestingly, many people are trying it out but half are more likely to rate it low because they either don't like the interface or they don't like "too much Facebook" on their devices.
Download Link modaco
Tags:
samsung
galaxy
mini
leaks
including
specs
facebook
home
available
download
including
patched
apk
version
Android Version 3.0 LinkedIn has added various update stream features which were not present in the previous versions. LinkedIn is a social networking site that mostly brings together professionals. Like most other social networking sites, its users have been on the increases but it has not yet reached the level of Twitter and Facebook. Linked In users can now share, like, follow, invite and even comment directly from feed on the update stream content. The new design also makes navigation of the app much easier.
Some users can remember how they buried the settings menu that featured in the earlier apps. Even if you cannot say that this app is going to get you to use this app, its installation in your phone will make the gadget more appealing. Who does not like owning a phone that has many features anyway? However, for those who are addicted to LinkedIn, this is definitely an app that they would want to see installed in their phone.
Link: Google Play Store
Tags:
samsung
galaxy
mini
leaks
including
specs
facebook
home
available
download
including
patched
apk
version
android
version
3.0
linkedin
brings
extra
update
stream
functionality
including
refresh
Download WeatherBug to access the world's largest network of real-time weather sensors for forecasts, alerts and more. Get the industry's most accurate pinpoint forecasts for your neighborhood and around the world. Benefit from the fastest, most advanced early warning system, powered by the largest nationwide weather and lightning network. Know Before.

NEW! This is the best WeatherBug yet with slick new slide-side navigation, live customizable tiles and a boatload of extra content such as Spark lightning alerts and selectable background themes. Now with even easier access to exclusive real-time weather data, forecasts and alerts from the only neighborhood-level weather and alerting sensor network.
What's in this version:

-*NEW* Redesigned User Interface
-*NEW* Slide-side navigation w/ swiping
-*NEW* Dynamic live tiles
-*NEW* Background themes
-*NEW* Photos section
The free version of WeatherBug still has ads, but the Elite edition is just $2.99. That's actually $1 higher than it used to be, but still competitive with other weather apps on Android.
Source: Google Play Store
Tags:
samsung
galaxy
mini
leaks
including
specs
facebook
home
available
download
including
patched
apk
version
android
version
3.0
linkedin
brings
extra
update
stream
functionality
including
refresh
weatherbug
app
updated
including
redesigned
user
interface
© 2020 YouMobile Inc. All rights reserved