Search result
Tags - accessories
New age technology has taken us on a ride that we will never forget. From the world of Virtual Reality to nifty clip on lenses, your smartphone is a portable supercomputer, just waiting to charge your world with unique user experiences.
It's not just the available smart phone accessories that can turn your mobile device into a hybrid type of device, ready to tackle the world. All smart phones have the ability to download and install various apps that can transform your phone into a multi-tool, ready to help you along your way.
The following smart phone accessories 2017 are the best mobile accessories that will enhance your handset, and turn it into a dynamic smart device to equip you with the perfectly optimized phone, for just about any situation. You don't need to buy the iPhone X to get in on the action either!
Get Going With A Car Mount
Car mounts are by far one of the best smartphone accessories available. If you've ever needed your GPS, which is all too often these days as cities keep expanding and the beaten track develops more and more.
Mobile phone car mounts can attach to your windshield or air vent for convenient on the go navigation and hands free calling. If you're looking for an affordable car mount holder then try the WizGear Magnetic Car Mount Holder, which easily attaches to your car's air vent.
Crank Up The Volume On The Track With An Arm Band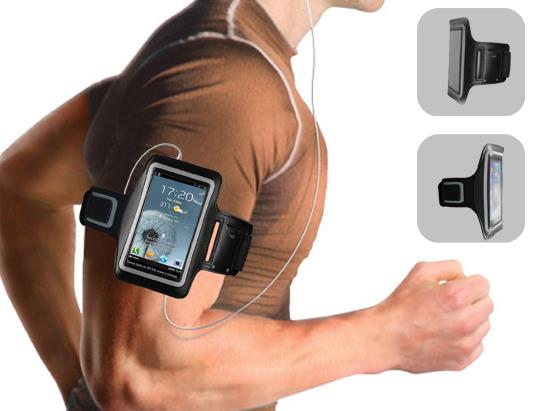 Our smart phones have become extensions of ourselves, it's difficult to let go of your phone when running around during errands, especially if you want to play at a CAD casino. It's becoming increasingly difficult to find the time in a day to keep active; if you simply can't live without your phone for a couple of hours while you work out, then an arm band is the perfect fitness companion.
These nifty ouch like arm wraps will keep your phone safe and secure while you get your heart rate up. Most armbands support a jack outlet, which means you can take your music on the go with you while you train.
If you're looking for an all round arm band for your smart phone then try the Tribe AB37 Sports Armband. Offering users water resistant protection for their device, a nifty key holder, full touch screen coverage and 3.5 mm jack support it's the perfect companion for the outdoor enthusiast.
It's All About The Perfect Selfie
Selfie sticks are old news, but let's face it these sticks have captivated a generation with their unique angles and gimmicky fun attitude. Now you can get in on the perfect selfie without the fuss of wires.
The Anker Selfie Stick is a Bluetooth selfie stick offering users twenty hours of battery life and extreme depth of field, stretching out to a whopping 29 inches.
Beef Up Your Mobile Storage
If you have an Android smartphone and you find your internal storage a little bit on the light side then you must consider a USB OTG Flash Drive. These little devices act like normal flash drives and simply plug into your phone and open up a world of storage potential on your mobile smart phone.
There's a microUSB OTG option available too and it's called the SanDisk Ultra USB Type-C version. There are numerous OTG Flash Drives available for Android devices that support both USB Type-C and microUSB. These flash drives are perfect for on the go storage and data upload/downloads.
Embrace The World With Virtual Reality
The world of Virtual Reality technology has opened up our world to infinite possibilities in various disciplines. There aren't too many mobile VR headsets available as of yet, and the compatible devices are somewhat limited.
If you have a compatible smartphone then it's best to get started in mobile Virtual Reality with something like Google Cardboard. Once the technology improves and becomes more mainstream then it might be worth upgrading to a mobile VR headset to truly engage with your smart phones VR capability.


It has become quite a norm with Samsung - just before the release of major smartphones certain information gets leaked. This time around a list of Galaxy S7/S7+/S7 edge accessories have surfaced which gives out pricing info - specifically in the German market. Thanks to German WinFuture, the selection packages few major surprises.

To start off, Samsung is planning to compete with Apple by manufacturing a battery case that would look exactly like Apple's case, which will hopefully look beautiful in terms of design. The case would cost €89.99 ($99.9) which packages a battery with a capacity of 2,700 mAh with support for wireless charging. As per recent speculations, the Galaxy S7 is supposed to come with a 3,000 mAh battery and the S7+ and S7 edge are said to package a gigantic 3,600 mAh battery.

Another interesting thing in the list is the first of its kind Samsung LED View Flip Cover (€69.99, or $77.7). According to the source, the flip-type case will have LEDs which will send out notification in case of incoming calls. Finally, a Leather Cover in black and brown color will also be released during the launch.
Tags:
enhance
your
smart
phone
with
these
essential
accessories
galaxy
s7's
leaked
accessories
suggests
samsung
have
battery
case
just
like
apple
Samsung had started to sell a few online-only mobile accessories in South Korea recently, but they have now decided to go global with these exclusive accessories from November. They will still be online-only products, but now you will be able to purchase the accessories from Samsung's own website or other major online shopping sites like Amazon. Many have speculated this move as a direct result of the losses that the company suffered in Q3 2016. If you are interested in what they are planning to sell, take a look at the catalogue below.
In-ear Headphones Rectangle design: Fabric\metal construction, tangle-free cable ($26 approx.)
USB LED Light ($9 approx.)
Wireless Charger Tray design: Support for charging two devices simultaneously ($58 approx.)
Battery Pack Kettle Design: 5,100mAh/10,200mAh ($26/$35 approx.)
Wireless Speaker Bottle Design: wireless charging, 360-degree surround sound, motion sensitive UX ($77 approx.)
Wireless Speaker Scoop Design: Disc design, built-in microphone ($48 approx.)
Keep in mind that the price tags mentioned may differ as they are attained by simply converting each of the product's value from Korean Won to USD.
Saikat Kar (tech-enthusiast)
Tags:
enhance
your
smart
phone
with
these
essential
accessories
galaxy
s7's
leaked
accessories
suggests
samsung
have
battery
case
just
like
apple
samsung's
online-only
line
mobile
accessories
now
available
globally
Image credit: pixabay.com
They say it's not the camera that makes a good photograph-it's the photographer. If you've got some skills when it comes to taking a photo, you'll be able to produce some truly amazing shots with any type of camera.
Even if you were to use the camera on your humble smartphone, you would still get good results.
Cameras on smartphones-particularly the Android smartphones-get better with every new model. Because of this, it really isn't all that difficult to produce some great photos. But while a smartphone camera's capabilities are sufficient enough for your photography needs, having a few extra tools and gadgets at your disposal certainly wouldn't hurt.
Here are a few apps and accessories for your Android smartphone that can help improve your photography:
If you want a camera and photo editing app that gives you a suite of professional features along with some awesome effects and filters for your next Instagram selfie, then this app is for you. A heavy favorite among Android users, this app gets you pretty close to having a smartphone that can work like a DSLR, thanks to powerful features such as full manual controls; RAW capture on supported devices; the option to adjust your ISO, exposure, shutter speed, and focus distance; powerful HD post-processing; and more.
2. Ztylus RV-1 Revolver Lens Attachment and Case

Image Source: Adorama
With DSLR cameras, it's important to use the right lens for your needs-the kit lens can only take you so far. Interchangeable lenses play a crucial role in achieving your desired shot, especially if you're trying to shoot close-ups with very fine detail (macro) or a panoramic landscape shot (wide-angle).
The same principle applies to your smartphone. If you want to achieve better results and get more variety out of your smartphone camera, using attachable lenses is the way to go. For Android phones, the Ztyler RV-1 revolver lens is a great, inexpensive option, as it gives you three lenses in one: a wide angle, a super macro, and an extreme fisheye. It also comes with a polarizer for when you're shooting outdoors in sunny weather.
If you want a simple, no-frills app that offers impressive, full manual camera controls, this is the app for you. It has no cutesy effects, no artsy filters, and none of the other fun add-on features from other camera apps on the market. It simply allows you to take full advantage of Android Lollipop's Camera2 API.
With this app, you'll be able to manually adjust your shutter speed, ISO, white balance, focus distance, and exposure compensation. It also allows you to shoot in RAW format, which is preferred by photographers to make post-processing much easier.


Make sure to run the compatibility test first to see if it will work for you and your device.
Whether you are a professional photographer or a casual user, Snap Camera HD is an extremely useful app for creating great images and videos. In addition to the usual manual controls and the RAW support, it also offers 4K video recording, HDR mode, fast picture mode, and miscellaneous (but pretty useful) features such as the ability to use your phone's Torch mode while recording video in low-light situations.
5. FLY-X3 Plus 3-Axis Smartphone Gimbal Stabilizer


Image Source: Adorama
When you're shooting with a smartphone, you're not exactly going to be carrying a tripod everywhere you go. The better solution, therefore, is to use a handheld gimbal stabilizer. This simple, portable, and highly useful device uses a motorized 3-axis powered gimbal to eliminate camera shake and give you the smoothest, most stable video footage and images. This is perfect for action shots or for images that require slower shutter speeds.
Just as the name suggests, the DSLR Camera Pro is an app that lets you turn your smartphone into a DSLR-or as close as it can get to a DSLR, anyway. Just like Manual Camera, this app keeps it fairly simple by doing away with fancy filters, frames, stickers, and other extra camera effects. It just sticks to manual camera settings. The features include a moveable viewfinder, live histogram, exposure compensation, light metering mode, ISO and white balance adjustment, and more.


Image Source: Extrasensory Devices

Luxi is a great addition to your photography tools and accessories because it turns your smartphone into a professional-quality light meter. Much like the integrated light meter in a DSLR camera, Luxi will help you determine the optimal manual settings to achieve the perfect exposure for your images.
With this device, you take most of the guesswork out of adjusting your smartphone camera's manual settings.

Image Source: Photojojo
When it comes to photography, lighting is key. But what happens when the lighting is virtually nonexistent?
Instead of using your phone's built-in flash to add some light to your images, use an external lighting device like Photojojo's Pocket Spotlight.
Compatible with both iPhone and Android smartphones, this portable device is a continuous light source that plugs into your phone's headphone jack. It produces beautifully even, soft light in three modes: full strength, half strength, and strobe-tastic.
Apart from these apps and accessories, there are many other ways to make the best out of your smartphone's camera. Give them a try and experiment with various apps and add-on accessories to see which ones work best for you and your phone when it comes to creating amazing, professional-quality images!
Tags:
enhance
your
smart
phone
with
these
essential
accessories
galaxy
s7's
leaked
accessories
suggests
samsung
have
battery
case
just
like
apple
samsung's
online-only
line
mobile
accessories
now
available
globally
take
better
smartphone
photos:
photography
apps
accessories
android
phones
© 2018 YouMobile Inc. All rights reserved